With a life demarcated by the bicycles he rode, a writer reflects on the power of two human-powered wheels.
The first bike I truly loved was an aluminum Trek 800 mountain bike. It was white and blue. I rode that bike all over the small Oregon town I grew up in. Riding it offered me my first real sense of independence. And it was awesome. No longer did I need a parent or sibling to drive me somewhere. Later, after my dad, a former bike mechanic, helped me put front suspension on the Trek, I rode it up and down trails on Mount Hood while my parents went for hikes. These were my first solo outdoor adventures. And I wanted more.
The bicycle has always been a symbol of freedom. In 1817, a famine caused an equine die-off. That's when German Baron Karl von Drais invented the first human-powered transportation — called a velocipede or a dandy horse. Made with wood, the original bicycle weighed nearly 50 pounds, but Drais could cover 8 miles in one hour — not bad for 1817 — and didn't need a horse to do it.
Read more: How Bike Paths Create More Livable Cities
Bicycles are still the most efficient human-powered vehicle for travel. At its most utilitarian, a bicycle is transportation at its best: good for you, carbon-free, joyful, no parallel parking required. But bikes aren't just a wonderful way to get from point a to point b. Sometimes it's just fun to go for a cruise. I often get together with friends to ride our bikes up and then down mountains or to meet in town for ice cream. Dirt, gravel, or pavement, I just love the feeling of pedaling, of forward motion. And my life is demarcated by the bikes I've owned. 
After my first mountain bike, the next two-wheeler I loved was a bright red, steel Trek road bike from the '90s. By that time, in my mid-20s, I owned my first car, but getting around Portland, with its networks of lanes and paths and a culture of bike commuters, was just easier by bike. And that bike, with its gears on the frame, could really get around. Urban cycling felt like its own (sometimes frightening) skill — knowing the best routes, avoiding distracted drivers, staying off roads with train tracks. It required relentless awareness.
After the beautiful red Trek was stolen, I bought a royal blue steel Le Mans for $700 from the same era. Around that time, I moved to Encinitas, California for work. I used that Le Mans to bike to my job and the beach almost every day. Eventually, it was so rusty and gritty from salt and sand that I sold it for a mere $75 on Craigslist. I was moving again.
Read more: Why We Need To Go Beyond EVs
This time, my destination was Santa Fe, New Mexico. I worked downtown, near the plaza, so I bought a cruiser that I left at the office to pick up groceries or go out to lunch. But New Mexico is a terrible place to bike commute — it has few bike paths and streets built for horses that are now filled with lots of big trucks. The best biking was in the mountains. And my partner — the reason for the move to New Mexico — was a mountain biker. We rode full suspension carbon fiber bikes down rollicking singletrack paths in the Sangre De Cristos, through aspen groves and ponderosa forests.
Part of the allure of riding a bike, naturally, is the thrill. Speed. Hair in the wind. And the flip side of the thrill is the crashes. There have been many. Cracked helmets. Too-close calls with cars. Any ode to bicycles needs to include advocacy for better bike infrastructure in America. It's a country developed for the car — the bigger, the better — and those cars kill about 1,000 cyclists per year. 
So for now, I mostly avoid paved roads. What I love most about mountain biking is that, like urban cycling, mountain biking requires extremely quick decision making. A stray boulder to adjust for, a branch sticking out on the trail that threatens to knock you off your bike, a spooked deer, a change in terrain, someone pedaling the opposite direction as you around a corner. Biking at speed demands meditation — there's little room to think about anything other than what's directly in front of you.
Read more: Why E-Bike Are Here to Stay
One more move — to the bigger mountains near Taos — prompted another bike: a lightweight, hardtail (suspension in the front, but not the back) Santa Cruz to climb high and far among the 13,000-foot peaks around us. With that bike as inspiration, I even signed up for my first bike race: a 50-mile, 6,600-foot ride in Steamboat, Colorado, in August. 
What will the next bike be? I have a feeling another bike evolution is around the corner. We're parents to a 10-month-old daughter now, and my wife and I can't wait to share our love of bicycles with her. We already have a seat ready to mount to a mountain bike as soon as she's big enough. But we'll probably want an e-bike to ride her to daycare. Or maybe a cargo bike to load her into? One thing I know for sure: we'll always keep pedaling.
Have feedback on our story? Email [email protected] to let us know what you think!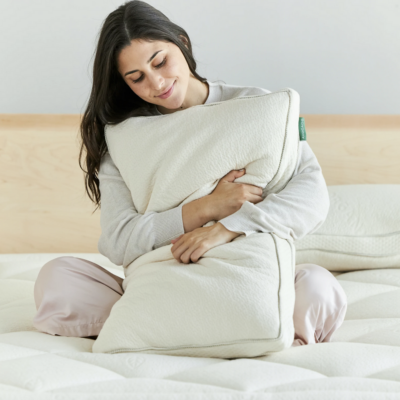 Shop Pillows
The Essential Organic Pillow Collection
Gentle, breathable, non-toxic support.
Buy Now