This year, enjoy the Cinco de Mayo festivities with a healthy margarita in hand.
Also known as Battle of Puebla Day, Cinco de Mayo celebrates the date of the Mexican army's 1862 victory over France at the Battle of Puebla during the Franco-Mexican War — May 5th. While a fairly minor holiday in its country of origin, here in the U.S., Cinco de Mayo has ballooned into a large-scale celebration of Mexican heritage, especially in areas with significant Mexican-American communities. In these communities, May 5th is marked with parades, parties, traditional music, dancing, and food. Elsewhere, Cinco de Mayo is known as more of a drinking holiday than a celebration of victory. But whether you're toasting your heritage or simply reveling in the holiday that often feels like the kick-off to the summer season, there's a better way to sip.

Often the crowd favorite for Cinco de Mayo celebrations, the margarita is a bar and party classic that's undeniably tasty — but not exactly a healthy choice. The combination of sugary mixers and juices with dehydrating alcohol means a single margarita can include up to 25g of sugar — that's about six teaspoons, or close to the entire suggested daily sugar allotment for an adult male. And what's so bad about all that sugar? Along with spiking blood sugar, which leads to a rollercoaster of cravings and moods, too much sugar could lead to brain fog, gut imbalance, and more. A better choice than that mixed margarita? Choose a good-quality tequila — one that you actually enjoy the taste of instead of the bottom-shelf stuff — and complement it with bubbly seltzer and spicy kombucha for a festive kick. This better-for-you take on the traditional drink is much lower in sugar and the seltzer supports hydration — an important factor when consuming alcohol. Just remember to sip water on the side, too. Ready to whip up your new favorite Cinco de Mayo drink? Make our recipe below. We're also sharing some of our go-to no-sugar mixers for those that prefer a mocktail.
Spicy Kombucha Margarita

Ingredients:
1.5 oz good-quality tequila
4 oz spicy kombucha (we used Health-Ade Cayenne Cleanse)
Seltzer, to top
Ice
Lime wedges
Optional: Salt for rim
Directions:

If using salt on the rim of your glass, wet the rim and dip in salt to coat. Next, fill your glass with ice and add tequila, kombucha and top with seltzer. Top with a good squeeze of lime and garnish with a lime wheel and hot pepper, if desired. Enjoy!

BE MIXED
Be Mixed was created by two women on a quest for sugar-free drinks that actually taste good. Their line of tasty mixers contain zero sugar and zero calories. Add them with your liquor of choice or throw in a splash with your seltzer for a flavorful non-alcoholic drink.
SEEDLIP
Seedlip is the "world's first distilled non-alcoholic spirit" and currently has three flavors in their range. We suggest using their Grove 42 flavor profile for a margarita-esque drink. It is a great alternative for those who don't drink alcohol.
How will you be celebrating Cinco de Mayo? Share with us on social by tagging @AvocadoMattress and #AvocadoGreenMagazine!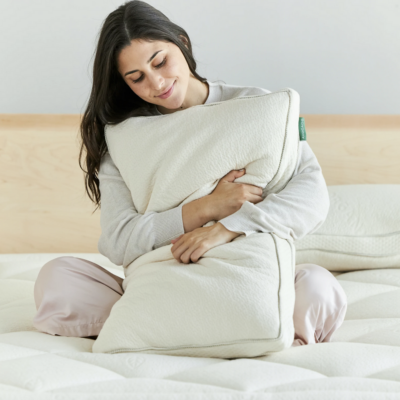 Shop Pillows
The Essential Organic Pillow Collection
Gentle, breathable, non-toxic support.
Buy Now