Of all the ways I'm a picky parent, one I'm not the least bit ashamed of is my choice to buy my kids organic food.
Because pesticides. Because neurotoxins.
We're growing tiny brains in our house, little thinkers and dreamers who have the potential to invent world-saving inventions and cure cancer and fight injustice, and we don't have time for neurotoxins.
So when I'm not feeding my babies chunks of food straight from my plate a la baby led weaning, I'm getting them some of the best purees on the market.
Made with organic produce and without sketchy fillers, these brands are some of my favorite go-tos — baby and picky mom approved.
Once Upon a Farm

Once Upon a Farm is a relatively recent discovery of mine, but they've completely knocked my socks off with their dedication to planet and people. Their baby, toddler, and kids' pureed food pouches are organic and GMO-free, but also cold-pressed to preserve the nutrients in them in the process.
They're also packed with superfoods like hemp seed and turmeric, which I love.
Initially I was a little turned off by the pouches, even though they're BPA-free, just because I HATE that you can never recycle those things. But with Once Upon a Farm, you can! These guys have partnered with Terracycle, so you don't have to create a mountain of waste with a week's worth of pouches — just request a Terracycle mailer (it's FREE), fill it up with pouches, and ship it back!
Beech-Nut

Beech-Nut is a great company with a wide range of foods, starting at the first stages of development into toddlerhood. Not all of their foods are organic, but they have some great lines that are. Their packaged toddler snacks are the rare variety that I not only felt good about feeding to my own little guy, but occasionally stashed in my purse for myself (seriously, you've gotta try the quinoa crispies).
What I really like about Beech-Nut's organic purees is they're not as watery as most and there are VERY few ingredients in them for the allergy-conscious parent. It's made it really easy to introduce one food at a time to my baby — we're a big fan of the apples and kale in this house.
Happy Family Organics

This brand was a relatively new one for me, but I was pleasantly surprised to see they had a lot of organic varieties on store shelves. Happy Family Organics makes foods for babies, toddlers, kids, AND moms with their breastfeeding support bars. SCORE.
Their foods are 100% non-GMO and organic with no fillers or preservatives and key supplements like probiotics and DHA added in. They're also super sensitive to allergy parents and have some handy filters on their website to help you narrow down the best foods for your kids.
Though their pouches are not yet recyclable, they are made with 65% post consumer content. On top of that, Happy Family Organics does a lot in giving back, funding nutrition education programs, and meal donation.
Sprout Organics

This line of baby food is also organic and non-GMO in addition to being preservative-free. Their pouches aren't recyclable, but I was really impressed with their vegan protein pouches. They're one of the only brands I've seen who is integrating plant-based, pediatrician-approved proteins into their purees with ingredients like black beans, lentils, and chickpeas.
Plum Organics

Plum Organics' foods are non-GMO and organic, but they're also a certified B-corp, which I love. They make purees for babies, toddlers, and kids in poly pouches. Again, it looks like Once Upon a Farm is the only one who's cracked the code on recycling these things — Plum Organics doesn't do it. But they do have a really cool program with Preserve that recycles the plastic caps.
These guys do a lot to give back outside of making really great baby food. They donate food and snacks to children in need throughout the US, and to date have donated over 21 million meals and snacks to hungry kids in the US. They even took a big step towards fighting food insecurity in the US by developing a special product just to address it — their chock-full-of-protein super smooth — specifically formulated to help kids who can't always count on when the next nutritious meal is coming.
Pumpkin Tree Snacks
View this post on Instagram

Pumpkin Tree's brand, Peter Rabbit Organics, is another baby food pouch line that comes in BPA-free pouches with 100% organic and non-GMO foods. What I really love about these guys is that the foods aren't even a little bit watered down — they're VERY smooth and firm and all around pretty satisfying for babies who can't knock one back at every sitting.
Ella's Kitchen Organic Baby Food

I really love the Ella's Kitchen line, not just because they're organic, but because of their adorable flavor combinations for baby, like Chicken Casserole. They make baby food, toddler snacks, and lunch box drinks for big kids with cool ingredients like aloe juice — all without fillers or preservatives.
What do you feed your babies? Tell us on Facebook or Instagram, and tag your favorite brand (if you have one) in the post! #AvocadoGreenMagazine or @AvocadoMattress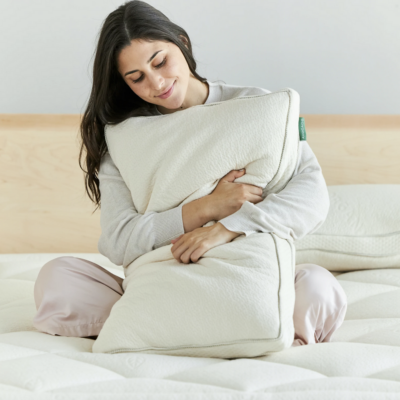 Shop Pillows
The Essential Organic Pillow Collection
Gentle, breathable, non-toxic support.
Buy Now