As a business, we support charitable, philanthropic and environmental programs because we firmly believe that even the smallest acts of goodness and kindness can have a real and lasting impact. It is in this spirit that we focus on our attention on a featured charity doing important work — to bring attention and focus to their cause. For July and August, we're spotlighting American Rivers.
Today, Elise Dean from American Rivers is here to share more about the important work they do.
Who is American Rivers?
"American Rivers strives to protect wild rivers, restore damaged rivers, and conserve clean water for people and nature. Through working with a team of over 275,000 members, activists, and employees, we are fulfilling our mission every day," comments Elise.
"As a leading non-profit river conservation organization, American Rivers is guided by five core values: Passion, Integrity, Teamwork, Commitment, and Balance. These values remind us to work toward a higher purpose and appreciate the importance of America's rivers to us all."
Why is your work to protect rivers so important? And what does the protection of rivers mean for the rest of us?
"Rivers are responsible for up to 20% of our nation's economy. From whitewater rafting down the Colorado River that flows through seven western states, to fly fishing for trout in the Nantahala River in North Carolina, healthy rivers generate a significant amount of economic benefit – both locally and across the country."
"Nearly 2/3 of our drinking water also comes from our rivers. That cool glass of tap water that you might be sipping probably came from your local river…if it's protected," explains Elise.
"Recently, we have strong pushback to the goal of protecting the environment as a whole and the rivers that are vital to every American. From the 'review' of our national monuments to the U.S. withdrawal from the Paris Climate Agreement, the current federal administration is set on reducing safeguards that protect the environment we all depend on, rather than standing up for clean air, clean water, and flowing rivers."
"Most recently, the Clean Water Rule, which protects many of our streams and rivers, is also under attack by the current administration. This rule protects small streams and wetlands, the capillaries and veins that form the arteries of our larger rivers, and are the source of drinking water for 1-in-3 Americans. This rule is important for our health, our economy, our food supply, and the natural spaces where we love to work, play, and thrive."

How are you protecting rivers?
"American Rivers combines national advocacy with field work in key river basins across the country to deliver the greatest impact on the health of our rivers. In 2016 alone, American Rivers:
Removed 16 outdated dams, allowing more river access for fish and other aquatic species to migrate and spawn,
Restored 921 miles of rivers through dam removal and reoperation, improving flows in damaged rivers and leading to better water quality and restored aquatic habitat,
Sent 261,366 letters on behalf of American Rivers activists to decision makers, urging them to protect rivers across the U.S.,
Mobilized 43,470 volunteers across the country through our National River Cleanup® program, resulting in the removal of 2.4 million pounds of trash from our nation's rivers, improving their health and safety,
Connected 530 youth to rivers through trips and conservation projects, ensuring the legacy of river protection continues for generations to come, and
Educated 6,938 local partners through trainings and workshops.
The current threats facing our rivers have made our mission at American Rivers more important than ever. Each day, we will work to build upon our past successes and move toward better solutions for healthier, vibrant rivers, and clean, safe drinking water for every American."
Thanks, Elise! Join us in supporting American Rivers and the essential work they do and stay tuned for more upcoming features on how you can help. Follow along with American Rivers on Instagram, Facebook or Twitter.
Photo credits: (1) Daniel Nylen (2) Lisa Powell (3) Tom Roberts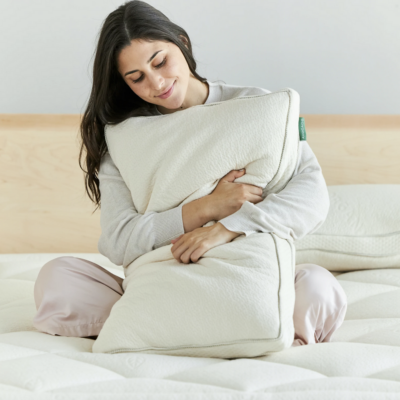 Shop Pillows
The Essential Organic Pillow Collection
Gentle, breathable, non-toxic support.
Buy Now