Are you on the waiting list for Adidas' new biodegradable shoe yet?
Last year, the athletic wear giant debuted a concept shoe at the Biofabricate Conference in New York that put the company on track for yet another blockbuster year in sustainable innovations with their product line.
The shoe, dubbed the Adidas Futurecraft Biofabric shoe, is made of a revolutionary new material developed by the German biotech company AMSilk. Though the material is synthetically made, it's a 100% biodegradable replication of natural silk — every bit as strong, naturally antibacterial, and perfectly breathable.
The new material, Biosteel, is essentially artificial spider silk, and was used to construct the upper of the adidas concept shoe.
"This concept represents premium innovation," said James Carnes, VP of Strategy and Creation at adidas.
"By using Biosteel® fiber in our products, we have achieved an unrivalled level of sustainability. We are moving beyond closed loop and into an infinite loop – or even no loop at all. This is a pioneering stride forward beyond sustainability into a new territory of bionic innovation."
This innovative partnership comes on the heels of several other breakthroughs from adidas over the past few years, including a 3D printed shoe, a shoe made out of ocean trash, and even one made almost entirely by robots.
Biosteel represents a step forward in the industry for adidas, as more and more companies address the need for more sustainable, ecologically compatible textiles in their product lines.
Want to be the first to snag a pair? Sign up for the Futurecraft waiting list here.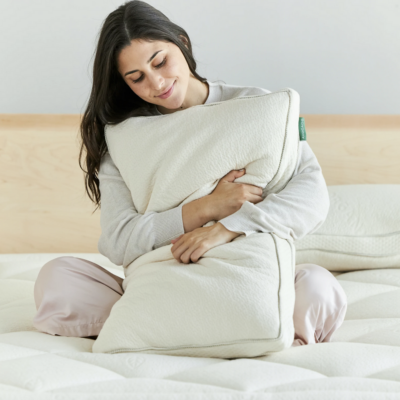 Shop Pillows
The Essential Organic Pillow Collection
Gentle, breathable, non-toxic support.
Buy Now