Is there ever a better way to welcome summer than by picking a batch of ruby red strawberries? We don't think so. A far cry from the watered-down strawberries sold year-round at your local supermarket, the plump, juicy-sweet red berries of the warmer months are what true strawberry season tastes like. Sweet, sunny… in a word: summer.
Plucked from beneath vibrant green foliage grown (ideally) sans-pesticides and genetic modification, the difference between an in-season organically-grown strawberry and it's conventionally grown, the year-round counterpart is, in a word, astonishing. Have you ever cut into a delicious-looking strawberry, only to discover that it's white or hollow inside and tasteless?
Ideally, a ripe strawberry is one that's typically bright red on the outside (redness isn't actually always an indicator of ripeness, strawberries can be orange and even white-ish), and red on the inside – sweet and tasty. When a berry is hollow, they typically spoil faster due to the presence of oxygen, and because hollowness is usually caused by rapid growth, a hollow center could mean your berries were grown using inorganic fertilizer. Yet another reason why organic is always the best choice when it comes to produce – strawberries especially.
The Dirty Dozen
Why should you choose organic strawberries? Two words: Dirty Dozen… does the name sound familiar? Perhaps better suited to the latest Western flick at your local cinema, the Dirty Dozen is actually the term used by the Environmental Working Group to describe the top twelve pesticide-laden fruits, vegetables and berries. Topping that list? Strawberries. Why do conventionally grown strawberries get such a bad score? Pesticides, and a lot of them. In a test conducted by the U.S. Department of Agriculture, strawberries grown with pesticides had close to 8 different kinds of pesticides per sample – compare that to the typical 2.2 pesticides shown in most other produce. But that's not the only reason to be concerned. Conventional strawberry farmers typically also use a poisonous gas to sterilize fields before planting to kill off pests and weeds – which in turn has devastating effects on the bees, birds and animals that would otherwise contribute to the pollination and spreading of seeds.

Buying organic is starting to look better and better isn't it?
You can read more about the importance of choosing organic strawberries – and explore other varieties – right here, but if you've already picked your bushel of fresh, chemical-free berries, it's time to put them to use! While you can't go wrong with a strawberry pie, cake, or even a bowl of them sprinkled with coconut sugar, we think a strawberry smoothie is the perfect way to start the day or fuel up after a summer workout. The recipe below is simple, refreshing, and tastes about as close to a strawberry milkshake as you can get while still being healthy. Whip it up today to enjoy strawberry season in all its glory:
Strawberry Smoothie
Serves 1
Ingredients:
8 oz. plain unsweetened milk of choice
½ cup frozen organic strawberries
¼ ripe avocado
Small chunk frozen ripe banana
Pinch of lemon zest
1 scoop plant-based vanilla protein powder
Small handful of ice
Optional add-ins*:
Hemp seeds
Maca
Ground flax seed
Spirulina
Chlorella
Cinnamon
Handful leafy greens
*Choose 1-2 for best results

Optional toppings:
Low-sugar granola
Bee pollen
Drizzle of almond butter
Toasted coconut flake
How to:
Combine all ingredients + any additional add-ins in a high-speed blender and blend on high until smooth. Pour into a glass and top with any combination of crunchy goodness. Enjoy!
How are you celebrating strawberry season? Share with us on social by tagging @AvocadoMattress and #AvocadoGreenMagazine!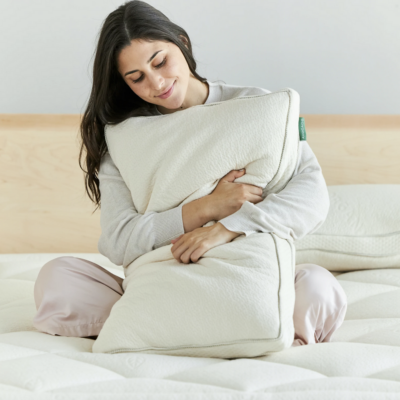 Shop Pillows
The Essential Organic Pillow Collection
Gentle, breathable, non-toxic support.
Buy Now