Laneige's Lip Sleeping Mask offers relief for even the most painful chapped lips.
You know the feeling: you're coming back from a long day spent mouth-breathing on a sunny trail, or a weekend skiing in cold, high-altitude air. You eat a bite of something that wouldn't normally strike you as spicy, and your lips start to burn. It's the oh-crap moment, when you know you're past the point of no return. No chapstick will help you now. You're doomed to at least a couple of days of painful, peeling, cracked lips.
Enter Laneige's Lip Sleeping Mask ($22). It may sound a little over the top — an overnight mask? — but it's really just a super-thick, sweet-smelling miracle balm for your lips.
I've held long-standing allegiance for various lip products: I'm committed to Carmex SPF 15 for days when I need a little extra sun protection (it's also available at most gas stations, which is a bonus for this road-tripper). In high school, I wouldn't touch anything except Palmer's Cocoa Butter during dry winters. But when the damage was already done, and I was dealing with painfully dehydrated lips, I couldn't seem to find a product to put on before bed that offered any relief come morning. The first time I tried the Lip Sleeping Mask, in the dead of a Santa Fe winter, I was shocked to wake up the next day and find my flaky lips smoothed and soothed.
The formula includes hydrating and healing skin food like Vitamin C, hyaluronic acid, and berry-sourced antioxidants, but I think the real power is in the texture. The balm is somewhere between cult-favorite Smith's Rosebud Salve, which is creamy and smooth, and a stickier gloss. It adheres to your lips and creates an occlusive layer to trap moisture in and let those powerful ingredients do their work uninterrupted, all night.
While the price might be a little eyebrow-raising, I bought one $22 tub three years ago and use it anytime my lips need some TLC, and I'm just now hitting the bottom. It's not just part of my at-home lotions-and-potions routine, either — I don't go anywhere without it. I've taken mine into the Southwestern desert for weeks of biking, climbing, and camping, carried it into the Sierra for a backpacking trip, and into snow-covered mountains for backcountry trips. I've now passed my obsession along to a small army of friends and family — I've gifted tubs to at least six different loved ones since I bought my first, building a small army of soft-lipped converts along the way.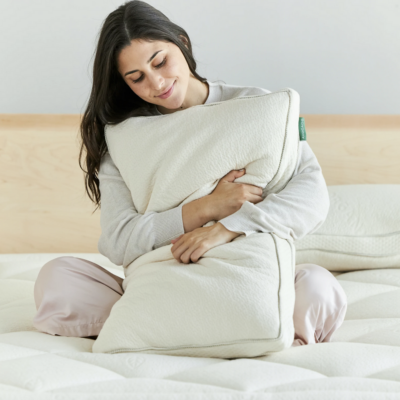 Shop Pillows
The Essential Organic Pillow Collection
Gentle, breathable, non-toxic support.
Buy Now