As we settle into a very different summer than we could have imagined, those of us lucky enough to have our health are exploring new ways to enjoy summer travel responsibly.
When my partner and I realized our trip to the coast of Spain wasn't possible this year, we reimagined our summer vacation around low risk travel and activities and something we both (luckily) love: camping. Here's how to camp responsibly in the time of Covid-19.
How To Get There
Pick a place (or places) that feel safe, responsible, and where you can abide by the local travel restrictions and quarantine rules.
When deciding where to camp, be sure not to go anywhere with closures like Native reservations, which are closed to non-members of the tribe. Research ahead of time with specific Google searches and the National Park Service's website. You can identify Native reservations on Google Maps' "map view" as the gray areas labeled "Reservation" or "Nation" so you can safely and respectfully avoid them.
To get there, travel in a way that limits your exposure to other people and take extra precautions (like wearing a mask and using lots of hand sanitizer) when you absolutely must be in close proximity to other people, like when stopping for gas. Speaking of stopping for gas (and food, if you must) try to avoid small towns in addition to indigenous communities so as not to expose them.
Bonus: You avoided native communities — good job! — but still recognize that anywhere you camp is stolen land. Educate yourself on the indigenous history of the land you camp and recreate on. Text the city and state you're in to 907-312-5085 and it will tell you whose land you're on.
Where to Camp
Many campsites are closed or taking limited reservations, so do extra research and be sure to book well in advance. It's also a great idea to have a "Plan B."
The best way to limit your exposure to others is to consider camping at non-official campsites, otherwise known as dispersed camping on public lands. This means you won't be in close proximity to other people or need to share facilities like restrooms or group sinks. That's right, there aren't restrooms. Get comfortable with nature and learn how to use the "bathroom" responsibly outdoors (here's a helpful guide).
What to Pack
Plan more than you normally would so you can pack all your meals and supplies to limit dining out, grocery shopping, and resupply stops. The National Park Service has a great resource called "10 Essentials" to start with.
Keep in mind that everything you pack in also needs to be packed out, so get familiar with the "Leave No Trace" edict — important outdoor ethics that help protect the natural world.
What To Do Once You're There
Find things to do that are centered around being outdoors (this shouldn't be hard when you're camping!) and away from other people. Whether you're hiking, mountain biking, swimming, or hanging up your hammock and napping surrounded by nature, pick areas that are less crowded and consider avoiding them at peak times. My favorite resource for finding local hiking trails is All Trails, which will tell you if a trail is heavily, moderately, or lightly trafficked (along with tons of other useful information, such as how long and difficult a hike is, where to park to access the trailhead, and whether or not there are lots of mosquitos there). If you do pass people on the trails, be respectful, keep your distance, and wear your mask (not a neck gaiter, it turns out these aren't effective).
Any travel or summer plans come with some risk, so if you choose to travel, how you travel during this pandemic is a deeply personal choice and ultimately depends on your level of comfort. With lots of thoughtful planning, your trip should not only be low-risk, but it should be fun and relaxing, which has huge immune system and mental health benefits. Happy camping!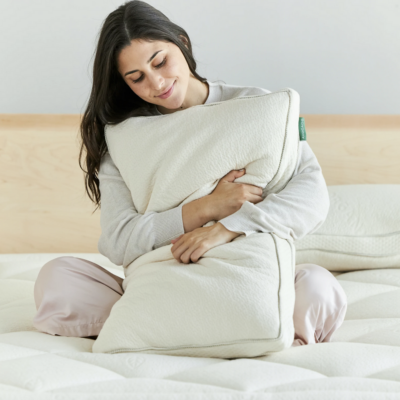 Shop Pillows
The Essential Organic Pillow Collection
Gentle, breathable, non-toxic support.
Buy Now