Hi, I'm Dr. Troy Willis, Founder of Live Well Natural Health in Louisville, Kentucky. I've been a practicing chiropractor for more than 14 years and have helped thousands of patients resolve pain and restore their health. I'm passionate about holistic care and encouraging people of all ages to eat,  move and think well. Sleep is a hugely important piece of the health puzzle.
With several factors impacting the quality of our sleep outside of our control — like what you eat, medication interactions and stress to name a few — one aspect that we can directly control is our sleep environment. Choosing a mattress is the ideal starting point for creating your new sleep sanctuary and addressing chronic back pain. The method outlined below is the same I use when I assess patients with sleep issues at my wellness clinic.
Based on this four-step method, I have selected Avocado Green Mattress to recommend to my clients. (And I sleep on one myself, too.)
Step 1: Choose a Size
First, you will want to determine the size of the mattress based on the needs of who will be sleeping on it. You'll then take into account any health issues, such as GERD or acid reflux, joint problems or surgeries that might determine the type or size of mattress needed. Even the use of a Continuous Positive Airway Pressure (CPAP) machine to treat sleep apnea could require an adjustable base or a pillow-top type cushioning, so you will definitely want to factor in those needs as well. Avocado offers standard sizes Twin through California King.
Step 2: Address Alignment and Support
Next up, you'll consider support and comfort — which are not mutually exclusive. In fact, proper support is typically what leads to a comfortable night's sleep. Determine what your primary sleeping position is. From a structural perspective, sleeping on your back with knees supported is best for alignment. However, some people have difficulty with snoring or restlessness in this position and many prefer side sleeping. Side sleepers will need pressure relieving cushion at the shoulder and hip areas.
There are several ways most mattress manufacturers attempt to address this support/comfort relationship through combinations of foam, gels, coils, even air-filled cylinders — each claiming their method is superior, of course. But there are potential pitfalls to each. Most foams are known to trap heat as they mold to your body and degrade over time. Gel mattresses may allow for too much movement and not be conducive to restful sleep. And, air cylinders require a motor and electricity to maintain.
While personal preference is always a factor, based on discussions with many patients and reviewing thousands of spinal x-rays, the best approach is a supportive mattress (a mattress that is too soft can actually exacerbate back pain) with enough cushion for pressure points while using the safest materials. 
Avocado offers two levels of support: A Standard and a Pillow-Top. Here's what they say about firmness on their site:
"On a scale of 1 – 10 (with 10 being the firmest) our Standard Avocado Green Mattress rates as a 7, which is gentle, yet firm. It's ideally suited for back and stomach sleepers, as well as lighter individuals and growing children — anyone in need of natural cushioning and medium-firm support.
With the Pillow Top option, our mattress rates as a 6. (It is not overly soft, 'plushy' or 'sinkable.' Instead, our pillow-top model offers just the right amount of added luxury and buoyant cushioning, all of which is buttressed by strategically zoned back support. Our pillow-top model more easily adapts to your body's natural curves, and as a result, is ideally suited for side sleepers, all-around sleepers, heavier individuals, athletes and those in search of pain relief, pressure-point relief and critical back support."
Support-wise, Avocado is a natural hybrid mattress, which uses layers of 100% natural Dunlop latex foam combined with a state-of-the-art innerspring system. This allows sleepers the perfect blend of support and contouring comfort.
Step 3: Research Healthy Options (For You and the Planet)
Another important aspect to consider when researching mattresses is what it's made of and how the manufacturing process affects the environment. In today's modern world, we are bombarded with chemicals daily, and since half of our lives are spent sleeping, we must be aware of what chemicals our mattress exposes us to. The use of natural wool, organic cotton, and inert, non-noxious natural latex provide a safe sleeping surface for you and sustainable manufacturing processes are better for the environment. Be sure to look for proper certifications to ensure peace of mind.
Avocado uses all natural and organic materials (100% natural Dunlop latex tapped from sustainably harvested trees, natural wool, and organic cotton) and the whole mattress is GREENGUARD Gold certified by UL Environment. In addition their latex is eco-INSTITUT® certified, their wool is STANDARD 100 by OEKO-TEX®, and their ticking is made with GOTS certified organic cotton.
Step 4: Make a Smart Purchase
As you narrow your search, it's reassuring to know that most mattress manufacturers offer general "in-home trials" and some of the best offer 100 night sleep trials, free shipping and free return pickups. As many industries move to an online sales model, these considerations make for a great alternative to testing in stores with fluorescent lights and no sheets. Look for a real opportunity to test your new mattress in your true environment with the confidence that you can return it if you find it to not provide you what you expected.
Avocado offers a 100-night risk-free trial with free return pickups, has excellent customer service, and a 25-year limited warranty.
When it comes to price, mattresses are wide ranging.  My advice to my patients is to work through your own individual needs as stated above. Remind yourself that proper sleep drives your daily energy levels and your productivity as well.  A wise man once said, "You spend your life in your shoes, and in your bed — don't skimp on either."
LEARN MORE ABOUT DR. TROY WILLIS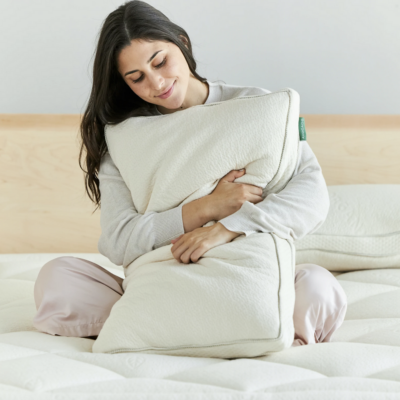 Shop Pillows
The Essential Organic Pillow Collection
Gentle, breathable, non-toxic support.
Buy Now