Shoes are the forgotten part of our closet that collects massive wear and tear and then inevitably winds up in a landfill. It's the cycle of life that eventually any great pair is going to wear out, so these companies decided to ask, What can we do to make it better?
Using sustainable materials and processes and treating their employees with respect, these companies are changing the game. They make shoes from materials as incredible as algae and recycled plastic bottles, and do it all while opting out of the fast fashion rat race.
Check out these incredible shoe companies for kicks you can feel good about buying this year.
#1 — Po-Zu
For: Men, women, and kids
Types of shoes: Sneakers, boots, sandals, slip ons
Materials used: Natural latex, chrome-free and vegetable tanned leather, pineapple leaf fibers, organic cotton, wool, coir, and cork
This stylish brand takes the cake in terms of sustainable material diversity, with their own blends of coconut and pineapple fiber materials, non-toxic leather, and biodegradable materials like organic cotton and wool. The best part? They have a line of Star Wars shoes that is pretty insane.
In addition to their crazy amazing materials list, Po-Zu works actively to reduce their carbon footprint, manufacturing in Portugal, where 70% of the energy comes from renewable sources. They pledge to pay their employees fairly, and even donate 3% of their profits to charity!
#2 — Indosole
For: Men and women
Types of shoes: Sandals, slip ons, and high tops
Materials used: Recycled tire rubber soles, organic canvas
Indosole makes trendy shoes that specialize in making use of the massive amounts of tire waste in the world. This certified B-Corp puts a strong emphasis on people and planet, guaranteeing the artisans responsible for crafting their cool kicks a safe and professional work environment.
#3 — Coclico
For: Women
Types of shoes: Boots, heels, slip ons, and sandals
Materials used: Vegetable-tanned leather, cork, and natural rubber
Coclico makes sophisticated footwear for the modern woman, and their emphasis on quality over quantity is evident in every pair. Their focus on slow fashion sets standards of quality control, like only working with small tanneries who meet strict guidelines for quality and sustainability, sourcing materials locally, and creating products that are meant to last.
#4 — Rothy's
For: Women
Types of shoes: Flats
Materials used: Natural rubber and recycled water bottles
All of the blister-free comfort of a favorite pair of sneakers, with all of the sass and style of a great pair of flats — that's what you get with Rothy's. This company may look posh on the outside, but they're made of recycled plastic bottles and natural rubber soles on the inside, and I kinda love them for it.
With a focus on practical, breathable footwear that maintains the style status quo, Rothy's is a brand for the fashionista who refuses to compromise the planet.
#5 — Veja
For: Men, women, and kids
Types of shoes: Sneakers
Materials used: Vegetable tanned leather, organic cotton, natural rubber, recycled plastic bottles, jute, recycled cotton, synthetic (vegan) leather, and recycled polyurethane
Veja is a unique shoe company in that they don't keep stock on hand. In the interest of reducing waste and their environmental footprint, they produce orders placed by retailers six months in advance, so that no pair of shoes sits on a shelf in a warehouse being unused.
In addition to their shoe materials, their packing materials are made from recycled materials, and they do everything they can to offset their transportation carbon footprint.
#6 — Oliberte
For: Men and women
Types of shoes: Boots, sneakers, flats, wedges, slip ons, bags, backpacks, and wallets
Materials used: Natural rubber, free-range leather
Oliberte is the world's first fair-trade certified shoe company, with a focus on supporting workers' rights in sub-Saharan Africa. Their factory in Ethiopia is filled with machines sourced locally, whenever possible, offering economic growth and stability in addition to a safe place for locals to work.
Though their leathers are tanned from traditional means, they're sourced from free-range, hormone free animals, and they even use the world's ONLY chrome recycling system to do it (a chemical part of the conventional tanning process).
I heart these guys so much for their focus on "Trade, Not Aid", and their shoes are so unique and beautiful, in addition to being biodegradable.
#7 — Vivo Barefoot
For: Men, women, and kids
Types of shoes: Sneakers, hiking boots, slip ons, flats, sandals, winter boots, and water shoes
Materials used: Recycled plastic bottles, algae, free-range leather
A lot of people are warming up to the idea that stiff soles are actually not ideal for feet. Companies like Vivo Barefoot are answering the call, with flexible soles that let you feel the earth move under your feet.
These shoes are made from a myriad of incredibly sustainable materials, like their Bloom shoes, which are made from harmful algae harvested from contaminated waterways! Their shoes primarily cater to the athletic types, with kicks for every form of outdoor entertainment.
#8 — Allbirds
For: Men and women
Types of shoes: Sneakers and slip ons
Materials used: ZQ-certified merino wool and castor bean foam
Okay, so it was totally news to me that wool makes for an incredibly comfortable shoe, but it makes total sense. It's moisture-wicking, it's breathable, naturally odor repellent and antimicrobial — what's not to love?
Allbirds takes it a step further, sourcing their wool from the happiest sheep in New Zealand, thanks to their ZQ certification, and they're even a certified B corp!
#9 — soleRebels
For: Men and women
Types of shoes: Sandals, sneakers, slip ons, and flats
Materials used: Recycled tires, organic cotton, organic jute, koba plant fiber, and free-range leather
soleRebels is a shoe company that doesn't compromise ANYWHERE. Their materials are incredibly sustainable, and they treat their workers with respect and compassion, paying them four times the minimum wage and operating under a quota-free structure, so that everyone gets paid no matter what.
Their shoes are casual and stylish, and each one is made by hand, making their entire production process ZERO carbon. How cool is that??
Do you have a favorite sustainable shoe brand? Share it with us on Facebook or Instagram and tag us in the post so we can check them out! @AvocadoGreenMagazine or #AvocadoGreenMagazine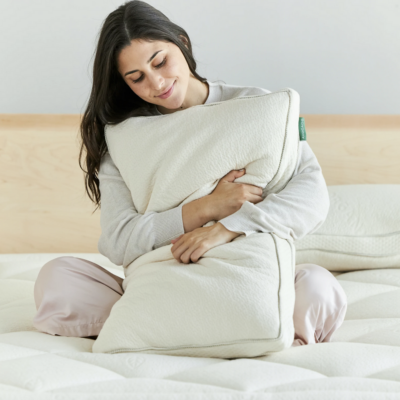 Shop Pillows
The Essential Organic Pillow Collection
Gentle, breathable, non-toxic support.
Buy Now