I don't know about you, but I never stay in hotels if I can avoid it. Airbnbs have swooped in and stolen the hearts of thousands of travelers, and with good reason. Most of the time, you can book an entire house for the same nightly rate as a hotel, and you get way more charm than a king suite in a hotel chain.
More than great rates and more space, though, Airbnbs offer unique stay experiences in dwellings that can't be matched. In this piece, we're taking a closer look at some gorgeous off-the-grid Airbnbs that'll help you unplug and recharge as you travel.
What Does-Off-the-Grid Really Mean?
Off the grid is a term we throw around a lot here. When we say a building is off the grid, it means that it doesn't get its power from the grid (i.e. power lines). Typically, these houses are built in remote locations where it's either not possible to run power or water, or cost-prohibitive.
Some buildings are completely off the grid, meaning they have their own water source and wastewater management system as well. Others just have independent power supplies, and still others are just on private roads separate from civilization.
The point is, you need to do your research before you book any of these locations. Seasonal access and amenities like modern plumbing become optional in an off-the-grid Airbnb, so read listings carefully and always reach out if you're not clear on what's included. Or just bring toilet paper and go with it.
It's time to kick your adventuring up a notch — check out these stunning off-the-grid American Airbnbs.
#1 — Treetop Sanctuary
Dunbarton, NH // $150/night
Another treetop adventure awaits in this New England treehouse Airbnb. Follow the boardwalk through the trees to this little treehouse for four, where you'll find two beds, a wood stove cooking area, and a composting toilet.
This treehouse sits 30 feet in the air, so it's not recommended for children or pets. Situated on five acres of private land, this little gem is the perfect spot to soak up the fall foliage this year!
#2 — Treehouse at Kilauea Volcano
Volcano, HI // $250/night
That's right — a TREEHOUSE in Hawaii. Aloha, tree dwelling guests, this place is stunning.
This treehouse Airbnb is perched at the top of the mountain. Currently Kilauea is erupting, but remarkably, there's still safe access in this treetop piece of paradise. Truly a once-in-a-lifetime experience, the Treehouse of Kilauea Volcano allows guests to witness the awesome power of the volcano from a respectable distance.
This is not your kid's treehouse. Designed by Treehouse Masters, the house is built on two levels with an outdoor dining area and shower. As you sleep in the upstairs suite, birds fly below you through the forest. With a little kitchen and bathroom, locally made stained glass windows, and lush views of the surrounding forest, this treehouse stay is the stuff dreams are made of.
Be prepared for a steep hike to the treehouse — the hosts will help you transfer your luggage to daypacks to make the ascent easier.
BOOK THE TREEHOUSE AT KILAUEA VOLCANO
#3 — Mushroom Dome Cabin
Aptos, CA // $130/night
Another Airbnb who's online reputation precedes them, the Mushroom Dome is an adorable and highly sought after hotspot. Located two hours south of San Francisco in Apto, California, the Mushroom Dome sits perched in the trees of a forest on 10 acres of private land. Just a short walk from the beach, yet secluded in nature, this stay is exactly what the doctor ordered for busy city burnout.
Nestled under a geodesic dome, the tiny house has room to sleep up to three with a working bathroom and composting toilet on site. On the deck, you'll have a spot to grill and enjoy the surrounding forest, and at night, the Milky Way is visible.
#4 — Yurt Haven
Goldendale, WA // $86/night
Yurts are the newest craze in glamping — you'll find them tucked all over in unlikely spots in the Pacific Northwest. At Yurt Haven, you'll have access to thousands of acres of public lands from your cozy landing pad in the forest.
Heated with a wood burning stove and equipped with a hammock, Yurt Haven makes a great escape in any season but is particularly advantageous for hunters. Chat with the host when you book about scheduling a guided hunting tour, or book one of their electric mountain bikes.
If you're an equestrian, bring the horses — this Airbnb has corrals and paddocks so your horses can come along for the stay.
#5 — Malibu Dream Airstream
Malibu, CA // $650/night
Airstreams are making a comeback in a big way, and this Airbnb in Malibu says it loud and clear — sometimes, luxury comes with wheels.
Poshly appointed, this Airstream has been stripped bare to be a studio-sized booking with a spacious outdoor deck. Outside of the hustle and bustle of Malibu, this Airbnb is so remote, you'll actually see wildlife and the Milky Way. The views of the mountains are incredible, and the sunsets are unforgettable.
The bathrooms here are outdoors, so be sure to bring your flashlight. With no cell reception, it's not likely you'll need your phone much while you're here, but you can use their solar chargers to power your gadgets if needed. At night, LEDs offer just enough lighting to enjoy a meal or a good book. There's no air conditioning or hot water in this unit, but there is a kitchen with a refrigerator, so bring what you need to cook.
#6 — Convertible Cabin
Zion National Park, UT // $145/night
This A-frame was lovingly built by some seriously wonderful hosts. When you book your stay here, chat with the host about what you should bring and any dietary restrictions — they're incredibly helpful and will make sure you have what you need.
This is another Airbnb that requires a bit of hiking to get to, and it's well worth the journey. At the end of a dirt road, through the woods, across a bridge, and up a hill perches this convertible a-frame cabin for two.
One wall of this cabin props up to bring the outdoors in, allowing you to lounge in bed with a book while looking out on the surrounding forest. The deck features a little firepit and adirondack chairs where you can sit at night to watch the space station pass overhead in the unpolluted skies over Zion National Park.
Solar panels power this little slice of paradise, and bathrooms are located in a separate outhouse. There's a small cooking area set up, stocked with a cooler where you'll find the makings of smores and organic oatmeal jars ready for breakfast in the morning.
#7 — Off Grid Cabin in the Green Mountains
West Bolton, VT
Swimming holes, hiking, and rock climbing opportunities are just a walk away from this off-the-grid Airbnb cabin in the Green Mountains of Vermont. This cabin is located on a 20 acre organic homestead where the host gardens and raises chickens. Take a tour of the property, and ask about fresh produce and eggs for your stay.
There's an outhouse and outdoor shower that offers hot water in the warmer months when freezing isn't an issue. For heat and cooking, you'll be using wood stoves, so be sure you're prepared to start a few fires while you're there. And don't worry — the host has your firewood covered.
#8 — Off-Grid itHouse
Pioneertown, CA // $380/night
Located in the remote high desert land about two hours east of LA in California, the Off-Grid itHouse is more experience than accommodation. This one's on the pricier side because of its notoriety — it's been featured over and over again in travel guides for its eco-friendly design and minimalist modern architecture.
With its own power supply, the itHouse is 100% off the grid and is best driven to in broad daylight (because getting lost in the desert is zero fun). Floor to ceiling windows give you a panoramic view of the stark beauty and desolation of the surrounding landscape.
This house is intentionally without wifi or TV to help you disconnect, but it's not without modern amenities. Daily fresh juice deliveries are available with Angela de la Agua — just let your host know when you book.
Have you ever gone off the grid with Airbnb? Tell us your story on Facebook or Instagram and tag us in the post — @AvocadoMattress!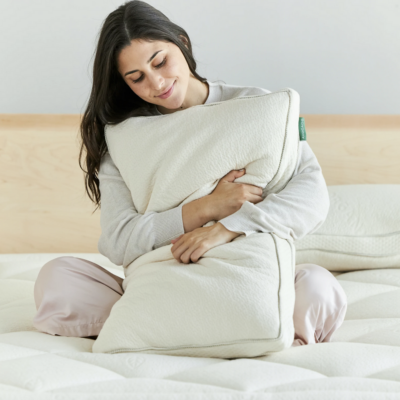 Shop Pillows
The Essential Organic Pillow Collection
Gentle, breathable, non-toxic support.
Buy Now