Thanksgiving is amazing. All the foods, please, with extra gravy. But being paleo and running in a crowd of complex carb-loving family members this time of year can make you feel like you have a third arm sticking out of your head — and nothing to eat to boot.
My advice? Host Thanksgiving dinner this year, or bring three dishes to the one you go to, and ROCK THAT THING paleo-style. These recipes make it easy to pull it all off, and your eye-rolling old school uncle won't even miss the flour.
#1 — Bacon Wrapped Butternut Squash from Paleo Leap
Wrap crispy bacon around pretty much anything edible, and you've got a great starter. Pair it with the sweet, nutty goodness of caramelized butternut squash? Simply delectable.
When your guests walk through the door ravenous, have a few of these bacon-wrapped bites in your appetizer arsenal. They're simple, quick to make, and easy to customize. With snacks like these, who needs cheese and crackers?
#2 — "Cornbread" Paleo Thanksgiving Stuffing from Paleo Running Momma
Savory, sweet, and colorful, this grain and dairy-free take on a Thanksgiving classic uses sweet potato bread as the base for a satisfying combination of fall's yummiest flavors. With sausage added to the mix, it's hearty enough to bring back as a stand alone meal in your winter rotation
#3 — Crispy Creamy Green Bean Casserole from The Castaway Kitchen
This recipe creatively uses cauliflower as the base for a creamy and decadent sauce. Add in the crisp burst of flavor from the onions and bacon, and you've got a dish that can run circles around the traditional holiday staple. Here's a tip: this recipe only serves six, so you may want to double (or triple) the recipe to make sure you have enough to feed the entire brood.
#4 — Paleo Molasses Sweet Potato Casserole from A Healthy Life for Me
While some may disagree, in our house, it's not Thanksgiving unless there's some form of gooey, warm sweet potatoes on the table. This recipe skips the brown sugar and marshmallows (le sigh) found in the traditional version and adds the warm, seasonal flavors of cinnamon, molasses, and walnuts to create the perfect side dish.
Okay, you have me back.
Prepare yourselves — you'll need your stretch pants for this one.
#5 — Garlic Herb Paleo Dinner Rolls from Paleo Running Momma
Because just because you're paleo doesn't mean you don't miss dinner rolls. This recipe skips the usual wheat-laden flour blend with a paleo alternative that produces a light, fluffy result your guests will never think twice about.
These babies even have a secret ingredient, apple cider vinegar, which gives the rolls a boost by reacting with the baking soda to help them rise. Genius!
#6 — Paleo Pumpkin Pie from Bakerita
I mean, is it really Thanksgiving if there's no pie?
Nope, nope definitely not.
This better-for-you version blends the traditional spices of the dish with rich maple syrup, ultra-rich coconut milk, and creamy almond butter to mimic a classic recipe, sans scary processed ingredients. Need a quick and healthy breakfast on Black Friday? These leftovers fit the bill! Pie. For. Breakfast.
#7 — Salted Caramel Maple Pecan Pie Bars from the Foodie Teen
A nutty, fudgy, crunchy filling piled high on a perfectly tender base of shortbread? These bars are everything. There's no need to apologize for the lack of refined sugar and carbs here. Warning: this recipe only makes 12 bite-sized bars, so doubling the batch is more than acceptable, it is HIGHLY encouraged.
What Paleo dishes are you serving up this Thanksgiving? Tell us on Facebook or Instagram and tag us in the post! @AvocadoMattress or #AvocadoGreenMagazine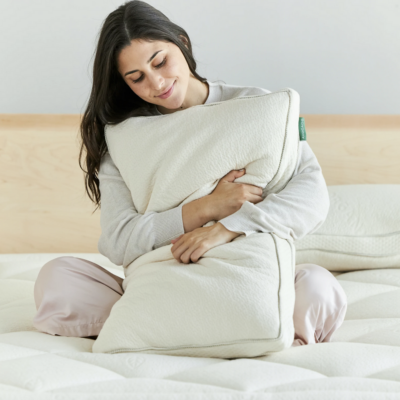 Shop Pillows
The Essential Organic Pillow Collection
Gentle, breathable, non-toxic support.
Buy Now