Had you asked me in January if I thought I'd be spending the spring baking banana bread, learning how to make a sourdough starter, and finally getting around to brewing my own kombucha, I likely would have looked at you as though you had two heads. "Where would I find the time?"
And yet here we are. As we continue to flatten the curve, Americans are cooking and stress-baking more than ever. Sure, we have more time, but studies also suggest that cooking and baking can support mental well-being — possibly relieving depression and anxiety.
If you're someone who enjoys spending time in the kitchen, you may easily understand why. Whether you follow recipes or lead with your gut, there's something calming and methodical about chopping ingredients, stirring and whisking to create a delicious, comforting meal — and comfort is something we could all use right about now.
In our busy, pre-quarantine lives, many of us just didn't make the time to mix up something new, but now that we're home for the foreseeable future, it's the perfect time to fine-tune your cooking skills — or learn to cook. Whether you're a seasoned chef or learning the basics, a new cookbook can provide the guidance or inspiration you need to add a little spice to your cook-at-home repertoire.
#1 — Dining In, by Alison Roman
While Roman's Nothing Fancy was the cookbook of the 2019 holiday season, it's Dining In that's the true star of recent stay-at-home orders. Where Nothin Fancy focuses on cooking for guests, Dining In guides home cooks (or would-be home cooks) through useful techniques — like keeping boiled potatoes ready in the fridge for crispy smashed potatoes) — and the steps needed to craft delicious, vegetable-forward meals that will make even the most devoted restaurant-goer crave the process of cooking from home.
#2 — Salt Fat Acid Heat, by Samin Nosrat
Voted one of the best books of 2017, Salt Fat Acid Heat by Samin Nosrat, is one of those instant classic cookbooks that we should all have on our shelves. Useful for newbie cooks looking to learn the whys and hows behind the dishes and seasoned home chefs, this useful guide also showcases how it should feel to cook through the warm, approachable, enthusiastic tone Nosrat has become known for through her book and TV show of the same name.
#3 — Half Baked Harvest: Super Simple, by Tieghan Gerard
For (mostly) plant-based cooks who are strapped for time or those just starting out in the kitchen, Half Baked Harvest: Super Simple, by Tieghan Gerard, promises easy to follow recipes that utilize time-saving techniques, like night before prep and everyone's favorite, the Instant Pot. The resulting meals are comforting, good for you, and most importantly, super tasty. Best of all, you'll learn the basics, making Super Simple an excellent pick for those wanting to cook with kids — or their partner.
#4 — AMÁ: A Modern Tex Mex Kitchen by Betty Hallock & Josef Centeno
For those who are really missing their favorite taco truck, pick up a copy of AMÁ: A Modern Tex Mex Kitchen, featuring recipes from San Antonio native and Los Angeles chef and restaurateur Josef Centeno. AMÁ combines traditional Texan and Mexican cuisine with influences from around the world to create a book of truly unique recipes that are sure to add something bright, fresh, and full of flavor to your repertoire.
#5 — Sababa, by Adeena Sussman
If you're looking for comfort food but are tired of the same old meat and potatoes, try Sababa, by Adeena Sussman, which features vibrant, flavorful recipes that celebrate Israel and the surrounding region. Transporting home cooks to Sussman's Tel Aviv kitchen, Sababa showcases everything the Israeili kitchen has to offer, utilizing ingredients that many of us are already familiar with but may be curious to learn more about, including tahini, harissa, and date syrup.
#6 — From Scratch, by Michael Rhulman
Like the most delicious choose your own adventure, From Scratch, by Michael Rhulman, takes 10 dinnertime staples — think roast chicken, the perfect steak — and delves into all the techniques, sides, and accompaniments you need to make the meal your own. With 175 recipes, this is no slim tome but a compendium of dinnertime know-how that will have you whipping up meals from scratch in no time. With glowing reviews by Ina Garten herself, this is sure to be the next must-have cookbook.
All Photos by Becca Tapert on Unsplash
How are you cooking your way through quarantine? Share your cookbook recommendations with us by tagging @AvocadoMattress and #AvocadoGreenMagazine!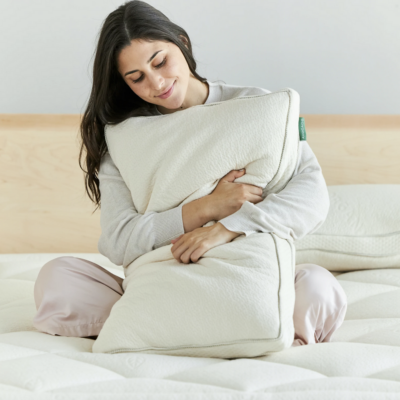 Shop Pillows
The Essential Organic Pillow Collection
Gentle, breathable, non-toxic support.
Buy Now