You've rid your routine of most single-use plastic, swapped from disposable sandwich baggies to Stasher bags, you always remember your reusable coffee cup, and you tote your reusable water bottle everywhere you go. And you even compost now! On laundry day, you diligently use your Guppyfriend to ensure those little microfibers don't make their way into oceans and streams.
By all accounts, you're doing your part to reduce your carbon footprint as much as possible, but what about your carbon pawprint? It's a hard truth that the routines of our furry best friends — that is, the dogs and cats we call family — aren't always the most environmentally friendly. The kitty litter and canned food, the plastic toys they chew through in no time, the microfiber pet beds and all the plastic waste bags — it all adds up. And while your pet can't exactly advocate for the environment, we as compassionate pet parents can.
The pet industry — pet foods, toys, accessories, and everything else you might need to keep your dog or cat happy — is a multi-billion dollar industry and one that flies largely under the radar when it comes to the environment and eco-friendly products. Why are we so quick to adjust the products we use for ourselves to the environmentally friendly option but accept the status quo when it comes to our pets? Instead of reaching for another plastic toy or conventional canned food the next time you're shopping for your pet, here are our tips to help "green" your furry friend's routine while still keeping them happy.
#1—Spay & Neuter
Don't think "fixing" your pet has anything to do with the environment? Think again. An estimated 6.8 million dogs and cats enter U.S. animal shelters annually, and sadly, only about half that number find their forever homes. Animal homelessness can have a major impact on the environment, as can over-crowded shelters (many of which still euthanize animals that don't get adopted), how can we stop this? By spaying and neutering our pets and encouraging our friends and neighbors to do the same. This helps reduce the strain on shelters and the environment, making the odds of finding a family that much better for pets who need a home. For those whom the cost of fixing an animal might be cost-prohibitive, many shelters and animal hospitals host spay and neuter clinics that offer sliding scale or waived fees for both sterilization and shots. In this theme, if you're looking for a pet of your own, always remember to "Adopt, Don't Shop" — seek out a local shelter to find Fido or Fluffy instead of purchasing from a breeder. You'll have a new bff, be making room for another dog or cat at the shelter, and give a homeless animal a much needed place to call home. It's a win-win-win.
#2—Choose Eco-Friendly Toys
We all know an occupied pet is a happy pet, but a quick stroll through the different aisles of pet toys at any big box store will usually turn up nothing but plastic and artificially dyed feathers. These toys often aren't durable nor are they sustainable, but the good news is there are plenty of earth-friendly options. Check out the Highroller Dog Ball, made of post-processed materials and crafted to hide a treat, which translates to endless hours of fun for your pup; or the Flat Tire Flyer, an eco version of every dog's favorite toy — the flying disc — crafted from recycled materials. For cats, look for natural wool felted balls, and if your kitty loves catnip, why not grow your own? Homegrown catnip is often more potent than the kind found in stores, and it can be grown year-round (just keep the flower pot out of kitty's reach) without the use of pesticides. When it comes to choosing pet beds, natural fibers are best. Look for beds that can be easily washed, boast organic cotton stuffing or stuffing made from recycled materials (not treated with chemicals), or are made from wool or felted wool. Check out West Paw Designs for a range of pet bed sizes or do a quick search on Etsy for fun felted cat beds and hideaways, like this option from Home Soul Shop. Our friends over at Brentwood Home also make non-toxic and super stylish pet beds.
#3—Scoop Responsibly
Everybody poops, even your pet, but you gotta pick it up. Pet waste, while it may seem "natural," can have devastating environmental effects if not disposed of properly. Cat litter and waste should never be flushed down the toilet. Even if your city or town has a treatment plant, not all facilities are designed to deal with pet waste, which leaves the chance that it could make its way into lakes, rivers, or oceans. Dog waste, when left on the ground, can contaminate soil, make people sick, and even contribute to toxic algae blooms. Plus, no one wants to run the risk of tracking that into their homes. Instead, choose compostable bags like these from Earth Rated to easily pick up and dispose of your pup's waste, and when it comes to cats, opt for naturally-derived kitty litter, like options made from newsprint, corn, or cedar. Tip: if you don't want to scoop litter box waste right into your garbage because of the smell, scoop it into a compostable dog waste bag, then toss in the garbage.

#4—Fine Dining
While you and I may be going plant-based, as obligate carnivores, our feline friends don't exactly have the option. And when it comes to dogs, as omnivores, their diets are more flexible, but often should include some kind of animal protein. But a 2017 study found that dogs and cats make up 25% of the country's meat consumption — and we all know by now how detrimental the livestock industry can be on the environment. As pet owners, we have several options when it comes to feeding our furry friends. There's conventional pet food, which is often bulked up with grains and corn (a big no-no for cats and questionable for dogs); premium grain-free options; fresh food, like The Farmer's Dog and Smalls for Smalls; and making your own pet food from scratch (always work with your vet to determine the best approach for this).
#5—Keep Pests at Bay
We all know how good a fresh shower and scrub feels — and your dog or cat might feel the same way. Regular brushing of your furry friend (and baths when it comes to dogs) not only keeps their skin and coat healthy and shiny, but that healthy skin and fur can also keep pests, like fleas, away. But regular brushing and making sure you're washing their bedding isn't the only way to prevent fleas and ticks. There are multiple pest-control options out there, some of which are pretty dangerous for your pet and the environment. The NRDC warns against most pest control collars and topical treatments, but says that if one is absolutely necessary, choose an option with s-methoprene or pyriproxyfen as ingredients, and avoid any pest control option that includes imidacloprid and dinotefuran, ingredients that could be toxic to children and are known to harm bees and other pollinators.

Photo by kyle smith on Unsplash
How are you greening up your pet's routine? Share your tips with us on social by tagging @AvocadoMattress and #AvocadoGreenMagazine!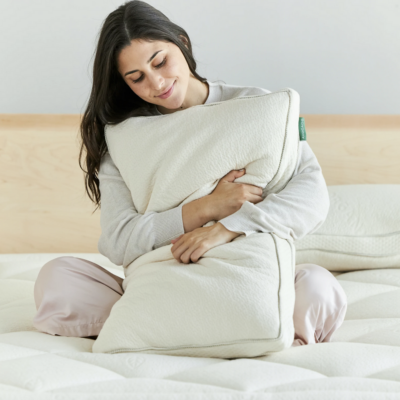 Shop Pillows
The Essential Organic Pillow Collection
Gentle, breathable, non-toxic support.
Buy Now