As climate change and news of popular retailer's unfortunate factory conditions continue to pepper the news with, well, mostly bad news, 2018 is the perfect time to switch your allegiance to brands who are dedicating themselves to doing things differently.
Over the past several years, the fashion industry as a whole has come under fire for deplorable conditions and production practices that are anything but sustainable. But as companies like Everlane and Allbirds gain traction for their ethically-produced designs, our awareness and understanding of the impact we're making with each and every purchase has grown.
Luckily one only has to perform a quick Google search to discover what's happening behind the scenes at their favorite brands, the bad and the good. And thankfully, as awareness has grown, for every fast fashion juggernaut producing poorly made goods, there's a brand working to make a difference for the planet and its people. Interestingly, along with minimalist favorites (think: Everlane, Allbirds), it's often athletic brands leading the charge in making a difference for the planet, a 180 for an industry that has come under fire in the past for their non-sustainable fabrics.
If getting outside and making a difference are topping your list of goals for 2018, the five brands below will help you do both, with functional design, bright and bold colors, and ethically and environmentally-minded practices.
#1 — Outdoor Voices
Founded in 2013 by Coloradan Tyler Haney, Outdoor Voices has quickly gained traction among the fashion set and minimalists for its gym-to-street-friendly design and gym and outdoors-friendly construction. Crafted in muted, easily coordinated colors, from fabrics designed to not show sweat (which means that, yes, you can finally wear grey to the gym!), Outdoor Voices apparel is made with sustainability and social compliance in mind. The company's Rec Poly (recycled polyester) fabric is made from recycled bottles that have been melted down and made into fibers, and the Seamless collection is tube knit, meaning zero fabric scraps are created.
#2 — Patagonia
Their mission statement says it all: Build the best product, cause no unnecessary harm, use business to inspire and implement solutions to the environmental crisis. Considered by many to be the gold standard when it comes to sustainability and eco-initiatives, Patagonia has set itself apart as equal parts outdoors outfitter and activist company. Using recycled and sustainably produced materials to craft it's second-to-none gear, Patagonia designs eco-friendly storefronts and operates a used site, Worn Wear, where shoppers can find used Patagonia offerings in good condition. The company also donates at least 1% of sales to a different initiative each year – you may remember when the company made headlines for donating 100% of its Black Friday sales back in 2016 (over $10 million dollars, all donated!).
#3 — Osprey
A favorite among hikers, outdoors people and students with too many books, Osprey's line of super-durable backpacks combines eye-catching colors and functional design with sustainable, socially-conscious practices. All Osprey packs come with the All Mighty Guarantee (yes that's really what it's called), which guarantees that Osprey will repair or replace any defects on a pack, no matter when it was purchased, to ensure their packs don't end up in a landfill. Osprey's headquarters, in Cortez, CO, uses 100% green-sourced energy, carbon offsets for shipments, and tree planting to maximize passive solar aspects of building.
#4 — Teeki
Boasting vibrant prints and patterns,Teeki's assortment of yoga and activewear is not for the minimalists among us. Vibrant sunflowers, desert scenes and celestial prints are just a few of the print options available, made to complement or act as the highlight of an activewear look that's equal parts form and function. Made to stand out while moving with you, whether you're flowing through your favorite asana or taking a day hike, Teeki aims to keep plastic out of landfills by manufacturing their eye-catching tops and bottoms from fabric made from plastic bottles themselves. Using pre-existing plastic bottles offsets the need to produce new raw materials to use for the fabric, and for each pound of Teeki fabric produced, about a half gallon of gasoline is preserved.
#5 — Cotopaxi
Boasting a 61 year guarantee (the average lifespan of a person living in the developing world), Cotopaxi's bright, bold and fun hiking gear and backpacks come with a mission: to help alleviate poverty in the world. 2% of the company's annual revenue goes to working towards that mission, and the company operates with a "no scrap left behind" mentality, using fabric scraps to make completely unique products, like the Luzon Del Dia Pack. You'll also want to read more about Cotopaxi's inspiring sustainability and poverty-alleviation initiatives.
Do you know a sustainable brand we should add to this list? Let us know on Instagram or Facebook with @AvocadoMattress or #AvocadoGreenMagazine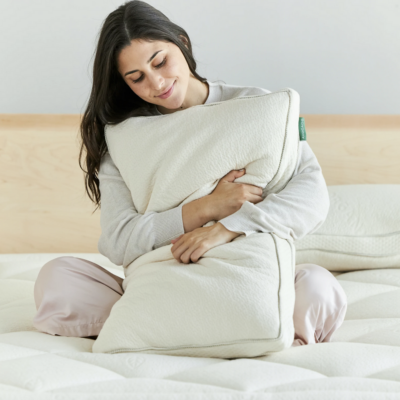 Shop Pillows
The Essential Organic Pillow Collection
Gentle, breathable, non-toxic support.
Buy Now