For many of us, our bed is our sanctuary. The place where we know we can go when we're feeling sleepy, in need of respite or quiet time, or are simply seeking a moment to rest and rejuvenate, a cozy bed can feel like an island when the rest of life is stormy (or when the weather is cold and you just don't want to get up!). Add to that a welcoming pile of pillows and a great set of organic sheets, and even the most stressful day will melt away as soon as your head hits the pillow. As anyone who's slept on a bad mattress will tell you, a great mattress (that is natural and non-toxic, like Avocado Green Mattress) makes all the difference in creating the bed of your dreams — and the same goes for your bed frame.
The right bed frame can bring your whole room to life, expressing your style and personality while creating a cohesive space you actually want to spend time in, so it's natural to want the best of the best! But how to choose? While stylish bed frames are relatively easy to source, ensuring that your new bed frame is eco-friendly should be one of your top priorities when shopping for a new bedroom set.
Better for you
Why should you choose an eco-friendly frame over other models that are out there? Like organic sheets and eco-friendly detergent, an eco-friendly bed frame is not only better for the environment, it's better for you, too! By choosing an eco-friendly option, you'll ensure your new bed isn't contributing to climate change or habitat destruction, and toxin-free manufacturing processes mean you won't be bringing harmful toxins inside your home where they could disrupt your sleep or make you sick.
When traditional bed frames are made, many are subjected to pesticides, formaldehyde and other chemicals used in the manufacturing process, these are chemicals that could come into contact with your skin or get into the air you breathe. Choosing eco-friendly furniture lessens your exposure to these invisible but but very real threats to your health.
Where to start?
The good news is, there are plenty of gorgeous eco-friendly options on the market — you just have to find the perfect one for you! To help get you started, below are five beautiful eco-friendly bed frames that will tie your whole room together, no matter your style.
#1 Manhattan Bed Frame from Altozzo Home
Crafted from eco-friendly rubber wood, a tropical wood typically harvested from rubber plantations after the latex production cycle is completed, this sleek and affordable frame is a minimalist's dream and can be used with or without a box spring.
Clocking in at just under $200, the super-affordable Manhattan Bed Frame allows your accessories to take center stage, whether it's surrounding it with plants or topping it off with gorgeous bedding.
#2 PCH Canopy Bed from LAX Series
If you dream of snoozing in a beach-side cabana, the PCH Canopy Bed might be for you. Made from teak and finished with natural oil, this stunning bed frame takes center stage as the main focal point in your room and is designed to last a lifetime — and longer.
Created with sustainability and positive environmental impact in mind, this frame is created from solid engineered English walnut, meaning each tree's yield is maximized to minimize the amount of wood that goes unused. With no need to purchase a box spring, your mattress sits atop the platform, which is just begging to be surrounded by plants and trailing vines, and maybe an overstuffed pillow or two. We also feature this frame in our Hoboken, NJ showroom.
#3 Windsor Bed from Hedge House
If Shaker-style furniture has always caught your eye, the Windsor Bed from Hedge House is a classic option. Inspired by Windsor-style dining chairs, the slanted headboard supports your back while you read, watch TV, or enjoy breakfast in bed.
Crafted from sustainably-sourced materials, this chic, custom-made frame has all the trimmings of a family heirloom with an understated and modern update.
#4 Tree Hollow Frame from Dapwood
Handcrafted to your specifications, the Tree Hollow frame from Dapwood is perfect for the mid-century modern enthusiast looking for a sustainable update. Designed to be handed down from generation to generation — not tossed to the curb on the last day of classes — this gorgeous frame is as much at home in a Frank Lloyd Wright home as it is your apartment.
Created by B-Corp certified Dapwood in their home base of New Mexico, Dapwood has figured over 21 million customizable combinations of their hand-hewn styles. Top it with a chunky knit throw and plenty of pillows to create a cozy space perfect for cuddling up in.
#5 The Aston Modern Bed from Haiku Designs
Looking for one-stop shopping? The Aston Platform Bed from Haiku Designs has the option of matching side tables that seamlessly blend into the platform frame's design to create a cohesive, ultra-modern look. With no need for a box spring, the focus is entirely on the frame itself, which meets the EU's E-1 rating, the highest and most stringent rating in this rating system which measures the amount of chemicals used in the manufacturing process.
Paired with simple bedding and accessories, the Aston Platform Bed and accompanying furniture is an impressive and inviting bedroom set that makes putting together a beautiful bedroom a piece of cake.
Do you have tips for creating a cozy and eco-friendly bedroom? Be sure to share with us on Instagram or Facebook with @AvocadoMattress or #AvocadoGreenMagazine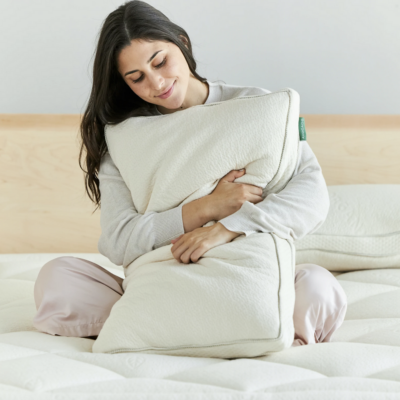 Shop Pillows
The Essential Organic Pillow Collection
Gentle, breathable, non-toxic support.
Buy Now