You've set your intentions, made your resolutions, left bad habits and self-doubt behind – it's safe to say, 2019 is going to be your year. If you think about it, January is the perfect time to make changes big and small in your life, whether you're getting outside more and welcoming more activity into your life thanks to the cold, crisp and sunny January days or finally quitting that bad habit you've been meaning to quit with a support team of similarly resolution-oriented family and friends.
But you can never go wrong with a little more inspiration and support, which is where a solid stable of podcasts come in. Perfect for the treadmill, road trips or solo work from home days, podcasts are a great way to learn from your favorite inspirational sources – and discover new resources for killing it in life along the way. If you're working to make this the best year yet, try the five podcasts below. Ranging from health and wellness to radical honesty and relationships, there's sure to be a pod to help you become your best self.
#1 — The Almost 30 Podcast
You don't need to be almost 30 – or even 30 – to enjoy The Almost 30 Podcast, hosted by Krista Williams and Lindsey Simcik. With guests ranging from Candice Kumai to Hannah Bronfman to Rachel Cargile (and many, many more), The Almost 30 Podcast covers a wealth of topics related to health, wellness, entrepreneurship, self-development – and nearly any other topic you could imagine would help you navigate life's transitions. Whether you're transitioning from your 20's to your 30's, from single life to living with a partner, from being child-free to having a child… The Almost 30 Podcast will teach you something new, make you feel less alone in the world, and help you put the right foot forward for the new year.
LISTEN TO THE ALMOST 30 PODCAST
#2 — Bulletproof Radio
For followers of the paleo or keto diets, the name Dave Asprey should be as familiar as collagen in your coffee and healthy fats with every meal. For those unfamiliar with perhaps the world's best-known biohacker and creator of the Bulletproof coffee and Bulletproof diet, Asprey is an entrepreneur and author who launched the Bulletproof Radio podcast to further distill the knowledge of some of the most well-known and well-respected MD's, athletes, biochemists and more. If you've vowed to make 2019 "your year" Bulletproof Radio will help you ramp your resolutions up a notch.
#3 — IGNTD Podcast
Hosted by husband-wife duo Dr. Adi and Sophie Jaffe, the IGNTD Podcast (short for 'Ignited') dives deep into relationships – from intimacy and sex to spirituality and trust, there's nothing the IGNTD hosts and their guests shy away from. With the goal of radical honesty and transparency, IGNTD will appeal to just about anyone who's ready to confront their fears, especially when it comes to deepening relationships – with yourself, with your loved ones or with your habits.
#4 — The Tim Ferriss Show
Right up there with Dave Asprey on the name recognition scale, Tim Ferriss has been called "the Oprah of audio". If that doesn't make you want to listen – we're not sure what will. The first podcast to exceed 100 million downloads, The Tim Ferriss Show is hosted by Ferriss, author of the '4-Hour' series (Workweek, Chef, Body) and other books – among other accolades and accomplishments – deconstructs the habits and routines of the world's top performers and delivers actionable and adaptable ideas for listeners. If you've ever wondered about the daily habits that help shape the routines of highly successful people, The Tim Ferriss Show has the answers.
#5 — Life Kit Series
Have you resolved to become more financially literate? Want to start eating healthier in the new year? Have you been avoiding eye-contact with your treadmill? The Life Kit series from NPR makes navigating these seemingly insurmountable hurdles in life feel a little more… surmountable. This is the stuff they don't teach you in school – but should, the stuff your parents tried to teach you – but you were 15 and too stubborn to listen. With podcasts broken up into series, like Money, Health and Parenting (coming soon), each series is further broken down into digestible episodes to help you get it together, one area of life at a time.
What podcasts are you loving lately? Share with our community on social by tagging us with @AvocadoMattress and #AvocadoGreenMagazine!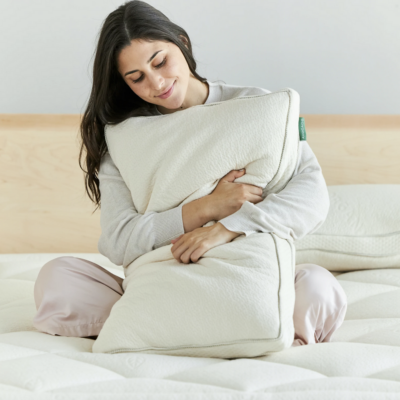 Shop Pillows
The Essential Organic Pillow Collection
Gentle, breathable, non-toxic support.
Buy Now