October is here, and if you've set foot in a market or big box store recently, you've probably already spotted the signs that the holidays are just around the corner. "Holiday cards, already?!" — it's a phrase I've uttered myself and I'd be willing to bet you've muttered some version of the same in the past few weeks yourself. It's a sign that things are about to get real, which means that now is the time to start supporting calm as much as possible in all areas of our lives.
While spring cleaning is certainly essential to clearing off the cobwebs for warm weather months, fall cleaning is just as important for mentally and physically preparing for the colder seasons that lie ahead. Along with the packed calendars and general hustle and bustle that's about to descend, autumn is when many of us experience the first sniffles and sneezes that often occur this time of year.
Perhaps for this reason, National Get Organized Week is slated for this first week of October. It's the perfect time to clean up, clear out, and tidy up in preparation for what lies ahead. Not sure where to start? Try tidying the five areas below for maximum impact — each area is one you likely interact with on a daily basis that could be affecting your wellbeing, be it physical or emotional (who hasn't felt the stress of not being able to find their keys beneath a pile of clutter at least once?). Take a day or weekend to focus on the five spots below and by Monday, you'll be breezing out the door feeling ready for everything October and the months that follow have to offer.
#1 — Your Coat Closet
If you've not yet completed the seasonal switch-out of your warm weather to cold weather clothes, now is the time. But it's not just your jeans and dresses that need attention. Preparing your coat closet for the cold months to come will help streamline your mornings and make arriving home at the end of the day a breeze.
How to Do it
Pull everything out of the coat closet or wherever you keep your layers and outdoor accessories. Sweep or vacuum out the floor to remove any debris left behind by summer (hell-o sand!) and replace any hooks or hangers that may be worn out. If you pack away your fall and winter jackets, boots or accessories, remove them from storage and try them all on to determine they still fit or may need mending or dry cleaning or if any should be donated. Hang up your coats on sturdy matching hangers, line up your boots on a boot try to catch any future rain or melting snow, and place your hats and gloves in baskets or bins where you can easily grab them and go.

#2 — Your Entryway
Like your coat closet, your entryway can make or break your morning and evening routine. Tripping over boots and shoes while attempting to find your keys is no way to kick off the day. And tossing your stuff on top of other stuff is certainly not the ideal way to close out the evening. This is the perfect area to organize along with your coat closet to ensure a smooth start and finish to every workday, weekday and weekend, keeping the necessities handy while all the extras get tucked away for a rainy (or snowy!) day.
How to Do it
When it comes to entryway storage, sometimes less is more. Too many hooks and baskets, and more often than not they'll be overflowing with coats and shoes and bags in no time. Instead, try sticking to a 1 hook per person rule and only keep the essentials out so you can easily grab keys-phone-wallet and go. Everything else? Place it in your newly decluttered coat closet (and don't forget to donate what you no longer need).
#3 — Your Bedroom
Clearing out the hidden corners of your bedroom and cleaning away the clutter that so often collects in the bedroom can feel like turning a new leaf for the season to come. If your washed and re-washed summer sheets are looking tired, it's time to switch them out for cozy flannel or fresh, crisp cotton. Pile on those cozy blankets and pillows and add some candles to make your bedroom what it's truly meant to be: your sanctuary.
How to Do It
Remove any clutter hiding beneath your bed, dresser or other furniture in your bedroom and vacuum out the cobwebs (sensing a theme? Vacuuming away dust and allergens lurking in your space can support better health year-round). Recycle any old magazines cluttering up your bedside, donate or recycle dingy sheets or blankets, and bring any heavy blankets or comforters to the cleaners, if needed, before putting them on your bed. Before you go and stuff everything back under the bed, invest in some dust-safe organizers to keep your below-the-bed space tidy and clutter-free.
#4 — Your Bathroom and/or Vanity
If your summer was as busy as mine, perhaps your bathroom looks similar to what I'm about to describe: products everywhere, towels only halfway folded, empty shampoo bottle leaning precariously next to its full replacement. Bathrooms get messy fast — they're intensely personal spaces, after all — but they're also the space that can make the biggest impact when you have guests over (it's suggested that if you're short on time, a quick tidy-up of your WC can make your whole place look cleaner). Clear it out for fall to make rushed mornings a little more streamlined.
How to Do it
Product junkies, clear out those vanity drawers and makeup bags and wipe them clean to remove dust, debris, and germ-harboring broken cosmetics. Before placing your products back in their rightful places, check their expiration dates and recycle any spent containers. Wash your shower curtain and liner (yes, you can even wash plastic liners!), and any other linens that may hand hung out for too long.

#5 — Your Desk
Who has time to sort paperwork when there's summer fun to be had? Problem is, now that fall has arrived you're looking at a desk covered in papers, receipts and personal debris — pretty hard to get any work done or feel calm, for that matter. Keeping a clear and tidy desk isn't just key for productivity, but may even help you feel less stressed while you're working through your daily tasks. Here's how to get your workspace prepped for the season.
How to Do It
First, get your paperwork and clutter out of the room. While it can be tempting to sort right then and there, moving it to a more open location will allow you spread it out and see what's there. Now that the papers are cleared away, wipe down your desk and computer to remove dust, and make sure you have a functional filing cabinet and useful organizing tools for pens, paper and anything else you may use (and toss any spent pens, pencils, etc.). If you keep a mood board, look it over and remove anything that's no longer inspiring. Once the space itself is clean, it's time to tackle the papers. Make files for any categories you may need (bills, receipts, etc), then sort your papers into piles, tossing, shredding or recycling anything that's no longer necessary. If you feel overwhelmed with papers every month, now is a great time to sign up for e-bills!
What areas of your home are you organizing for the season ahead? Share with our community by tagging @Avocadomattress or #AvocadoGreenMagazine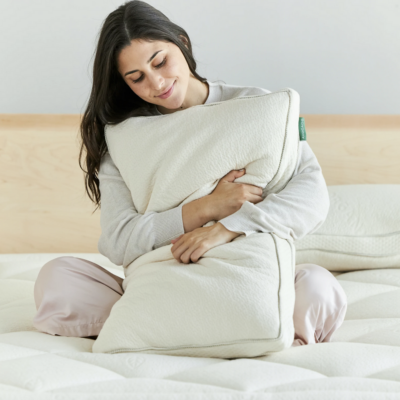 Shop Pillows
The Essential Organic Pillow Collection
Gentle, breathable, non-toxic support.
Buy Now