One of the biggest challenges with making better food choices for so many people is the time investment involved. You can buy fresh foods till your cart is overflowing with kale, but in the end, if it goes bad in your produce drawer, it's not doing you much good.
As people get busier and it becomes more apparent that our food choices have impacts that reach well beyond our waistlines though, the market is answering the call, and organic food delivery services are becoming more and more prevalent.
Paleo? Gluten-free? Vegan? There's a meal delivery service for that. Don't let your dietary demands fool you — chances are, if you eat food, there's a company out there that will deliver high-quality meals or ingredients right to your door for you.
#1 — Green Chef
Options: Paleo, Gluten-Free, Vegan, Vegetarian, Omnivore, Carnivore
Meal Kits/Ready-Made: Meal kit with recipes
Frequency: Weekly, every two, or four weeks
Cost: From $10.49/meal
Shipping: $9/box
Availability: Everywhere in the US, except: Alaska, Hawaii, and Louisiana
Sign up deal: Two meals free your first week
First up we have Green Chef, a meal kit company that sends you fresh ingredients on your own schedule, with tested recipes for gorgeous, clean cuisines. Green Chef offers both a two-person plan and a family plan, which is more suitable for a family of four.
Though there are some geographic restrictions as to where they can ship, their meal kit boxes are reasonably priced, come with great recipes, and their gluten-free option is even certified by the Gluten Intolerance Group's GFFS program.
#2 — Sakara
Options: All meals are organic, dairy-free, gluten-free, vegan, and non-GMO
Meal Kits/Ready-Made: Ready-made meals
Frequency: 3 or 5 days of meals/week, delivered weekly
Cost: From $28/meal ($420/week)
Shipping: Included in rates
Availability: Throughout US
Sign up deal: Invite a friend for a $50 credit!
Sakara Life is a chic meal delivery service that focuses on pre-made meals designed to nourish and eliminate the need for counting and measuring foods. Made of whole, real food ingredients and without dairy or meat, this service is a vegan's best friend.
In addition to their seasonal meals in recyclable packaging, Sakara includes detox and beauty teas and waters in every kit, depending on whether you get breakfast as well. Each drink is formulated to help your body detox as you shift to a cleaner eating regimen, and stay hydrated as well.
Even cooler than their photogenic foods and infused waters however, is the support system and philosophy that drives Sakara. Their program offers access to health coaches to support your wellness journey, and a focus on improving your health, not your dress side. With a mind+body+spirit approach to wellness, this inclusive meal plan is well worth the price.
#3 — Sun Basket
Options: Paleo, Clean eating, gluten-free, vegetarian, family
Meal Kits/Ready-Made: Meal kits
Frequency: Weekly
Cost: From $9.99/meal
Shipping: $6.99/order
Availability: Within the USA. Does not ship to Alaska, Montana, Hawaii, and parts of New Mexico
Sign up deal: Three free meals with first delivery + free shipping on first order
Sun Basket is a meal kit service that has me swooning and wishing they delivered to Montana (hint, hint guys!). Seriously, these guys don't just deliver incredible foods to your door — they bring their values to the dinner table, with 100% compostable and recyclable packaging.
Their meals are really reasonably priced, and even their shipping costs are reasonable.
Working closely with farmers and food suppliers, Sun Basket places an enormous amount of focus and transparency on where their foods come from, and what their harvest practices are like. From small organic farms to sustainable fishing practices that repair areas damaged by overfishing, Sun Harvest is a meal kit service that does more than feed you — it feeds the planet, too.
#4 — Paleta
Options: Keto, Plant-Based, Paleo, Gluten-Free, Pregnancy,
Meal Kits/Ready-Made: Meal kits
Cost: From $25/day
Shipping: $3.99/day
Availability: Contiguous US
Sign up deal: $75 off 14-Day Market Menu Plan — Code 1475
Mediterranean food is one of those healthy options I never resent (because who on EARTH can resent feta cheese). If fresh foods and light flavors are your jam, this health-focused meal kit service is the way to go.
With organic ingredients and sustainably sourced meats, Paleta offers a wide variety of meal plans that are primarily health, weight loss, and fitness focused. In addition to their meal plans, Paleta has cleanse plans to help you detox before your big dietary shift, which include herbal teas and support systems to keep your head in the game.
From programs just for brides to weight loss programs that focus on food, not deprivation, Paleta has a little something for everyone.
#5 — Factor 75
Options: Gluten-Free, Paleo, Dairy-Free, Keto, GMO-Free
Meal Kits/Ready-Made: Ready-made
Frequency: Weekly
Cost: From $11/meal
Shipping: $19.95
Availability: Contiguous US
Once upon a time, the ready-made meal business was pretty limited on options, but with companies like Factor 75 out there, you never have to compromise convenience for quality again.
These guys are a little steep on their shipping, but I LOVE what they're all about — GMO-free produce, pastured meats, and zero artificial sweeteners or added sugars. With GORGEOUS meals like Paleo Orange Chicken and Butternut Squash Lasagna, you're not going to have to do more than heat and eat to have a junk-free home cooked meal.
Factor 75 updates their menu every week, so you never get bored with what's for dinner.
Have you ever tried a meal delivery service? Which one's your favorite? Tell us on Facebook or Instagram and tag us in the post — we're hungry! @AvocadoMattress or #AvocadoGreenMagazine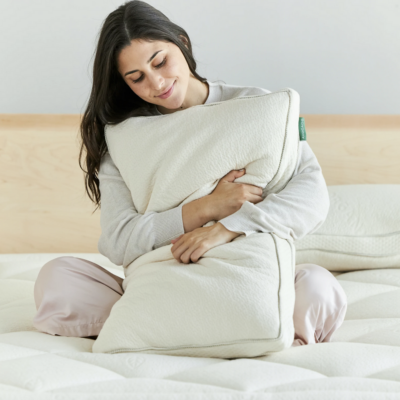 Shop Pillows
The Essential Organic Pillow Collection
Gentle, breathable, non-toxic support.
Buy Now