What? You haven't finished your holiday shopping yet? Don't worry, you're not alone. (Insert collective sigh of relief here) While it may feel as though every single friend, family member and social media star you follow on Instagram has completed their holiday gifts-to-get lists, there's still plenty of time to find the perfect present for the ones you love. But if you're stumped on what, exactly, to get those special people in your life — fear not.
We're here to make your holiday shopping easy and better for the planet with five great gift ideas for the man in your life, or for the person who loves a more masculine-identifying gift — all with an eco-friendly focus. Because the only thing better than giving a great gift is giving a great gift that helps your loved ones love the planet! Ready to finish your holiday shopping in one fell swoop? Read on and get ready to press 'add to cart'!
#1 — Jumbo Water Bottle:
Help him stay hydrated while creating zero waste with the gift of a durable, reusable water bottle like these from MiiR, a certified B corp that gives a percentage of sales back to the planet. Choose a generous size for optimal water intake, or opt for a different vessel, such as a portable coffee cup or a set of camping-friendly wine "glasses".
#2 — Countertop Composter:
For the one who loves to cook as much as he does recycling his food scraps (hey, for some it's a passion!), the living composter from Uncommon Objects satisfies both. One part biomorphic composter, one part countertop herb garden, this sleek and chic kitchen essential magically transforms leftover organic food scraps to usable greens – minus the tell-tale "compost" odor.
#3 — Backpack from Flowfold:
These aren't the backpacks of your youth – built to last, a pack, wallet or accessory from Flowfold is crafted to be the last backpack or wallet you'll ever need. With options for commuters and serious mountain climbers alike, Flowfold packs are made with style, substance, and durability in mind – all with a sleek, minimal profile.
#4 — Get Smart:
Want to forgo material gifts? Give the gift of a new skill instead with a membership to an online learning platform, like Skillshare! Offering thousands of online classes from everything from design to business to tech, Skillshare has a little something for everyone. More of an IRL learner? Help him connect with community with a class offered through a local college or learning center!
#5 — Cozy Up:
Ask anyone what their holiday gifting traditions are and you'll likely hear more than one person exclaim "new pajamas". Give the gift of cozy while remaining Earth friendly with a pair from PACT, which are crafted from super soft organic cotton.
What are you giving for the holidays? Share your tips with us on social by tagging us on social with @AvocadoMattress and #AvocadoGreenMagazine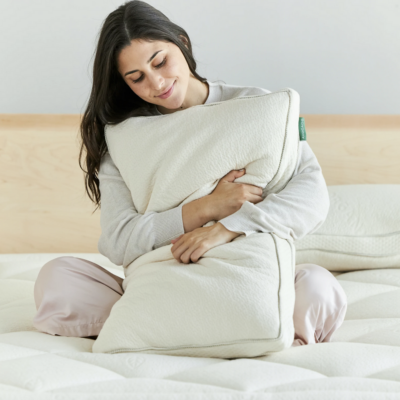 Shop Pillows
The Essential Organic Pillow Collection
Gentle, breathable, non-toxic support.
Buy Now