The perfect gift. We all hope to find it, we all hope to receive it. We give and take hints with fingers crossed and shop early to find the be-all, end-all unforgettable present. But sometimes gifting season gets the best of us.
We could tell you how many days you have left to search and search for a gorgeous gift for the ones you love — or we could actually help you (we're big fans of helping) and show you some options nearly everyone on your list would love. Earlier this week we shared five great gifts for the men in your life, and today we've rounded up five eco-friendly presents for her.
Whether the remaining gifts-to-get on your list are for your mom, your sweetheart, your sister or friend – or simply someone who'd love one of the gifts below, these Earth-loving presents are sure to please. Ready to finish your holiday shopping, stat? Read on.
#1 — The Adventure-Inspiring Book
For the adrenaline junkie, the thrill seeker, the earth warrior, pick up an inspiring book, like Swell by Liz Clark, to inspire her next adventure. Written by activist, environmentalist, surfer and Patagonia ambassador Liz Clark, Swell follows Clark's voyage across the globe in search of surf and what she finds along the way — connection, kindness and a first-hand understanding that our earth in in peril and it's up to us to save it. Perfect for young and old alike, an ecologically-minded book with a strong sense of adventure is sure to inspire long after the holidays are through — here are even more options to browse.
#2 — The Waste-Cutting Kit
Help her cut waste and create something delicious with a DIY at-home kit that teaches how to make her own kefir, yogurt, fermented vegetables or kombucha. We love this kombucha kit from Uncommon Goods for ease of use and its sleek design – it sits right atop your counter and includes a filter and spout to make pouring a breeze. A stoneware fermenting crock is another great tool to help her use up those winter farmer's market veggies while helping to improve gut health.
#3 — The Green Beauty Set
For the beauty lover in your life, a set of organic and eco friendly makeup essentials or brushes could help her skin and the planet all at once. These options from The Organic Skin Company are vegan, cruelty free, made with skin-loving clean ingredients and for every product purchased, a tree is planted to combat deforestation.
#4 — The Knowledge Builder
For the constantly curious in your life, you can't go wrong with a gift certificate or membership to a local or online learning center. If she's been itching to learn a new skill or up her career game, try General Assembly, which offers coding bootcamps and UX design courses. If art and making is more her thing, check out local art centers or Skillshare. An online course may not be 100% focused on the earth, but it's guaranteed to be a 100% zero-waste gift. And who can argue with building up your knowledge base? Who knows, she might just develop the next planet-saving app!
#5 — The Food Fanatic
Have an aspiring chef or food-lover in your life? Get them a membership to a delivery service that gives them access to organic food while giving back to the community! A membership to Thrive Market provides members with discounts on organic staples and specialty items — including wines, meats and seafood — while giving a family in need, military veteran or public school teacher a free membership in return.
If your loved one lives in one of the regions available for delivery, a membership to Imperfect Produce could help them eat their greens — and more! This standout delivery service sources perfectly good produce that would otherwise be overlooked or thrown out by retailers — think too-small strawberries and uniquely-shaped carrots — and delivers it right to your doorstep in a customized box.
What are you giving for the holidays? Share your tips with us on social by tagging us on social with @AvocadoMattress and #AvocadoGreenMagazine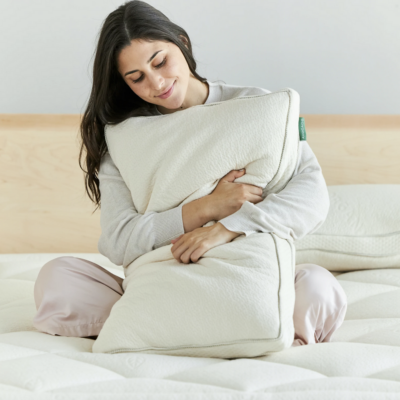 Shop Pillows
The Essential Organic Pillow Collection
Gentle, breathable, non-toxic support.
Buy Now