When I was about 20 years old, I learned that most of the packaged foods in the US were manufactured and sold by just a few huge companies. It was no coincidence that these same foods were full of filler ingredients and devoid of anything actually nutritious.

I was shocked to learn that the wine industry in the US is very much the same. In the United States, 52% of the wine sold in stores is made by just three massive companies. These conventional wines can have up to 70 ingredients in them, including added sugar and preservatives.

It makes sense that organic wine is a thing, but why had I never seen it around before? And where the heck do you even buy organic wine?
Why Are Organic Wines Important?

Just like buying organic produce and clothing, buying organic wines matters because it limits toxins going into your body AND into the planet.

Organic wines are made without artificial herbicides and pesticides, and grown with cool methods like cover cropping that deter pests naturally. Some vineyards even have sheep graze between the rows of their grapes to keep weeds at bay.

Pesticides have been linked to all kinds of health problems in humans, from sterility to hormonal birth defects, but have also been closely linked to the vanishing of the bees (or colony collapse disorder).

The biggest thing you'll notice from a glass's perspective with an organic wine though is that this stuff is purer — fewer sulfites, fewer ingredients, and nothing toxic to keep it shelf stable.

The result is that organic wines are pretty tough to come by, and only made in small batches. Luckily for us, Primal Wine exists.
Where Can You Find Organic Wines?

Organic wines can be tricky to find, and that makes finding one you like really difficult — but Primal Wine makes it easy. They have an enormous selection of organic and biodynamic wines and literally deliver them right to your door — no wandering down endless aisles at the liquor store.


They put a focus on high quality, small batch, natural wines that pack big flavor and don't use any toxic ingredients. They sent me a box of four of their organic and biodynamic wines to sample, so I cleared my schedule for an afternoon and got to sipping.
Four Wines We Absouletely Adore
By Gearhead Wines
Type: Red blend
Price: $23.95
Madera County, Northern California

This red blend comes straight from an organic vineyard in northern California. Like many of Primal Wines' stock, this vino is 100% unrefined and unfiltered. Even then though, I was pleasantly surprised at how clear and normal this wine looked.

Reds and I have a complicated relationship — all too often do I buy something that promises to be a blend, only to find it to be way too dry for my preferences, and more on the pinot side than the blush.

This red blend was so, so smooth and pleasant to drink. It was nice and dry and a little sweet, with a slight zing to it reminiscent of kombucha in some ways. I had my glass lightly chilled at a campsite in the mountains, and it was the perfect compliment to a dinner of roasted vegetables and steak.

By Franchere
Type: Pinot noir
Price: $24.95
Willamette Valley, Oregon

This pinot noir is a natural wine, but was made with conventionally farmed grapes. That said, it lacks many of the additives most conventional wines have, and is made using native yeast.

Most of the time I find pinot noirs to be too intense for my palette, but I was pleasantly surprised with how much I liked this pinot by Franchere — this was actually my favorite wine. I was even happier to find that the wine was made just to the south of me, in the beautiful Willamette Valley in Oregon.

This wine was on the dryer side, but even for someone like me who tends to prefer sweeter wines, this one was so enjoyable. There's a definite note of fruitiness to it, but it's not what I'd call a sweet wine.

By Cantina Indigeno
Type: White
Price: $27.95
Abruzzo, Central Italy

This white wine by Cantina Indigeno was made in central Italy with organic grapes, and is noticeably unrefined and unfiltered. It has a pry off top, but it's not a bubbly wine.

I really, really loved this one. It was so mild and easy to drink, with that same zing that the red blend had, which makes me think that's just a pleasant characteristic of organic wines.

I had this one with a dinner of grilled chicken and steamed vegetables, and it was all so light and refreshing. This one is flavor neutral enough that it would be perfect as a white wine spritzer, but has enough character on its own to sit solo in a glass by a home-cooked meal.

By Cantina Marilina
Type: White
Price: $27.95
Noto, Sicily

This white wine from Sicily was made with my favorite kind of grapes — organic moscato. It has very low sulfites, and like the other white wine, is unrefined and unfiltered. What you'll see in a bottle of wine like this is similar to what you see in a bottle of unfiltered apple cider vinegar: some brownish, grainy material that settles in the bottle.

It's completely normal, and a sign of a fine wine that's been left the heck alone.

I expected this wine to be a bit more effervescent, but it wasn't quite as bubbly as a full on moscato. That said, it was delicious, and not sweetened with tons of added sugar like so many store bought moscatos I've had.

I really love the taste of this wine chilled, and it's a perfect summer sipper with a big salad. That said, it may not make the fizziest of mimosas, so save this beauty to be savored on its own.
Do you have a favorite organic wine? Tell us yours on Facebook or Instagram, and tag us in the post! Who knows — Primal Wine may just have it in stock!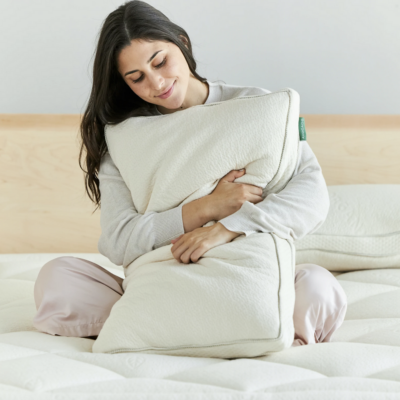 Shop Pillows
The Essential Organic Pillow Collection
Gentle, breathable, non-toxic support.
Buy Now