As we adjust to the many changes we're experiencing with the coronavirus pandemic, we're constantly on the lookout for silver linings. And the truth is, they're everywhere.
From the unintended climate benefits, to the comradery and creativity on full display, our spirits are lifted and we remain profoundly hopeful.
With the new, absolute need to cook and eat at home, we're taking this opportunity to continue inspiring our community to eat less meat and make small daily changes that impact our planet, even in the face of a crisis.
We've rounded up these delicious meatless recipes that our friend, Abra Pappa, shared with us. Trust me, these meals are just what we all need right now! A nutritionist pursuing her master's degree in functional medicine, Abra infuses each recipe with her knowledge of the healing properties of food and flavor:
#1 — Thai Red Vegetable Curry
What you'll need:
Cauliflower
Red bell pepper
Spinach
Onion
Garlic
Fresh ginger
Thai curry paste
Coconut milk
Vegetable stock
Lime juice
Soy sauce or vegan Fysh sauce
Coconut palm sugar or brown sugar
#2 — Vegetarian Stuffed Sweet Potato
What you'll need:
Sweet potatoes
Extra-firm tofu
Zucchini
Kale
Onion
Garlic
Salsa verde
Spices: cumin, garlic powder, and smoked paprika
Toppings (all optional): avocado, sour cream, lime, extra salsa verde
#3 — Vegetarian Polenta Bowl
What you'll need:
Cremini or baby bella mushrooms
Olive oil
Salt
Black pepper
Fresh rosemary
#4 — Red Lentil Soup
What you'll need:
Coconut oil
Onion
Carrot
Garlic
Dry red lentils
Whole fat coconut milk
Water
Vegetable stock
Black pepper
Sea salt
Fresh parsley
What are some of your favorite meatless or immune-boosting recipes? Share with us on Instagram @AvocadoMattress and #MeatlessMondays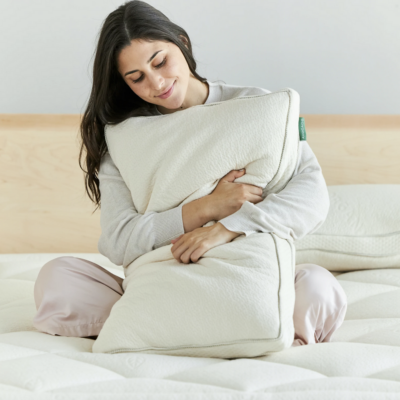 Shop Pillows
The Essential Organic Pillow Collection
Gentle, breathable, non-toxic support.
Buy Now