Change starts with each of us taking little steps and working together to help save our planet. With record-breaking amounts of plastic ending up in landfills and oceans, it's time we do something to reduce the plastic we are throwing away. Ready to get creative and start upcycling? Well then get your craft scissors ready and read on for your next eco-conscious project that will stop one more piece of plastic from landing in our seas.
As fellow DIY enthusiasts and environmentalists, we know that the path to no more plastic is not clear when it comes to grocery shopping for larger items. Though we are trying to reduce the single-use plastic in our homes, it is sometimes inevitable to have to purchase that 2-liter milk jug or a gallon of laundry detergent. So instead of tossing your empty plastic bottles into that big blue recycling bin, here are  four fun and unique creations you can make at home!
#1 — Pretty Planters & Plant Walls
Why spend money on a simple planter when you can design your very own while helping to stop climate change? All it takes are a few simple steps—you'll need dry erase markers, scissors, paint, and your green thumb! Start by cutting the bottle to your desired size, adding your unique designs along with your new plant baby and there you have it! If you'd like to build a vertical garden, grab some sturdy rope and your scissors. Cut two holes at the top and bottom of the bottle to allow water to drain. After you've done so, run the strings through your painted planters et voila recycled and unique beauty!
#2 — Herb Garden
Who doesn't love a yummy herb garden? Now you can declutter your kitchen counter by crafting your own garden of flavors with those milk jugs you've been hesitant to throw in the bin! For this project, you'll need all the same tools along with a wooden slat of some sort that's long enough to fit your window, a hole puncher, and ruler.
Remove labels and give the jug a thorough cleaning
With your scissors, remove the top and handle of the container (the marker can come in handy here so you can draw the lines of where you are going to cut)
Using your craft knife and ruler, make two vertical cuts that are parallel from the center of the bottle. These cuts should be about 4 cm long and approximately 2 cm away from the sides (depending on the width of your wooden slat)
Use the hole puncher on the top end of the vertical cuts to finish the slits and to allow room for movement
Decorate and write the name of your herbs on each bottle
Slide your new and improved plastic through the wooden slat
Suspend it from your window sill or wherever you'd like for it to hang
Now it's time to watch your assortment of fresh herbs flourish!
#3 — Bird Feeder
Cut a dime-sized hole just above the bottom edge of an empty bottle. Tape or glue pencils or sticks to the bottom of the bottle to act as perch for your friendly neighbors. Fill the bottle with your favorite organic or homemade birdseed, tighten the cap, and hang with a long piece of sturdy hemp yarn. There you have it, an eco-friendly bird feeder filled with delicious seeds!
#4 — Organizer
For this one, it's easy as 1,2,3, and you'll need: bottles of all different shapes and size, a knife, scissors, and an iron. You can start by using the knife to separate the upper part of the bottle and scissors to trim off the remaining rough edges. After doing so, place your ready piece of the bottle onto the iron to smooth it out.  If you want to make them extra pretty, take the time to decorate them with paint! Now you have holders for your writing supplies, makeup brushes, and basically anything you can think of!
From mama earth and all of us here at Avocado Green Living, thank you for embarking on your go green journey!
We'd love to hear about your sustainable lifestyle! Share your favorite DIY and upcycled creations with us on Instagram or Facebook by tagging @AvocadoMattress or #AvocadoGreenMagazine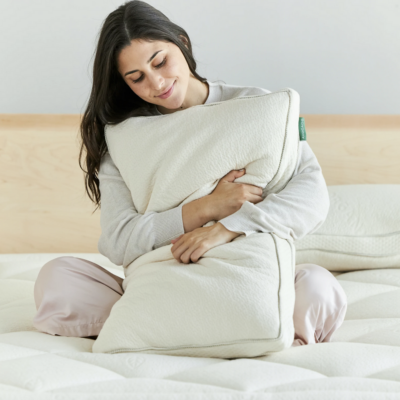 Shop Pillows
The Essential Organic Pillow Collection
Gentle, breathable, non-toxic support.
Buy Now