When it comes to beauty, it seems we'll stop at nothing to achieve a beautiful complexion – and oftentimes that includes slathering some very bizarre ingredients on our gorgeous faces. Snail slime, lanolin (aka sheep sebum… yes, really), and – not to really creep you out – but even your own blood are just a few of the very strange starring ingredients in the latest and maybe-not-greatest beauty treatments and products out there.
So it shouldn't really come as much of a surprise that mushrooms have been gaining traction as a leading ingredient in some of the most-loved skincare stars on the market. But we're not talking about the standard white button mushrooms on display at your local market – these superfood spores have been used in traditional Chinese medicine for, well, millennia… Their use actually predates recorded history. So it's safe to say the West is a bit behind on the times when it comes to fungi-as-skincare
But what makes fungi so effective? For one thing, we share nearly half of our DNA with the fungi kingdom – a kingdom that consists of millions of species – for another, different mushrooms boast different properties, many of which have been clinically proven. Dry skin? Look for products that contain Tremella fuciformis, a hydration-boosting fungi known to hold more moisture than skincare star hyaluronic acid.
Dealing with congestion? Look for reishi, known as the mushroom of immortality, that supports calming. Seeking to promote general wellbeing? Slather on some chaga, which not only makes a great "tea" but boasts skin supporting antioxidant properties to help you put your best face forward. If this all sounds a little confusing, fear not. We've done the work for you and sussed out four stand-out products, from 'shroom-packed serums to a mushroomy mask:
#1 — Volition Snow Mushroom Water Serum:
Crafted with snow mushroom, also known as jelly fungus or Tremella fuciformis, this silky serum from Volition hydrates and retain moisture while minimizing pores and stimulating collagen production. Slather it on after washing your face and you'll see its hydration powers almost instantly, thanks to the snow mushroom, which has been used in beauty treatments in China and Japan for hundreds of years. Naturally gelatinous, the snow mushroom doesn't just hydrate, it helps retain moisture for long-term retention, which makes this bouncy serum the perfect addition to your cold weather skincare routine.
#2 — Four Sigmatic Superfood Serum:
If beauty truly is an inside-out job, it stands to reason that some of the best beauty products should be living right in our refrigerators, right? It's true, some of the best foods out there also boast some pretty incredible skin-loving support, whether we're slathering avocado in our hair or swiping plain yogurt on our faces.
Mushroom and superfood experts Four Sigmatic take this idea one step further with their new line of edible beauty products. That's right, these products were made to be used topically and consumed. Featuring calming reishi mushroom, their Superfood Serum can be applied to skin after cleansing or enjoyed as a citrusy supplement.
#3 — Joanna Vargas Euphoria Face Mask:
Can't make it to a Joanna Vargas salon or spa? Bring the JV spa experience to you with her line of namesake skincare products. A favorite? The Euphoria Facemask, which harnesses the power of tremella fuciformis sporocarp – those trusty jelly mushrooms – to scavenge free radicals and support hydration. Paired with chamomile, aloe and allantoin (extracted from comfrey), this soothing sheet mask is ideal for those dealing with stressed or dry skin – or for anyone craving a spa experience at home.
#4 — Four Sigmatic Mushroom Face Mask & Tonic:
Your prescription for a week of glowing skin? Mix up this face mask, apply it to damp, clean skin, then mix up a little more in a mug with a bit of hot water and sip slowly. Really – the Four Sigmatic Mushroom Face Mask & Tonic, which contains chaga and reishi mushrooms, was created to be both worn as a mask and ingested as a superfood tonic.
Chaga, a fungus that grows on young birch trees in some of the coldest climates in the world (think Siberia), is rich in antioxidant properties, while reishi works to soothe and calm. Paired with impurity-scrubbing charcoal powder, ginseng, redness-relieving gotu kola, cacao and a blend of spices, this unique product promotes beautiful skin inside and out.
Have you used a beauty product that contains mushrooms? Let us know by tagging us on social @AvocadoMattress and #AvocadoGreenMagazine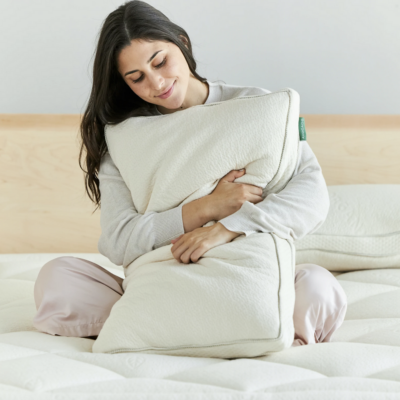 Shop Pillows
The Essential Organic Pillow Collection
Gentle, breathable, non-toxic support.
Buy Now