Roadtrip season is fantastic — pack a van, throw everything in a bag, and hit the road for the usual suspects: Glacier National Park, the Grand Canyon, Niagara Falls. All fantastic locales with breathtaking scenery, but the crowds, oh the crowds, crowds, crowds.
These stunning natural wonders are getting more and more attention as people look to escape the chaos of summer vacationers and tourist induced roadblocks, but for now, they remain lesser known alternatives with secret, enchanting appeal.
See 'em before everyone else gets the same idea — here are some of the most incredible lesser known natural wonders in the US.
#1 — Bryce Canyon, UT
Take a drive out to the rocky, arid landscapes of Utah and you'll find Bryce Canyon. The unusual reddish rock formations known as hoodoos that fill the canyon are pillars of rock formed by thousands of years of gradual erosion — monoliths to an ancient time of tumultuous terrestrial change.
#2 — Mt. Desert Island, ME
Mt. Desert Island is the second largest island on the east coast. Filled with picturesque settings, it's like a seaside cottage fairytale made real, complete with rocky seaside crags, cliffs, and a lighthouse.
Known as one of the most desolate locations ever chosen for a lighthouse in the US, the tiny structure sits only 20 feet above sea level at low tide.
#3 — Watkins Glen State Park, NY
The most famous of the Finger Lakes state parks, Watkins Glen State Park in New York is known for its dense, lush forests and rim trails that provide incredible views overlooking the gorge. Bring your fishing gear, and be prepared to climb — stone staircases provide easier climbing, but it's no less of a workout.
#4 — Antelope Canyon, AZ
Antelope Canyon is unlike any other land formation in the US. Shaped by flash floods, it's what's known as a slot canyon, formed where rushing waters picked up sand and gradually eroded the walls into the flowing, smooth shapes of today.
It's accessible by guided tour only, and heed the warning — flash floods are still a danger in the area, and there's often little warning when one is coming. The stunning smooth red walls of the canyon are fabled by adventurers and photographers alike, but waters can sweep in from miles away and flood the canyon in a matter of minutes.
The upper canyon is more accessible to tourists and requires no climbing, but if you plan to explore the lower canyons, be prepared with a steely resolve and muscles that are up to the task of some light climbing.
#5 — Oneonta Gorge, OR
I'll be honest dear reader, I had to do some eliminating when it came to Oregon's natural wonders on this list. There are so many incredible gems to explore in Oregon's landscape, from the coastal rock formations to the eastern desert regions, to lush canyons and gorges, like Oneonta Gorge.
This journey's not for the faint of heart. To explore the gorge, you'll need to be prepared to wage through around five feet of freezing water, scale log jams, and amble over slippery moss covered rocks.
The hike is cold and wet, but worth it to witness the hidden waterfalls and moss covered walls of Oneonta Gorge.
#6 — Mendenhall Glacier Caves, AL
To brave the ice caves of Mendenhall Glacier, you have to turn off the part of your brain that's aware of the sheer weight of the ice hanging over your head. Once you're able to overcome that though, the Mendenhall Glacier Caves are a resplendent natural wonder that few get to experience.
The adventure starts with a canoe paddle across a glacial lake to the caves. The caves are constantly changing, so planning in advance may not be entirely practical — when you see an opportunity to explore here, snap it up.
This journey isn't ideal for little kids, there's a certain degree of balance and climbing required to navigate the caves. A guide will take you through the gentle, flowing crevasses of the glacial caves, and get you safely back to your canoe at the end of the tour.
#7 — Hamilton Pool Nature Reserve, TX
Any Texan will tell you, the secret of the Hamilton Pool Nature Reserve is out. Nonetheless, its pristine waters and unusual geological history make it worth including in this lineup. This destination is a hotspot known for its stunning blue waters and 50 foot waterfall that pours from the rock formations above.
Rimmed with an overhanging of rock, the pool is the remnant of an underground river whose ceiling collapsed, revealing the cool clear waters below and creating a semi-enclosed roof and waterfall. Slabs of rock line the water, perfect for perching on between swims.
Due to its growing popularity, reservations are required for Hamilton Pool, so be sure to make plans in advance.
#8 — The Wave, AZ
Another stunning rock formation of the Arizona deserts, The Wave is a much-loved landmark for its exclusivity and incredible delicate formations. The Wave is located in the Coyote Buttes area, north of the Arizona Strip. Formed by water and wind erosion, the incredible formations are reminiscent of ocean waves, hence the nickname.
Though photographers and explorers alike flock to this hotspot, only 20 permits per day are issued to hike The Wave to preserve the delicate ridges that line the formation. It's a difficult hike to reach the most sought after formations, so be prepared for a long haul — you're looking at at least 8.3 miles at minimum on foot.
#9 — Dry Tortugas National Park, FL
The Dry Tortugas National Park is one part natural wonder, one part US history, and the combination is darkly breathtaking. Fort Jefferson stands as a brick monolith in the crystal blue waters of coastal Florida. Once used a prison during war, the history of the building isn't nearly as bright and sunny as the pristine beaches that surround it.
Take the ferry from Key West to this locale to experience snorkeling, picturesque beaches, and walk the stone pathways the wind through the water.
#10 — Havasu Falls, Grand Canyon
Havasu Falls is a hard won natural wonder located in the Grand Canyon. An eight mile backpacking trek from the canyon's rim through the Havasupai Indian Reservation takes you to the enchanting waterfalls known for their blue hue and the pristine waters below, perfect for swimming in the heat of summer.
Since this spot is nestles in the Havasupai Reservation, you'll need to obtain a permit from them to gain access — this spot is NOT open to the public (making it all the more alluring).
#11 — Starved Rock State Park, IL
One hundred miles from Chicago on the south bank of the Illinois River sits Starved Rock State Park, a hidden gem of the midwest. Riddled with canyons and sandstone bluffs, it's a hiker's paradise, with something for most skill levels.
Trickling waterfalls and streams, lush vegetation, and greenscapes make it feel like a place forgotten by time, even with its proximity to surrounding civilization.
#12 — Oak Alley Plantation, Louisiana
Okay, so maybe it's not quite a natural wonder, but it is natural, and it is wonderous.
Oak Alley Plantation sits on the west side of the Mississippi River in Louisiana. Originally established as a sugar cane plantation, the property has a dark history in riddled with slavery. Historically, the plantation was home to a slave named Antoine, who was a key innovator in agriculture and the first to successfully graft pecan trees.
In the 18th century, the iconic oak trees were planted in rows on the property, and have since grown into a lush, centuries old canopy that's the love of many starry eyed brides, history hunters, and nature buffs alike.
View this post on Instagram
#13 — Skagit Valley Tulip Fields, WA
Sometimes agriculture, even if not the most sustainable practices, is beautiful in its production. Skagit Valley, Washington is the heart of the tulip industry, and home to the tulip festival — an annual celebration of the valley's thriving tulip fields.
In bloom, rainbow acres stretch for acres to the edges of the horizon. You can catch the Tulip Festival from April 1st-30th in 2019.
#14 — Multnomah Falls, Columbia River Gorge, Oregon
Ten more points for Oregon – Multnomah Falls is another beauty you can't miss in this state. Standing as the tallest waterfall in Oregon, the hike is half the fun of getting to this iconic landmark. Walk across the arched bridge facing the falls to feel the icy spray of water on your face – it's a moment you'll want to savor.
#15 — Angel Oak, Charleston, South Carolina
Technically Angel Oak is actually located on John's Island, not in Charleston, so pay close attention when you're finding your way there.
It might seem like just a tree, but this arboreal wonder is estimated to be at 500 years old. Angel Oak's twisted branches tell the tale of half of a millennia of fables and legends of the ghosts of slaves appearing as angels around the moss covered branches.
#16 — Kilauea, Hawaii
Kilauea erupts so much, it's old news to the inhabitants of Hawaii, but a great opportunity for volcano enthusiasts to get a glimpse of an active lava flow.
What started as a submarine volcano has gradually broken the surface to become a low profile volcano. Kilauea has erupted almost continuously since 1983, and shows no signs of slowing down any time soon.
What's your favorite best-kept-secret in the US? Show us on Facebook or Instagram and tag us in the post! @AvocadoGreenMagazine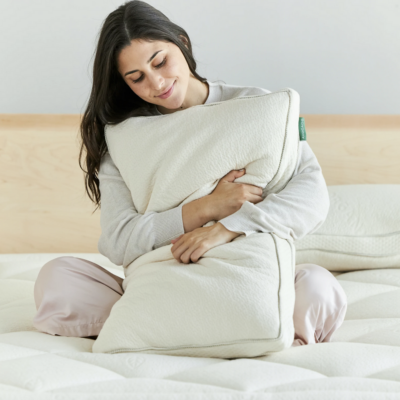 Shop Pillows
The Essential Organic Pillow Collection
Gentle, breathable, non-toxic support.
Buy Now