Date night for a married couple is like, a whole big thing. There's prepwork — leg-shaving, busting out that giant eyeshadow pallet. Coordinating a babysitter. Trying to decide on something to do that's totally new and exciting, without wasting your one child-free night per month on a dud idea.

And you know what? I think it should be freaking worth the trouble.

When you're bored of just eating a meal together and there's nothing good playing at the theater anyway, it's time to shake things up. It's time to get more uncomfortable than even razor burn and an eyelash curler.

It's time to get outta the box. Here are 14 dates that will sweep both of you off your feet.

#1 — The Hiker's Picnic
Romantic meets sweaty in this climb to the top for your reward meal. I LOVE hiking picnics.

Load up a pack with everything you need to enjoy yourself — a BIG squishy blanket, a bottle of wine, and all of your favorite foods. I'm a charcuterie and fresh fruit fan myself, but whatever you do, plan for your waste too — nobody likes a litter bug.

#2 — Glamping and Dinner Under the Stars
Perhaps the best way to do an overnight date night away, glamping with a romantic dinner is pretty much the perfect evening. Be sure to plan for mosquitoes if they're in-season, and don't leave without mentally walking through your entire meal — it's really hard to eat a ribeye without a steak knife.

#3 — Paint and Sip
A lot of people think you need to like wine to enjoy a paint and sip date night, but most of these places are happy to accommodate partners who prefer to BYOB.
These fun little franchises dot the country, and allow patrons to munch on snacks, sip on adult beverages, and paint as they're led by an instructor who will ensure you walk out of the studio with something amazing — even if you can barely work a pen.

#4 — Paintballing and Pints
Nothing says I love you like pelting each other with paint-filled artillery. Work up an appetite on the paintball course, and revel in the your neon-covered glory over a romantic meal as you set aside your differences and fall back in love with the enemy.

#5 — Find a Pinball Bar or Arcade
Something about microbrews and pinball machines just belongs together — this might be one of the most perfect date nights ever. Put on your favorite outfit, feast on pub fare, and hi-score the night away over themed pinball machines with built-in drink-holders (because the world is full of genius ideas).

#6 — Find a Food Truck Festival
Food truck festivals are so, so much fun. If one comes to your area, put it on the calendar and head out with a voracious appetite. Make the most of the night by trying a million samples instead of one large meal. Be sure to wear something comfortable too — you'll probably be eating standing up or at a picnic table.

#7 — Go Geocaching
Geocaching is like the modern-day equivalent of the scavenger hunt. Use your phone to find hidden points of interest on a map with an app like this, and make a date of it by bringing a picnic lunch.

#8 — Go On a Pub Run
First running, then booze.

Get those endorphins and happy hormones flowing over a 5k with your lover, then meet at a pub at the end of the run to celebrate wiping the pavement with each other. Nothing says I love you like a little adrenaline and friendly competition.

#9 — Go to a Charity Gala
Everyone needs an excuse to put on a fancy dress now and then. Find out if there are any charity galas happening in your area, buy your tickets, and set a date. Most of the time you can find these events listed on community websites, like news pages or city government sites.

It's a great opportunity to support a cause you believe in, enjoy a classy night out on the town, and break out the prom dress you've been holding onto since 2008.

#10 — Rent Some E-Bikes and Tour the City
You can live in a place for years and never really know it. Spend an afternoon exploring and rent some e-bikes for the day. They're fun to ride, and it's a great way to slow down and see the city in more detail than you would if you were stuck in a car all day.

The most fun will be had by not planning where you stop, so resist the temptation to plan a route.

#11 — Pizza + Beer + Video Games
It's fun to go out, but it's even more fun sometimes to put on your comfiest clothes, eat pizza on the floor, and decimate your partner.

Make a night of video games and beer, and commit to just being present in that moment — no phones, no interruptions, just trash talk and greasy slices.

#12 — Tattoos and Tacos
Been putting off a tattoo that's been gnawing at you for ages? Make an experience out of it and go together. Tattoos are never a good idea on an empty stomach, so eat before you go, and grab drinks after so you don't bleed like a stuffed pig.

#13 — Go Bouldering
Bouldering is the awesome practice of ambling over giant boulders. It's like rock climbing, but a lot more accessible for people who maybe aren't fully prepared to start scaling the face of a cliff.

It takes some serious upper body strength, so make sure you and your partner are prepared for a hefty workout.

#14 — Go On a Hot Air Balloon Ride
It's cheesy, and maybe even a little bit cliche, but there's no denying that it's one heck of a way to see the world. Schedule a hot air balloon ride, bring some bubbly, and get some aerial perspective on the place you're building a life together.

Do you have a really fun, creative date night that the rest of the world NEEDS to know about? Tell us on Facebook or Instagram what it is (so we can steal your idea), and tag us in the post! @AvocadoMattress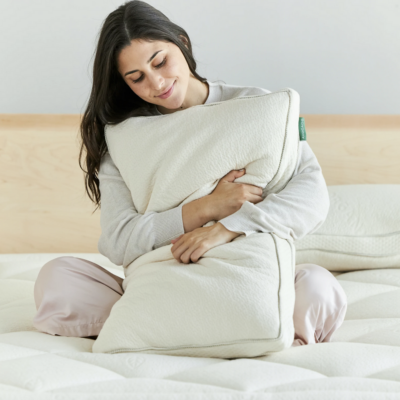 Shop Pillows
The Essential Organic Pillow Collection
Gentle, breathable, non-toxic support.
Buy Now