You know what? People love to hate on those who love Christmas, but I DON'T CARE.
I am who I am, and who I am loves putting the tree up the day after Thanksgiving (and not a minute later). Deal with it.
But who I am is also a tree-hugging, earth-loving environmentalist hippie mom, and that's also important to me. Finding the balance between being bananas about the holiday season and mindful of what I'm buying is TOUGH.
When there's a will, there's a way though, and there are SO many ways to go all out decorating for the holidays without feeling like you totally sold out.
#1—Buy a Potted Christmas Tree and Plant It
Artificial Christmas trees seem eco-friendly in theory, but in practice, they almost always wind up in the landfill.
I love the idea of buying a conifer and sticking with it until it's too big to stay in a pot.

The trick here is to dig your hole in the fall before the ground freezes if you plan to plant it. Head to your local plant nursery and buy a large (but reasonably sized tree), and welcome it to your family for seasons to come.

If you're renting like me and can't plant a tree in your yard, just post it on your local buy/sell/trade Facebook groups for re-homing after the holidays.

#2—Rent a Christmas Tree
Did you know you can even rent a fully-grown, potted Christmas tree?

These services are regional and only available in a few select areas, but incredibly sustainable and convenient.

Do some local research with keywords like 'Christmas tree rental near me' to see who's offering this service in your area.

#3—Make Stockings From Old Sweaters
If you don't have stockings yet, borrow a sewing machine (and a friend to show you how to use it) and make some stockings from old sweaters. They have an adorable country Christmas look to them, and keep more used clothes out of the landfill.
#4—Buy Live Holiday Swags and Wreaths
I LOVE live wreaths and swags. Since I'm no longer living in the forests of Montana, I have to buy mine (instead of making them) like everybody else.
Get some live holiday greenery from your home and just breathe in — the fragrance of fresh pine and fir branches is absolutely intoxicating.
#5—Then Compost Them
Once the holidays are over, take apart your holiday swags and wreaths, repurpose any wires or pins that you can, and compost the branches.

#6—Recycle Old Christmas Lights
An ASTOUNDING amount of Christmas lights wind up in the landfill every year. It's a huge problem, and one that online store Christmas Light Source is working to solve.

In their Christmas lights recycling program, you get a 10% off code for mailing in your old lights, and the company uses the proceeds from the recycled materials to buy books, toys, and games for Toys for Tots!

#7—Buy LED Lights Instead
LED Christmas lights last longer and are WAY less prone to going out and malfunctioning. If you're in the market for new lights this year, just get LEDS. They're a lot cheaper than they were a few years ago, and they'll last forever.

#8—Use Nature's Biodegradable Decor
This is my FAVORITE way to decorate for the holidays. Plan a day to go out to the woods. Pack your car up with handled baskets, pruning shears, thick gardening gloves (pine branches are VERY prickly), and all kinds of cocoa and snacks.

Then set off to collect nuts, branches, and pinecones to scatter throughout your house. Just remember to always get permission if you're on private land, and to be aware of any rules or regulations on gathering things on public lands.

#9—Make These DIY Dried Citrus Ornaments
Traditional Christmas ornaments are full of plastic and glitter, but I love these dried citrus slice ornaments. They're easy to make, will last for years, and can be composted, too.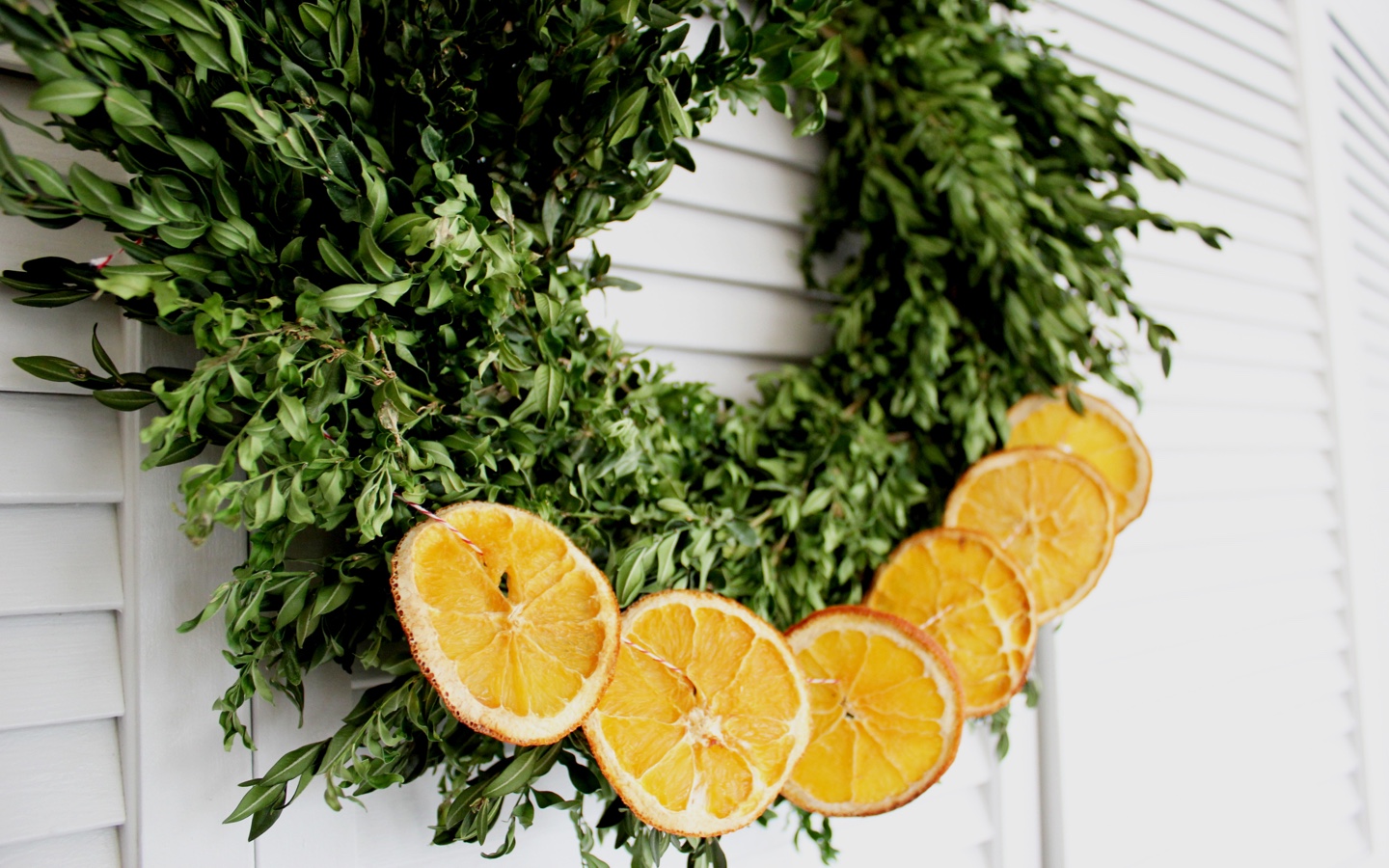 #10—Make Snowy Pinecones with Salt and Wheatpaste
I never liked covering a biodegradable material in plastic and glue, which is why I love this snowy pinecones tutorial with salt and wheatpaste. It gives you that glistening snow effect without any of the Elmer's glue and glitter.

#11—Use Old Photos As Ornaments for the Tree
Remember family members who have passed away, or celebrate some of your favorite memories together from the year. Use wooden clothespins to hang Polaroid-style photos of the people you love on your tree, and make a scrapbook with the photos when the holiday is over.

#12—Make Recycled Paper Snowflakes with Biodegradable Glitter
Those paper snowflakes are an adorable way to get the kids involved in Christmas decorating. Order some recycled construction paper and biodegradable glitter, and you have a craft project you can literally put in the compost pile.

SHOP RECYCLED CONSTRUCTION PAPER
#13—Buy Secondhand Decor
Thrift stores are always full of great holiday decor, but this time of year it goes FAST. Head to your local thrift shops and start collecting what you can now. It'll cut back on the demand for new decorations, which will tell companies they can make less next season.
What's your favorite eco-friendly way to decorate for the holidays? Show us on Facebook and Instagram and tag us in the post—@AvocadoMattress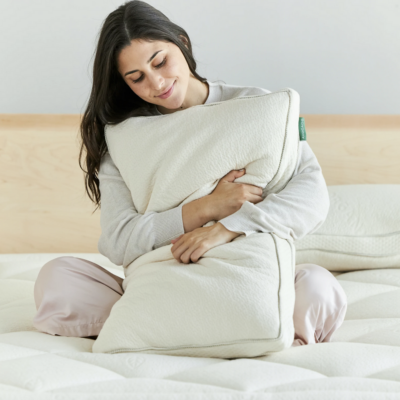 Shop Pillows
The Essential Organic Pillow Collection
Gentle, breathable, non-toxic support.
Buy Now