Who says Passover can't be a holiday vegans enjoy too? If you're on a plant-based diet, there's no need to feel left out of the fun — you too can destroy your kitchen this Passover as you create gorgeous, plant-based culinary creations.
Here are some plant-based Passover recipes so good your guests won't even miss the meat.
#1 Vegan Blueberry Chocolate Eggs

I mean look at these things. Covered in homemade vegan chocolate and filled with ridiculously beautiful truffle-life blueberry stuff, these Vegan Blueberry Chocolate Eggs by Fragrant Vanilla Cake are too pretty to eat and too yummy to share anyway. Freeze-dried blueberries can be a bit of a tough find locally, so if you want to make these bad boys (and you know you do), start scoping some out on Amazon — ASAP.
#2 Carrot Cake Bites
Can I just say, I LOVE the cake bite movement? Tiny balls of cake, all around! These recipes never disappoint, and this Carrot Cake spin by VegAnnie looks too good to be gluten-free, paleo, keto-friendly, AND vegan — but I trust her.
Me personally, I'm a toasted coconut fiend — pop that shredded coconut in a cast iron pan for a hot minute to brown it up a bit before you roll these bad boys in it.
#3 Gluten-Free Horseradish Soup
Flavor aficionados rejoice — what better way to bounce back from flu season than with a bowl of this Horseradish Soup by Gluten Free A-Z Blog? Made with a cauliflower and almond milk base and garnished with fresh radish slices, this gorgeous soup is teaming with flavor — but absolutely no dairy.
#4 Vegan Passover Matzo Brittle

I didn't even know matzo brittle was a thing, but it looks more than good enough to eat in this Vegan Matzo Brittle recipe by Abbey's Kitchen. Bursting with color from dried cranberries and pistachios, all you need is some matzo and vegan chocolate chips to bring this festive creation to life.
#5 Vegan Potato Latkes

Oh, nom — latkes are just the bombdotcom. These Vegan Potato Latkes by I love Vegan makes use of vegan shredded cheese and plenty of oil for frying. Make sure you have some fresh green onions on hand to add some kick, and then whip up a batch of dairy-free dipping sauce (because obviously).
#6 Quinoa-Stuffed Grape Leaves in Red Wine Sauce
It's a holiday, which means decadent foods like grape leaves are absolutely worth driving all over town for. Crazy beautiful and absurdly delicious, this plant-based meal is packed with plenty of protein. Don't forget the pine nuts — trust me, you WILL miss them. Definitely give these Quinoa-Stuffed Grape Leaves by May I Have that Recipe? a try.
#7 Green Bean Salad

This Green Bean Salad recipe by Saffron Trail is crazy simple but packed with fresh flavor, and perfect for your farmer's market haul. Prepping the green beans can be a little time-consuming, but stick with it — it's all about how you cook and soak them, and it's definitely worth the trouble.
#8 Vegan Coconut Macaroons

More coconut, just on everything. All the time. These Vegan Coconut Macaroons by Neurotic Mommy might be missing eggs, but you're not missing out. Dipped in vegan chocolate and filled with toasted coconut-y goodness, you may as well cancel dinner — it's vegan Mounds tonight.
#9 Vegan Gluten-Free Quinoa Paella
Few dishes conjure images of culinary fancy-ness more than a good batch of paella, and this gorgeous Gluten-free Vegan Quinoa Paella by May I Have that Recipe? is no exception. Bursting with color and fresh produce, you can make this dish with pretty much whatever you want. Don't skimp on the fresh parsley, though — the cool, crisp taste against the peppers and garlic makes this dish.
#10 Apple Pecan Haroset
Haroset is a traditional Passover meal typically served at the seder. Similar to a sort of apple relish, it's beautiful, fragrant, and ripe with historical significance for the holiday. In this Apple Pecan Haroset recipe by Global Vegan Kitchen, it's also ripe with golden raisins, fresh apples, and cinnamon. Prepare yourself — your house is about to smell amazing.
#11 Date and Bittersweet Chocolate Truffles
Simple and beautiful, these little Date and Bittersweet Chocolate Truffles by Jamie Geller are easy to make and incredibly rich. With just two ingredients, there's plenty of room for making this recipe your own, but the simple combination of chocolate and dates is pretty tough to beat.
#12 Spicy Smoky Ratatouille Casserole

Few farmer's market seasons are complete around here without at least one big batch of ratatouille. It's a lot of slicing and chopping, so leave plenty of time and sharp knives at the ready for this Spicy Smoky Ratatouille Casserole by Tori Avey, but so worth it in the end.
#13 Roasted Balsamic Strawberry Mini Tarts
Coconut whipped cream tops these delicious little almond flour Roasted Balsamic Strawberry Mini Tarts by Tasty Yummies, and I can't help but think they'd be perfect with a glass of strawberry wine. If you're not big on disposable muffin liners, use some silicone ones instead.
What are you making for Passover this year? Show us your plant-based creations on Facebook or Instagram and tag us in the post! @AvocadoMattress or #AvocadoGreenMagazine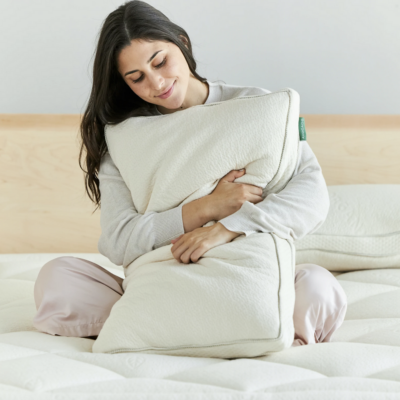 Shop Pillows
The Essential Organic Pillow Collection
Gentle, breathable, non-toxic support.
Buy Now