As the holiday season approaches, it's time to put some thought into that ol' shopping list of yours. Luckily, there are plenty of ways to be eco-minded and a thoughtful gift giver this season without contributing to the mass of unsustainable practices out there.
These 13 companies are making big strides in sustainable business practices, so you can feel good about what you're gifting — to others AND our precious planet.
For the Foodies
Can you believe that 20% of produce never even leaves the field simply because it is considered "ugly"? Imperfect Produce gives the not-so-pretty fruits and veggies a fair shot and rewards farmers for all of their hard work. Waste not, want not, right? Since the goal is to waste less food, you get to pick exactly what you want in each subscription box — how easy is that?
These self-sealing, non-plastic and food safe bags are eco-friendly and endlessly reusable. They're the perfect excuse to ditch those single-use plastic baggies.
Because bamboo is a renewable resource and biodegradable, it's a smart and sustainable choice when it comes to things like dinnerware, utensils or cutting boards. We love Bambu's mission to provide beautiful and non-toxic products for the whole family.
It's no secret that the millions of plastic straws used each year end up directly in our landfills or oceans. Simply Straws has a mission to help the world sip a little smarter by providing reusable glass straws. Here's to providing a little less single-use waste, one straw at a time.
For Your Furry BFF
Doesn't the family pet deserve some eco-friendly goodies, too? We love the idea of making dog collars and leashes from hemp and organic cotton. Hemp is easily grown without the use of harmful pesticides, so it's pet friendly AND earth friendly.
For The Family
For responsible and durable fashion goods, look no further. United By Blue sells clothing and accessories for the entire family with a powerful, do-good approach. For example, a pound of trash and debris gets removed from our oceans, rivers and lakes for every product sold on the site. To date, they've removed over 1.4 million pounds!
Samba Sol makes stylish, artist-inspired flip flops for the entire family. Their goods are crafted from recycled Brazilian rubber and made without chemical processes and no carbon emissions to the environment. With tons of bright and funky patterns to choose from, there's something for every taste and style.
While kid toys can be notorious for being bulky, plastic monstrosities, eco-kids is here to change that. They make non-toxic art supplies with natural ingredients and are even conscious about selecting environmentally friendly packaging. All the kid-friendly fun with none of the guilt!
For the Adventure Seeker
Klean's mission is to create durable and affordable products aimed at combating the need for senseless, single-use waste. Not only that, but as a member of 1% For The Planet, they've contributed over $2 million to environmental organizations dedicated to preserving and restoring wild places. Their sustainable products and business practices make Klean Kanteen a real winner.
At Alchemy Goods you can find stylish pieces like bags, backpacks and wallets made from upcycled materials such as bicycle inner tubes and advertising banners. Their accessories are functional and sleek and would be perfect for the commuter or traveler in your life.
With 18 billion pounds of plastic polluting our oceans every year, Bureo's mission is simple: create innovative solutions to stop plastic from entering our waterways. Bureo works with top companies to turn recycled plastic fishing nets into things like sunglasses, skateboards, and even board games.
For the Beauty Lover
Beauty buffs will appreciate All Good's organic ingredients in their product lineup of sunscreens, lotions, lip balms and more. All of their sunscreens are Reef Friendly, meaning they don't contain harsh chemicals that threaten our globe's coral reefs. All Good has some laudable business practices with solar-powered production facilities and recycled packaging, printing and shipping materials.
When you love beauty but also love the planet, you don't always have to compromise. Love Beauty & Planet stands for just that: looking good and doing good. With responsibly sourced ingredients and bottles made from 100% recycled plastic, this company is working hard to love up on our planet. We love that they also have several goals to further reduce their carbon footprint in the coming years.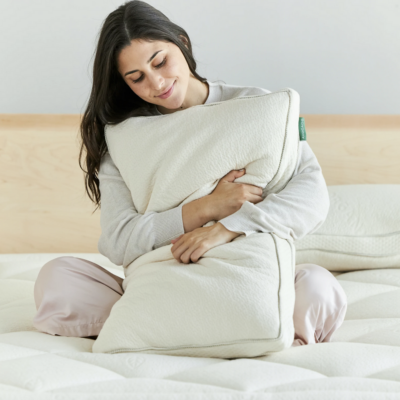 Shop Pillows
The Essential Organic Pillow Collection
Gentle, breathable, non-toxic support.
Buy Now