Most swimsuits are made with petroleum-based fabrics like nylon and spandex. Go green with our favorite eco-friendly swimsuits.
While beaches and resorts may not be opening at the same pace nationwide, the fact remains that when there's sun shining and a lounger in my backyard, you best believe I'm turning on the sprinkler, putting my swimsuit on, and partying it up with my kids.
The thing is, swimsuits are typically made out of athletic fabrics like nylon and spandex, and these materials are almost exclusively made with petroleum products. That's right: even your swimsuit is made out of oil, baby.
Using an estimated 70 million barrels of oil per year to make polyester alone, the fashion industry is notorious for consuming natural resources like fresh water, burning a ton of energy, and contributing to the waste problem on a massive global scale.
The good news is we have options on what we choose to support.
As more and more companies wake up to the problems of the fashion industry, chemists, engineers, and fashion companies are coming together to come up with great alternatives.
Using some of the most innovative and sustainable fabrics around, these companies have been able to turn the fashion industry on its head and create swimsuits that are not only eco-friendly — they look good, too.
#1 — Arrow + Phoenix Swimwear
Arrow + Phoenix is a Black-owned swimwear brand that is focused on body positivity coupled with sustainability. All of their bikinis are made from 100% recycled materials, 100% recycled yarn and they pride themselves on using 75% less energy during the production process. Their suits are even made right here in the United States — Paradise, Nevada to be exact.
Please note that this code expires on October 1st and requires a minimum of $200.
#2 — Summersalt
Summersalt makes adorable swimsuits for women, girls, and pregnant mommies out of sustainable materials. Using 78 percent recycled polyamide in their suits from sources like recycled fishing nets and plastics, Summersalt makes body-inclusive swimsuits with minimal environmental impact.
#3 — Vitamin A
Vitamin A makes sexy one-pieces and bikinis from plant-based and recycled fabrics. Their entire line is made in California. They're even a member of 1% for the Planet, which means that they donate 1% of their revenue to support environmental nonprofits.
#4 — prAna
prAna has an incredible sustainable clothing line made of a wide variety of sustainable materials. These guys are at the forefront of sustainable fashion design, and, frankly, they're crushing it.
Their swim collection has styles for men and women made from recycled nylon and an extra durable elastane. prAna also guarantees that all of their collection is made under fair working conditions in a safe environment.
#5 — Bold Swim
Bold Swim makes striking swimwear out of some amazing fabric. With fully biodegradable materials and a super light carbon footprint, this small luxury company is doing sustainable swim right. They even use carbon neutral shipping!
"I created Bold Swim to empower women everywhere to embrace self love, through the power of our bodies through swimwear," says found Tiffany Broadway. "So what better way than to great something beautiful, sustainable and inclusive for everyone. No matter the size or shape you too can have bespoke luxury swimwear."
USE CODE AVOCADO15 FOR 15% OFF
#6 — Ruby Love
You've heard of period panties, but have you tried period swimwear?
It's a thing, and it's totally amazing if you're trying not to worry about menstruating while you're at the beach. Ruby Love's period swimwear line is designed to function just like period underwear, keeping the mess contained so you can focus on catching some sun. It's made with organic cotton and is even PUL-free!
#7 — JADE Swim
Founded by fashion editor and stylist, Brittany Kozerski, JADE Swim™ combines effortlessly chic design with shape retention technology to create a smooth and sculpting swimsuit. Their collections are intentionally crafted with eco-friendly fabrics that offer UV protection and resistance to chlorine, sunscreen and oils, leaving you with a staple piece that will last for years to come.
#8 — Madewell
Madewell makes clothing for women and men out of sustainable materials, like recycled cotton and nylon. Their swimsuits are made out of recycled nylon — a single one-piece includes up to eight recycled bottles worth of plastic.
#9 — Jessica Rey
Jessica Rey makes adorable swimsuits and towels for women and kids, right out of LA. They're all made from recycled materials, like old fishing nets, and all of the labor is fair-trade — meaning zero sweatshops.
#10 — Volcom
Volcom has been around for a long time, but not many people know about how sustainable they are. Their initiatives include using recycled fabrics like Econyl.
Volcom swimwear is designed to fit snug and stay put, so we grabbed the skateboard and did a photoshoot in the cul de sac.
The material was soft and buttery, but really sturdy. I loved how cheeky the bottoms were, and how even with its sturdy construction, it didn't feel too tight.
#11 — Galamaar
Galamaar is another gorgeous brand making swimsuits out of recycled Econyl fabric in Los Angeles, California. They only make bikini style swimsuits, but the cuts are intense and the construction solid — great for keeping things in place while you run in the sun.
Are you rocking a sustainable swimsuit this season? Show us your favorite style on Facebook or Instagram, and be sure to tag us in the post! @AvocadoMattress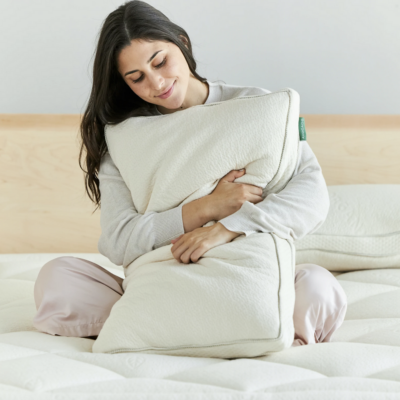 Shop Pillows
The Essential Organic Pillow Collection
Gentle, breathable, non-toxic support.
Buy Now