Drinking before noon is generally considered a no-no, but hey, we're all adults here, so let's make it a rule that it's only a no-no if it's not an awesome breakfast cocktail.
Deal? Deal.
Whether it's a Sunday brunch or you just need to pamper yourself after the kids go to school one morning, breakfast cocktails are one of the best ways to say to yourself, "I'm awesome, and I deserve this."
So put on your mixologist hat and slippers, because it's time to drink your breakfast. Here are 12 breakfast cocktails you have to sip to believe.
Breakfast Bramble
This one's a little different, and I kind of love it. In this Breakfast Bramble by Craft + Cocktails, apricot rosemary jam, greek yogurt, and blackberry liqueur come together for a drink that's sweet and creamy, but light enough to sip on with breakfast.
Lavender Lemonade Prosecco Cocktail
Homemade lemon and lavender syrup with a chilly prosecco poured over top is probably the prettiest drink I've ever seen. Do it up right for brunch with the girls with this Lavendar Lemonade Proescco Cocktail by Happiness is Homemade and make the set of lavender glitter glasses to match!
Maple Syrup Cocktail
Don't say we didn't go there — this Maple Syrup Cocktail from Tablespoon has maple syrup, bacon, AND waffles in it, so don't even bother grabbing a plate.
Oregon Blush
This eccentric little cocktail is full of the flavors of Oregon, thanks to its rich marionberry vodka. Don't let it's deep color throw you though — this Oregon Blush by Self Proclaimed Foodie is just the kinda bubbly, refreshing drink you need to wash down a plate of pancakes.
Verde Mary
This Verde Mary by Grab a Plate, a new take on an old favorite, pairs perfectly with a giant southwest omelet, so go big or go home. With green tomatoes and tomatillos, this one has a kick to it that might have you passing on the hot sauce.
Raspberry Cream Mimosas
Okay, let's be clear here — any kind of mimosa is almost always a good idea, but I am positively SWOONING for this Raspberry Cream Mimosa by Cooks with Cocktails, a new take on an old favorite.
Really want to go nuts? Add a splash of chocolate liqueur to the bottom before you pour the champagne in.
Margaritas. For. BREAKFAST.
That's right, it's finally happening — margarita Monday officially starts at 8 a.m. A scoop of orange marmalade makes this Breakfast Margarita by Jacques Bezuidenhout recipe suitable before noon. Do yourself a favor though — use the good tequila.
I mean come on, how often do you get to drink a margarita at breakfast? You can thank expert bar man Jacques Bezuidenhout for this killer cocktail recipe.
Photo credit: Liquor.com/Tim Nusog
Warm & Cozy Buttered Rum Coffee
Just in time for sweaters and fall foliage, this Buttered Rum Coffee from Field Notes NEEDS to happen for you this fall. Butter, brown sugar, fall spices, and whipped cream come together with your best morning brew and a shot of dark rum in this cozy morning cocktail.
Dill Pickle Bloody Mary
A gentle spin on the perfect breakfast cocktail, a dash of pickle juice and mini pickles make this classic Dill Pickle Bloody Mary from Delish.com irresistible. And remember — it's hardly a Bloody Mary if it's not full of food, so don't skimp on the garnishes.
Wine Smoothies
Hey, if it's a smoothie, it's breakfast, right? These cold, slushy Wine Smoothies by Cooking with Curls are EXACTLY what the doctor ordered for a mellow morning pick-me-up, and are totally customizable (peach, anyone?).
Sparkling Grapefruit Rosemary Cocktail
These Sparkling Grapefruit Rosemary from The Kitchenthusiast drinks are so dainty and pretty, they definitely need to be paired with some croissants and fruit platters. With a splash of homemade rosemary syrup, fresh grapefruit juice, sparkling water, and vodka, this recipe brings a touch of class to drinking before lunch.
Irish Coffee
An oldie but a goodie, a real Irish Coffee by Analida's Ethnic Spoon just can't be beat, and is super easy to tweak based on your preferences. Traditionally they're made with Irish whiskey, cream, and brown sugar, but you can add Rumchata, Kahlua, or any of other favorite liqueurs to make it your own.
What are some of your favorite breakfast cocktails? Share a photo and tag us in it on Facebook or Instagram, @avocadomattress or #AvocadoGreenMagazine.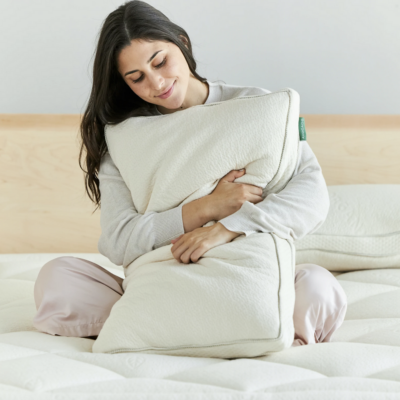 Shop Pillows
The Essential Organic Pillow Collection
Gentle, breathable, non-toxic support.
Buy Now