Let's face it, there's nothing worse than desperately combing the aisles of the gas station trying to find a snack that isn't filled with processed junk, preservatives or tons of sugar.
Skip the convenience store scavenger hunt and arm yourself with the proper ammo for that 3 p.m. low. These protein bars are made with whole foods and pack a kick that'll carry you through to quitting time. Meat lovers, vegans, and the allergy-conscious alike — the protein bar scene has exploded with options, and it's never been a better time to be too busy to grab lunch.
#1 — GoMacro Macrobar
If you need to avoid nuts, soy, gluten, eggs and/or dairy, this allergy-free bar is a dream come true. With sunflower butter and organic cacao powder, this bar packs in 10 grams of plant-based protein.
SHOP GO MACRO'S PROTEIN PURITY BARS
#2 — Mighty Organic
With 8 grams of protein and not a trace of gluten or nuts, Mighty Organic bars are also made with 100% grass-fed organic beef. This paleo-friendly bar is a hearty snack that comes in an array of interesting flavors. Meat lovers, rejoice!
#3 — RX Bar
Perhaps one of the best things about these bars is the fact that all of the ingredients are listed right on the front of the label. No guessing games required here — what you see is exactly what you get. These chewy, whole food bars are definitely a protein snack we can get behind.
#4 — Hemplete Nutrition
These bars are made with hemp protein, which means they pack in the essential Omega 3, 6 and 9 fatty acids to fight inflammation and promote a healthy heart. With 14+ grams of protein and no less than 3 grams of sugar per bar, their nutrition stats are a stand-out among the crowd.
#5 — Health Warrior
100% plant based with the first ingredient being a superfood blend of chia, oats and quinoa? Yes, please! These bars have 11 grams of plant-based protein and that's certainly something we can appreciate.
# 6 — PerfectBar
Even though these bars are stored in the refrigerator, they can be enjoyed on-the-go for up to a week at room temp. Made with whole food protein and organic ingredients, PerfectBars also boast 20+ superfoods which make them a convenient source of vitamins and minerals, too.
#7 — Epic Bar
Forget traditional beef jerky, which is generally packed with sugar and nitrates. Paleo eaters will love this meaty, protein-packed bar made with high-quality meats like grass fed beef, bison, or even wild-caught salmon.
#8 — Evo Hemp
Not only are hemp seeds chock full of healthy fats and essential acids, they happen to be a solid source of protein as well. These bars are made with organic ingredients and will appeal to paleo, gluten-free and vegan eaters alike.
#9 — Square Organics
These bars are organic, gluten free and made with 11 grams of sprouted plant protein. They also contain no sugar alcohols or "natural flavors" and are free from dairy and soy — and they taste great, too!
SHOP SQUARE ORGANICS PROTEIN BARS
#10 — Oatmega
This Chocolate Coconut Crisp bar from Oatmega packs 14 grams of whey protein from grass-fed cows plus fish oil for an added boost of Omega-3s. It clocks in at just 200 calories and has 7 grams of fiber, making it a solid choice for a satiating snack.
#11 — Primal Kitchen
As long as you're fueling your body with clean ingredients, why not give your hair, skin and nails a boost, too? We're into these Dark Chocolate Almond Collagen Fuel bars from Primal Kitchen for their 7.5 grams of collagen and 15 grams of protein. Win!
SHOP PRIMAL KITCHEN COLLAGEN BARS
What's your favorite protein bar? Tag us on Facebook or Instagram with #AvocadoMattress or @AvocadoMattress.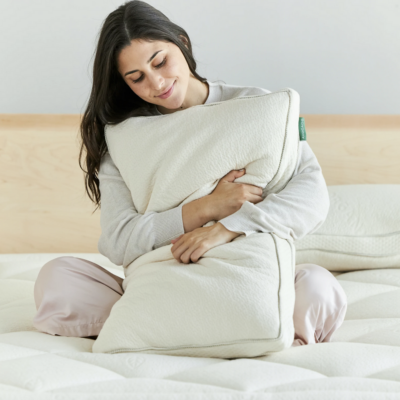 Shop Pillows
The Essential Organic Pillow Collection
Gentle, breathable, non-toxic support.
Buy Now