Whether you're watching your waistline or just really like winter, soups are seasonally appropriate and a GREAT way to snap up all of those hard-to-get vitamins and minerals.
I scoured Pinterest for some of the best ones to throw in my Instant Pot for the last weeks of winter, and came back with some insanely delicious winners.
#1 — Chicken Quinoa Soup
Chicken noodle soup has been proven to have pretty much everything the body needs, but it comes with a lot it also doesn't — like complex carbohydrates. This version with quinoa packs a double protein punch.
Want an even bigger kick of immune boosting goodness? Use bone broth instead of chicken stock!
#2 — Turkey Meatball Kale Soup
The meatballs in this recipe require some specialty flour, so make sure you have everything you need before you start thawing out the ground turkey. But with no dairy or gluten, this recipe is rich and filling without loading you up with a bunch of stuff you don't need.
TURKEY MEATBALL KALE SOUP RECIPE
#3 — Skinny Chicken Fajita Soup
If you're like me, you'll need to fight the urge to top this fajita soup recipe with piles of cheese and a big dollop of sour cream, but it really doesn't need it. My advice is to make your own fajita seasoning though — it's super easy and skips the MSG a lot of packaged varieties have.
#4 — Red Lentil Chickpea, Chili, and Lentil Soup
This fiber rich soup is CRAZY filling and can be made with meat or vegetarian. What I really love about it is that you can keep it in the slow cooker all day, fill up your house with the smell of chili, and then settle in and watch it snow with a warm bowl.
So cozy.
RED LENTIL CHICKPEA, CHILI AND LENTIL SOUP RECIPE
#5 — Spinach Sausage Keto Soup
Doing the keto thing? You'll love this soup. It's insanely rich and cheesy, extremely low carb, and it even has a vegetable in it, so you can tick that box too.
SPINACH SAUSAGE KETO SOUP RECIPE
#6 — Cozy Autumn Wild Rice Soup
This wild rice soup's original recipe is pretty heavy on the fats and carbs, but the substitutions at the bottom make it something delicious, different, and perfect for a clean diet.
COZY AUTUMN WILD RICE SOUP RECIPE
#7 — Sweet Potato and Black Bean Vegetarian Chili
This vegetarian chili recipe is PACKED with protein, perfect for the slow cooker, and is insanely rich. Seriously, small bowls only here — the sweet potatoes will fill you up faster than any pile of spaghetti noodles ever will.
SWEET POTATO AND BLACK BEAN VEGGIE CHILI RECIPE
#8 — Instant Pot Butternut Squash Soup
This Instant Pot Butternut Squash soup is a tasty combination of sweet and salty and is SUPER filling, even while being so freaking light. Squash takes a long time to soften up for a soup, but your Instant Pot can have this one hammered out in about an hour.
INSTANT POT BUTTERNUT SQUASH SOUP RECIPE
#9 — Homemade Roasted Tomato Soup
Best tomato soup EVER — I promise. Seriously, you'll scoff the next time you see a sad looking tomato puree. Roasting the roma tomatoes and pureeing it just enough to let it sit on a spoon is the key to making this soup a garden in a bowl.
Use fresh basil, as much garlic as your heart desires, and let the grilled cheese sandwich know you're taking a break — this soup has you covered.
#10 — Low Carb Lobster Bisque
Keto-ers have it going on because there might not be a recipe alive that does lobster bisque low fat. This version has a drastically reduced carb footprint and uses cauliflower to mimic the rich creaminess of the original — without the flour.
LOW CARB LOBSTER BISQUE RECIPE
#11 — Thai Curry Vegetable Soup
Thai food is definitely one of the yummiest ways to eat healthy. This Thai vegetable soup recipe is dairy-free, different, and packed with cleansing superfoods. Using light coconut milk is safe in this recipe unless you prefer a slightly thicker soup.
THAI CURRY VEGETABLE SOUP RECIPE
#12 — Healing Turmeric Cauliflower Soup
Turmeric is a food that's frequently used as a medicine. Its natural properties make it a great antioxidant and anti-inflammatory and an even better addition to this cauliflower soup. This recipe is dairy-free and even includes lentils as a source of protein.
HEALING TURMERIC CAULIFLOWER SOUP RECIPE
Go ahead, show us what's in your bowl on Facebook or Instagram! We want to see which recipe was your favorite — @AvocadoMattress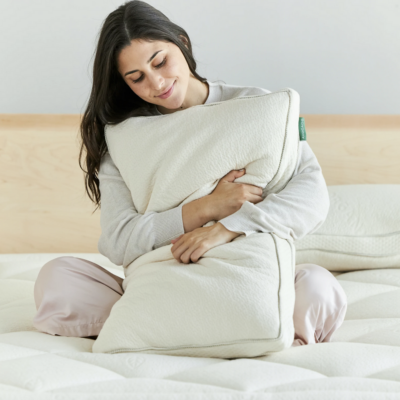 Shop Pillows
The Essential Organic Pillow Collection
Gentle, breathable, non-toxic support.
Buy Now