I love fall picnics. Fewers bugs, cooler climates, and radiant foliage make for some of the most memorable family moments as you soak in the last of the good weather before winter sets in.
This fall, don't let your busy lifestyle keep you from enjoying a meal outside with your family. Grab a big basket, fill it with your favorite finger foods, and make a memory under the shade of a glimmering yellow aspen tree.
I promise, you won't regret it. Here are ten surefire ways to have a great picnic that goes off without a hitch.
1. Win Over the Wind
Okay, so first of all, fall can be pretty windy. Those blustery first days of cool weather are beautiful, but can definitely make it difficult to have a relaxing picnic. Before you pick your site, look for a spot with some natural windbreaks, either at the base of a hill or a tree. The higher you are, generally the more exposed you'll be to the gusts.
Once you find the perfect spot, grab (or bring) some good-sized rocks to weigh down the edges of your blanket with. If you brought napkins, make sure to grab one to keep the stack contained. Cloth napkins make it easier to beat the wind too.
2. Bring a Designated Waste Bin
Speaking of wind, one of the first things to go when I go on a picnic is almost always the grocery bag I bring for trash — the wind takes them before you can even think "Why do I even bother?"
I've learned over the years it makes much more sense to bring a reusable tote for trash than it does a regular trash bag. The lid snaps down, keeps everything contained and away from the bugs, and it's much harder for it to blow away. Try a Reuseit Grocery Cart Helper/Reusable Grocery Bag that has a hook and loop closure.
3. Bring Easy-to-Eat Foods
As a general rule, anything requiring utensils is on the fancier side with picnics. If you absolutely have to have salads, consider simplifying things by making salad wraps instead. This cuts down on the number of dishes and utensils you have to haul with you.
Trust me, the best picnics are always the simplest ones. One of my personal favorites to bring is a platter full of goat cheese, crackers, prosciutto, fresh berries, naan — delectable finger foods that everyone can just grab and nibble on, sans plates. It feels fancy, but it's oh-so-simple, and pairs wonderfully with some good wine.
4. Use Insulated Bags
If you're bringing goat cheeses or other perishables, keep them fresh with insulated lunch bags to keep things cool. If it's going to be a warm day, add some frozen water bottles to the mix to keep things cool longer. Try a reuseit EarthTote Insulated Shopping Bag.
5. Pack What You Don't Mind Carrying
It's so easy to get carried away when you're planning a picnic, but remember this — what you pack, you have to haul in to your perfect picnic site, and it might not be 20 feet from your car. Picnic baskets are beautiful and fun, but if you have a serious hike ahead of you, aren't the easiest to carry.
If you're venturing into the forest for a particularly scenic spot, opt instead for a backpack, and put your food in waterproof, insulated containers.
Bringing beer? Try a Burton Beeracuda beer sling! These things were made for going places, and are insulated to keep canned brews cool. Not a beer drinker? Don't worry, try a Wine Sling.
6. Plan for Eating and Seating Space
Food takes up a lot of room, and generally, you don't want it sitting directly on the ground where it can attract the attention of insects hanging on through the fall. You either need to bring a tablecloth big enough for food and for people to sit on (read: a GIGANTIC one), or you need to be okay with sitting on the ground.
Some parks will have picnic tables, so if that's more your jam than sitting on the ground, scope out some sites out like this. They're going to be less rugged, but hey, an onsite bathroom is always a nice perk.
7. Bring Cleanup Supplies
There is nothing like some pre-moistened cloth towels at a picnic. Seriously, if you remember to do one thing, make it this. You'll be thanking your lucky stars when you don't have sticky fingers.
8. Bring Something To Do
I'm a big fan of hiking before a picnic, but if you'd like something for after you dine, bring a frisbee or a checkers set, and unwind while you digest in the shade.
9. Try Jarred Desserts
One of my favorite things to make for my boys are these Brownie Parfaits. Not only are they crazy good, but they're very portable, and can be adapted for fall with pumpkin bars and cinnamon spiced greek yogurt instead. Just make sure you keep them nice and chilled, and you can have dessert without the mess.
10. Use Biodegradable/Reusable Dishes
I'm not a big fan of picnics that require dishes, but if you're hell-bent on bringing a thermos of that autumn soup with you, then at least opt for reusable or biodegradable dishes — like a Biodegradable 16 oz. Soup/Salad Bowl by Green Paper Products.
I'm particularly in love with Eco-gecko™ Disposable Sustainable Wooden Cutlery. It's beautiful, 100% compostable, and super lightweight. Plus, helllllo — no dishes to wash afterwards! If you're not doing the dishes, going green with your disposables is a great compromise.
Fall is too beautiful to spend indoors at the kitchen table — pack a bag, grab the wine, and take to the trees instead this season!
Any picnic tips to share? Do you have a favorite fall spot? Continue the conversation with #AvocadoGreenMagazine or @AvocadoMattress on Facebook, Instagram, or Twitter.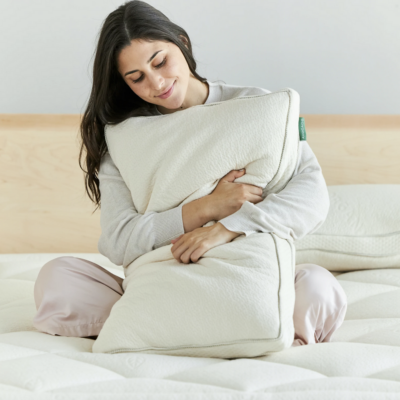 Shop Pillows
The Essential Organic Pillow Collection
Gentle, breathable, non-toxic support.
Buy Now