For a lot of parents, travel with electronics is a necessary evil, and a welcome distraction during arduous time spent on flights and the road. But when it comes time to enjoy your long sought after vacation, it can be hard to break the screen time cycle.
No more, I say — these vacations are too spectacular and too awe-inspiring to sit in your room and play Candy Crush. The best part? They're not exclusive, couples-only resorts, but family-friendly locations that offer plenty of activities for children, and a safe space for everyone to unwind and explore.
#1 — Under Canvas Yellowstone, Montana
Glamping has become all the rage, and for feisty little adventurers who need room to roam, there's no better way to rough it.
Under Canvas Yellowstone offers guests luxe tented accommodations in the stunning national park, with plenty of close encounters with nature right outside the warmly lit flaps of your tent.
Despite being large canvas tents, these humble abodes offer showers, toilets, and sinks, along with cozy wood stoves and full-size furnishings. Need a crib? One can be provided to you complimentary. With no electricity or WiFi, you'll be at peace under the expansive starry Montana skies.
Snag your complimentary hot breakfast in the morning before heading out to explore the geothermal features in Yellowstone National Park. You can even bring the family dog along!
Images provided by Under Canvas Yellowstone
#2 — Off the Grid, India
If you're looking for something rustic and off the beaten path, this little inn in Goa is about as off the grid as it gets. With no cell service and limited electricity (the facility is solar powered), families and unwind and reconnect with the stunning, calm vistas surrounding the property.
With both tents and cottages available for rent, guests can choose their level of creature comforts. The hosts are gracious and hospitable, offering guests the opportunity to help on the farm the accommodations are situated on, or pointing them in the direction of the nearby natural spring for a relaxing swim. One of the owners, Sylvia, even offers a beginner's pottery class!
Meals are cooked outdoors over a bonfire by the light of the stars, and all of the vegetables are pulled from the surrounding land, where the owners grow their own food. And parents, don't sweat it — even this rustic gem has indoor plumbing and toilets.
#3 — Kenauk Nature, Quebec, Canada
Experience the Canadian wilderness inside the coziness and security of a gorgeously maintained chalet. The Kenauk Nature Chalets take the rugged out of the wilderness, so you can relax with the kids, without worrying about rainproofing the tent.
With several sizes available, all with access to the private dock and breathtaking views of Whitefish Lake, you can get a chalet that's within your price range, and with plenty of space to sleep everyone comfortably.
Summer and winter activities abound, and you can get the whole family involved in anything from dog sledding to fishing on the lake. There are nature trails for exploring that are accessible for all ability levels, too!
#4 — Off the Wall Dive Center & Resort, Belize
When you think of Belize, normally you think of world-class resorts with intimate fine dining and honeymoon suites. In short, not many screaming kids running around.
The Off the Wall Dive Center and Resort is the perfect blend of rugged and comfortable, and it's 100% laidback and kid-friendly. Choose between either their single dwelling beachside cabana or their two-room family suite — perfect for stealing a little time away from the kids.
Though electricity and water usage are limited because of the remote nature of the resort, there is WiFi available, should you need to communicate electronically during your stay. For bathroom access, there are well-maintained outhouses nearby, and outdoor rainwater showers for rinsing the sand off after a day on the beach.
When you're not sipping fresh coconut water or gorging yourself on locally caught red snapper, you can take the kids out for a whirlwind of aquatic adventures. Groomed trails crawl the island, making exploring easy for clumsy littles, and hammocks provide natural napping spots.
Swim with dolphins, fish from the docks, and snorkel among stunning marine life like nurse sharks and rays among the vibrant coral reef.
#5 — Bluff Beach Retreat, Panama
With rainwater collection and solar power, this Bluff Beach bed and breakfast in Panama has all of the creature comforts you need with kids around, but the serenity of natural surroundings to keep your mind off your social media feed.
This remote getaway is about 20 minutes from civilization — the perfect place to unplug and relax. With a pool and beaches within walking distance, you can take the kids to swim wherever the water looks the sweetest.
Take the kids out to wear off some energy by exploring the area on foot or via horseback, and collapse into one of the numerous hammocks that dot the area when you're ready for a cold drink and a short nap.
#6 — Baja Bungalows, Mexico
In these stunning bungalows, you'll find plenty of space and privacy to let the kids roam while you relax. With safe ocean swimming nearby and plenty of snorkeling opportunities, this is a great place to let adventurous littles do some exploring.
Though there is no dining on-site at the Baja Bungalows, small kitchenettes will let you cook up a meal for the family in your own space. With solar electricity, amenities like hair dryers and air conditioning are few and far between.
At the nearby beaches, you and your kids can snorkel and explore via kayak, and there's plenty of space to be loud and sprawl out.
#7 — Charit Creek Lodge, Tennessee
In the heart of the Smoky Mountains lies this rustic, off the grid cabin, where families can unplug and truly reconnect with nature. If sunny beaches aren't your thing, this cozy fireside mountain retreat might be just what the doctor ordered.
Though this remote facility is hike-in, you can choose your level of service, from full-service to limited with horse stabling. A short 1-mile hike, horseback or bike ride gets you to the facilities, where you'll find water and showers, but no electricity.
Meals are provided for all guests, so there's no need to bring anything but the kids' favorite snacks. When you're done fueling up, head out into the surrounding forest for family-friendly hiking under the breathtaking natural arches and canopy of trees.
#8 — Secret Meadows, England
Like something out of a fairytale, this rustic English countryside retreat is perfect for families looking to unplug and recharge in milder climes. An adorable and whimsical glamping experience that's perfect for the whole family, the property features luxury tents appointed with everything from chandeliers to canopy beds.
Chickens roam the property, and hammocks abound for quiet afternoons of playing in the surrounding meadows and reading. With no wifi and electricity, the kids can leave their gadgets at home. Despite it being off the grid though, those creature comforts of hot water and flushing toilets are still there to make life easier.
When you're not relaxing with a book while the kids play, you can soak in the wood-fired hot tub, or put together a farm-fresh meal with the staples stocked in the on-site pantry.
#9 — Papageno Resort, Fiji
Though cell service and WiFi can be intermittent at this eco-resort, guests at the Papageno never have to worry about electricity usage, thanks to their steady supply from both solar and hydro sources. That coupled with a steady supply of fresh spring water makes this one eco-friendly, off the grid, and convenient for parents.
The food provided at the restaurant is sourced from their on-site organic garden, including fresh eggs from the resident chickens, and citrus fruits abound just outside your room.
This incredibly family-friendly resort is very accomodating to children, and the surrounding environment is safe enough for little explorers to be a little independent. Snorkeling and boat tours abound, and when you're not on the water exploring, you can lounge in hammocks on the beach while the kids play in the nearby tide pools.
#10 — Natura Cabana, Dominican Republic
Nestled on a private beach in the Dominican Republic sits this privately owned off-the-grid gem. Natura Cabana features eclectically decorated private bungalows, built from locally felled trees and palm fronds. Founded by a Chilean couple with a passion for architecture and homeopathic medicine, this peaceful resort is the perfect way to relax and unplug with your kids.
As in many eco-resorts, there is no air conditioning, so dress appropriately for the weather. Naturally, there are mosquitos in the region, so come prepared with your favorite protection, and make good use of the mosquito nets.
Though this facility is charming and rugged and off the beaten path, it's not without its conveniences. Natura Cabana has free wifi and 24-hour electricity, so you don't have to completely rough it with the kids.
Nearby, the whole family can enjoy a variety of oceanside adventure, from cave diving to snorkeling, and even horseback riding!
Do you have a favorite family-friendly retreat? Show us on Facebook or Instagram, and tag us in the post! @AvocadoMattress or #AvocadoGreenMagazine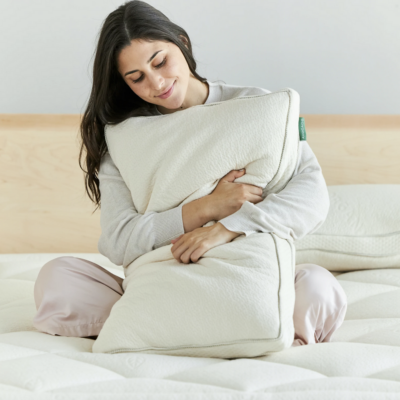 Shop Pillows
The Essential Organic Pillow Collection
Gentle, breathable, non-toxic support.
Buy Now