Lavender is full of health and beauty benefits — but it's also just nice to smell and look at. It doesn't just pair well with shea butter though — here are 10 ways to use this versatile herb and get the full effect.

In the food-as-medicine cabinet, lavender makes the grade for bulk quantity buying in my house. The oils, flowers, and teas make fantastic remedies for just about anything:

Lavender oil is a FANTASTIC topical treatment for wounds
Lavender in all forms can actually lower blood pressure
Lavender is an effective treatment for insomnia
Can lavender be poisonous?
Too much of just about anything can be a bad thing, but it really has to be a lot of lavender to have a negative effect. Most animals don't intentionally eat it, just because it has kind of a funny dry texture to it.

However, lavender essential oil can cause allergic reactions on the skin for some people, so use caution when applying topically — and NEVER use an oil neat. Here are 10 great recipes we found to incorporate lavender into your food and drinks.
This crafty baker managed to infuse a cheesecake with lavender, and I'm going to go out on a limb here and say that that can't possibly be a bad idea. While I'm not crazy about the use of violet food coloring, I adore the lavender flower garnish. Just make sure you order a bottle of lavender extract for this recipe ahead of time.

Managing to combine scorched cream and lavender is right up there with photographing a black hole in my opinion — much respect to this savvy chef who positively nailed it. You'll need culinary grade lavender flowers for recipes like this, so you know the flowers haven't been treated with any nasty chemicals.

Is there anything more adorable than a plate of Macarons? Yes — a plate of lavender macarons. These things are as adorable as they are noshable, but you'll need to bring your own filling recipe to this party.

Simple syrup is just equal parts sugar and water, heated and broken down into a homemade syrup that you can add to teas, punches, sodas — whatever you want. The idea to make this one from lavender tea instead of plain water is GENIUS.

Something about the idea of combining coffee and lavender seems a tad counterintuitive to me, but I'm too into how good it probably tastes to let that stop me from including it in this roundup. Make sure you really press the lavender flower heads into the coconut milk as you whip up a batch, you'll get a more powerful lavender punch.

Shortbread cookies are an easy staple cookie you can whip up in your sleep once you've made them a few times, and this recipe is no exception. With the addition of dried lavender, shortbread gets a dainty makeover that breathes new life into a super traditional recipe (and begs for a chai latte to go with it).

Make these for your mom for Mother's Day (and then make a batch for yourself). Super decadent, entirely too rich, and so, SO perfect together, chocolate and lavender hit it off in a combination you won't find in any box of chocolates in the store.

The recipe doesn't specify dry or fresh lavender. Dry is probably fine, but if you can get your hands on fresh, go for it.

This is another lavender recipe that uses food coloring, and I have to say, it's pretty intoxicating to look at. That said, your flavor won't be effected without the ingredient, and you'll still have a fizzy beverage you can actually feel good about serving up to your family.

This concoction isn't just refreshing — it's a great tonic for migraines, especially when they're stress related.

Simple, moist, and oh-so-beautiful, this lavender bread is perfect with a smear of honey butter or lemon curd. The recipe calls for dried lavender, but you should probably also get the most beautiful bread loaf pan you can find (see recipe).

It's simple, but sometimes it still needs to be shown. These lavender tea lattes are endlessly customizable, but only require a splash of your favorite milk and a drizzle of honey.

(And I'm pretty sure that's all the help lavender tea needs).

Which lavender recipe are you making today? Show us on Facebook or Instagram and tag us in the post! @AvocadoMattress and #AvocadoGreenMagazine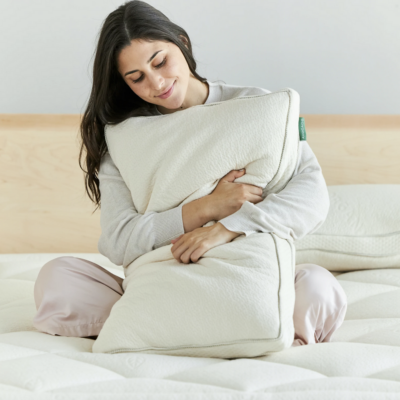 Shop Pillows
The Essential Organic Pillow Collection
Gentle, breathable, non-toxic support.
Buy Now