Most organic clothing lines are missing a decent winter jacket, and for good reason. One brand has been at the forefront of that change, with an eco-friendly outerwear line that's snow-ready, consciously designed, and totally transparent about what they want to do next.
Let me preface this by saying, I'm a fashion fiend. I wear dresses to the grocery store. I rock my heels while I clean my house. I LOVE CLOTHES.
But I also work in sustainability, so I know some things, things we have discussed here before, and they're not great.
Textiles and fashion consume a ton of fossil fuels.
Conventional cotton is the third-largest consumer of pesticides in the world.
Cheap dresses are born in factories crammed with women working for a fraction of a living wage.
And polyester never breaks down — it only tears and pills like crazy.
All of these things mean that, even though I LOVE clothes, I try to shop consciously. Because I know what goes into this stuff, and I know where it ends up — in a landfill for hundreds of years.
Grab Fast Fashion By the Wallet
It's called fast fashion, and it's what keeps people in shopping malls and clothes circulating through thrift stores. We buy something, wear it and decide it's imperfect, throw it away or donate it, and replace it within a year. Every year, each American throws 80 pounds of clothing away, most of which will take hundreds of years to decompose in a landfill. But the good news is that fast fashion and unsustainable clothing only thrives if we let it. They need us, and even the dress-lovers like me don't need them. By being more selective about what we buy (AND how well we take care of it), we're empowering ourselves to stop the cycle of unsustainable fast fashion and putting an end to the cycle of buy, wear, throw out, repeat.
We Can Still Fix This
There's no better news than this — we can do something about fashion's impact on the planet.
We can plan brilliant capsule wardrobes that don't have us running out for the perfect top or dress to complete an outfit.
We can take our clothing to tailors when it doesn't fit quite right.
We can repair tears and treat stains instead of throwing things away.
And we can consume less, and treat the space in our closets and the money in our wallets as worthy of only the brands who dare to care about their impact.
Meet Picture Organic Clothing
Through my freelance work here at Avocado Green Mattress, I've gotten to know some truly incredible sustainable fashion brands. Seriously you guys — there are SO many people working on this.
But one thing I've always struggled with as a mountain girl and snowboarder was finding a jacket that could handle sub-zero temperatures and a powder pounding on the slopes, yet still be cute and fashionable for around town. Ski and snowboard jackets aren't typically made with sustainable materials because they require a lot of performance features you can usually only get with petroleum-based materials. They need to be relatively waterproof, wind resistant, thick, warm, and still breathable. They need zipper closures, hoods, and pockets for your headphones.
All of this is why I was so excited when I discovered Picture Organic Clothing, a brand that isn't just making sustainable ski jackets and lifestyle clothing — they're being very real about their challenges, and totally transparent about what they need to work on next.
The Jackets
Picture makes jackets that are made to take a beating in the elements – wind, rain, snow – you name it. They have your usual waterproof and windproof outer layer, are sporty and roomy enough to make some harrowing turns in, and look good doing it.
Their jackets utilize as many eco-friendly materials as possible:
84% organic cotton
69% recycled plastic bottle polyester
Recycled and repurposed lining materials
Humanely sourced wool and leather
And coming soon — plant-based materials that eliminate the need for ANY oil-based materials altogether. Picture means business.
The Shipping
One thing I really love about Picture Organic Clothing is that they're really honest about how they do things and why. The reality is that they're a global brand, and so they have to ship things all over the world. In a perfect process, they would have local manufacturers to reduce carbon emissions from freight shipping. As of right now though, it's not a fit for their current business model. They're in constant pursuit of balance though, and they're not giving up. As they look for better alternatives to poly bags and shipping processes, they're focusing their efforts in the interim on how their jackets are made and disposed of instead.
Sustainability is a Process
If there's one thing I know as a fashion-lover and environmentalist, it's that sustainability is not an overnight process. These problems are not as simple as making a few sacrifices here and there, and nobody is perfect.
But companies like Picture who are honest about their process and are out there innovating and making more sustainable products show us that even problems that feel impossible have solutions — and sometimes, a fur-lined hood.
We Tried It — The Warmest Sustainable Jacket You Will Own
Picture sent me one of their jackets to try, and seriously, I should BE so lucky! I'm a jacket snob. I come from Montana, land of snowy mountains and subzero temps so cold they'll shatter plastic. I look at jackets with all kinds of scrutiny. That said, these jackets hit my very, very high bar — and even exceeded it.
The Warmth
Picture sent me the Kate snow jacket, a mid-weight jacket that's aptly suited to the much more temperate winters I'm experiencing in the Puget Sound area of my current home in Washington. It's light and allows for plenty of mobility — it didn't get me that Marshmallow Man feeling, which I loved.
The best part about this jacket though is the collar, hands down. Wind will make you cold as hell, every time, and the collar on this snow jacket sits high enough to keep the wind (and snow) off your neck. The interior is lined with cozy flannel too, which I love when I'm just throwing it over a t-shirt on my way to the store.
The Fit
I am normally a very comfortable size large in jackets, sometimes a medium. This jacket fit me, but it was pretty snug even in a large. If you're on the cusp of another size, just size up to be safe.
The Features
This jacket may not be your arctic temperatures choice, but it has every feature a seasoned Montanan looks for in a winter jacket:
Waist snaps inside the coat to keep snow from creeping up your back when you're sledding or skiing
Adjustable wrist cuffs to keep the snow out
An extra-deep hood with a stiff bill to keep the wind from blowing it off (while you blow down the mountain)
The Look
I love that this coat has all of the functionality of a snowboarding jacket, but without the obviously sporty look. It looks just as great with a pair of jeans as it does with my snowboard pants. My favorite part about this coat by FAR though is the tiny shovel zipper pull — the devil's in the details.
The Verdict
Honestly, I can't believe a company has taken sustainable materials — which are still being tested and developed — and created a coat that is THIS GOOD. It's so well-made, has everything I would look for in shopping for my usual brands, and is made so conscientiously.
There is no more compromising; when it comes to a jacket that is functional, stylish AND sustainable – Picture Organic Clothing NAILED IT.
What small step will you take this month to reduce your fashion's impact on the planet? Tell us on Facebook or Instagram, and tag us in the post to inspire more change — @AvocadoMattress and @PictureOrganicClothing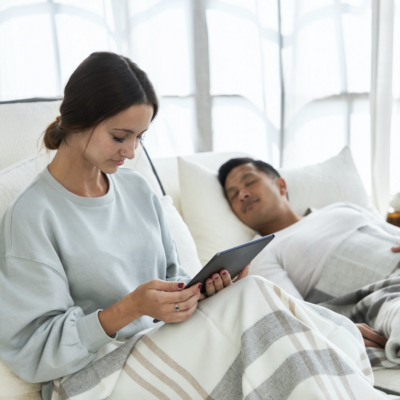 Shop Bases
Eco-Friendly Adjustable Bases
Relieve tension and snoring and sleep better.
Learn More