Hotels hardly conjure up an image of sustainability, but one maverick hotelier is looking to change all of that with a chain that brings luxury and sustainability together beautifully.
Meet 1 Hotels, the enterprise of Barry Sternlicht, who decided he wanted to leave a greater impact on the planet than just a thriving business.
"I wanted to capture the beauty of nature in a hotel and commit to safeguarding it as best as I can, a responsibility that I believe we all share. It's 1 world." — Barry Sternlicht, CEO
With two locations in New York and one in South Beach, 1 Hotel is turning hospitality on its head, with luxury that meets nature. Every inch of this hotel was designed with both the footprint and the feel in mind, giving guests an experience that feels down to earth, without compromising on incredible comfort.
The Rooms
1 Hotel has taken a number of measures to make sure their guests stay in style, while also remaining ever mindful of the impact travel has on the planet. As a gentle reminder to guests that water is a finite resource, hourglass timers are embedded into otherworldly walk-in showers designed to look like greenhouses.
Guests sleep on plush custom hemp mattresses with organic cotton sheets under reclaimed wood accents, and natural light is used wherever possible throughout the accommodations. Guests are given a Nexus tablet to use in place of newspapers and magazines, and are even left with a complimentary yoga mat, which can be used in or out of the hotel.
On furniture made by local craftsmen sits little chalkboard easels, in place of the disposable paper pads. Room keys are made from recycled wood, and in lieu of "Do Not Disturb" signs, guests are given stones reading "Now" and "Not Now".
Goodie bags filled with snacks and treats handpicked by the hotel restaurant's Head Chef are left for guests, in addition to post consumer hangers instead of plastic ones. Every touch, every detail, is made with pampering and planet in mind.
Amenities
In addition to complimentary yoga mats and programming, guests have access to a 24 hour fitness center and the Bamford Haybarn Spa, featuring luxurious organic pampering and beauty treatments.
On the roof at the Brooklyn Bridge location, guests can enjoy a handcrafted cocktail while taking in the breathtaking cityscape. Nearby, the plunge pool is open to select guests. A screening room that seats 50 allows for custom movie screenings and presentations, in addition to a number of social areas scattered throughout the hotel.
For guests, complimentary top of the line Tesla electric cars are available for use within a 15-block radius, and those that bring their own have access to a complimentary electric car valet. There's even a bicycle valet!
Food
At their Central Park location, guests of the 1 Hotel can dine on brunch in Jams by Head Chef Jonathan Waxman, named by the James Beard Foundation as the "Best Chef in New York City" in 2017.
With a strong emphasis on farm to fork dining, Jams serves only the freshest local and organic ingredients in the cozy reclaimed brick and wood restaurant. Have a glass of fresh-squeezed juice, and be sure to stop by the local produce stand in the hotel lobby on your way out to grab a snack for the road.
Greening the Horizon for Hospitality
There are a number of remarkable hotels and resorts that are deciding luxury and sustainability don't have to be estranged friends. With concepts like the stunning 1 Hotels, guests are no longer plagued with the choices between being eco-friendly and comfortable, and the result is a hotel that's planet, pet, and people friendly.
What's your favorite part about this hotel? Tell us on Facebook or Instagram and tag us in the post! @AvocadoMattress or #AvocadoGreenMagazine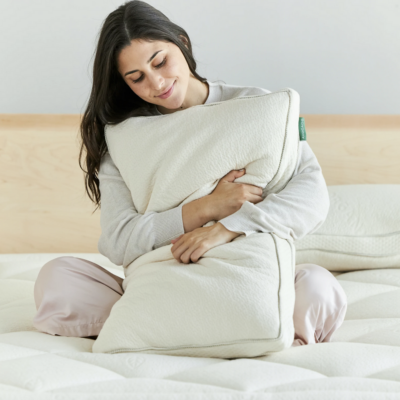 Shop Pillows
The Essential Organic Pillow Collection
Gentle, breathable, non-toxic support.
Buy Now