Having a small bedroom can be really frustrating — nobody should have to choose between a king-sized bed and owning a dresser.
Bedrooms may just be for sleeping, but that doesn't mean you want to feel like you're tucked away in a cave. Spaces that feel open can be more conducive to sleep and relaxation, and are just generally less stressful to sleep in just because there's less stuff floating around.
With a little bit of planning and home improvement prowess, you can make your space look bigger than it is, organize your belongings, fit everything you need to fit in there, and save yourself the pain of walking into your bed frame every time you try to vacuum.
Use Light Colors
Dark colors are great for making a space feel cozy, but if you want to open up your space, make it light and airy. It doesn't have to be all neutrals and solids though. If your personality just can't handle a subdued pallet, use an accent wall to throw a loud color or unique wallpaper up and really make the space your own.
Try Underbed Storage
Dressers are overrated anyway, right? Plenty of beds offer accessible drawers that can stand in for your dresser, with lots of room to spare. Just make sure you have room to open them in your space before you pull the trigger on a purchase (better bring a tape measure).
Do Something About Your Door
Doors that swing into a small bedroom are like some kind of cruel joke. It may require a little modification to your door frame, but you can flip the door around so it opens into the hallway instead of your bedroom.
If you want to get rid of the traditional door altogether, try a pocket door instead. Though typically used for bathrooms these days, they slide right into the wall, so they're definitely a major space saver, and one less thing to knock into your furniture every time you walk into the room.
Use Bookcases Instead of Nightstands
Use that vertical space, baby! Tall, narrow bookcases make GREAT nightstands that give you somewhere to sit your phone, but then plenty of extra space for books, clothes, and knick knacks. Just be sure to balance it with a really subdued headboard so you don't create an overwhelming effect.
Add Mirrors
Mirrors create the illusion of space, and whether you know where that wall ends or not, it tricks your mind into feeling a little less claustrophobic. Try hanging a large one over your headboard or on the back of your door — anywhere there's space to safely do so. It'll reflect more light back into the room, and make the room feel more open.
Create Recessed Shelving
Okay, so you may need to hire a contractor for this one, but it beats the pants off of botching it yourself. Recessed shelving actually sits back into the wall itself between the studs in your house, and can be an AMAZING way to save some mega space, without overwhelming the room.
If you're feeling brave, you can try it yourself.
Use Hanging Lights and Wall Sconces
Don't waste precious surface space with lighting when they are heaps of gorgeous wall sconces and pendant lights to be tried. Mount a couple of sconces over your nightstands instead, and take advantage of the space over your bed for a fun, low-hanging dramatic light fixture.
Mount Your Headboard to the Wall
Headboards can actually add a few extra inches to your bed's footprint on their own. To save that precious space in a tiny bedroom, mount it securely to the wall above your bed instead, making sure to sink into those studs. Need some inspiration? Check out HGTV team mounting a CRAZY big upholstered headboard to a wall.
Try Nesting Tables
If you need nightstand tables but don't really fancy running into them all the time in your cramped bedroom, nesting tables are the way to go. When you go to bed at night, you can pull them out and put everything you need on them, like a glass of water and a book. When it's time to get up, you grab your stuff and slide them back under each other — easy peasy.
What have you done to jazz up your tiny bedroom? Share your photos by tagging us on Instagram or Facebook with @AvocadoMattress or #AvocadoGreenMagazine.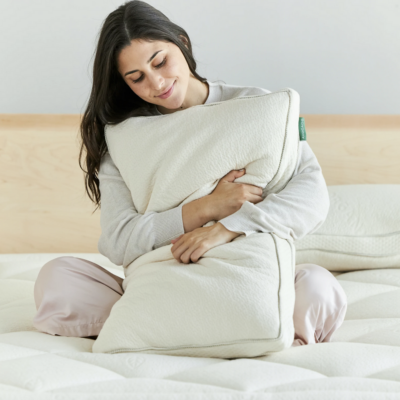 Shop Pillows
The Essential Organic Pillow Collection
Gentle, breathable, non-toxic support.
Buy Now