Strangely, high fashion isn't something you typically see going hand in hand with humanitarian efforts. Where you find $90 tubes of lipstick and $500 sweaters, there's a sense of coveted quality, like owning a piece of actual treasure for yourself.
But giving back? It's not something I've encountered much of in the luxury fashion and beauty space — until discovering Olivela.
Olivela's online store is a virtual treasure trove of iconic high-end brands like Christian Louboutin and Salvatore Ferragamo, but with a startling surprise: they donate 20% of every purchase to initiatives that support girls' education.
Giving Campaigns
Olivela's luxe product line is more than just a label, it's a brand on a mission to make high-dollar purchases matter more. They have three campaigns of focus where the customers' purchases lend support to global women's issues.
Founded by the famously bold and brave Malala and her father Ziauddin Yousafzai, the Malala Fund is building real solutions to a global problem — 130 million women are denied access to education.
At just 15 years old, Malala was shot in the head on her school bus by an extremist for speaking out in support of women's education. Ten days later, she awoke to find herself in a hospital in England.
After a long recovery, Malala decided she would not bow, and the Malala Fund was formed. This extraordinary organization has a presence in countries like Pakistan and Brazil where many women struggle to gain access to educational resources.
Together, she and her father and their incredible global team work to help women break through impossible barriers of gender discrimination, poverty, and war to gain access to the education they need.
In addition to their focus on giving women access to education, Olivela has partnered with Too Young to Wed, an organization dedicated to empowering women to choose their own marriages in countries where culture and tradition have preserved the practice of young girls being forced and coerced into marriage.
With girls not yet in their teens being married to men in some countries, these child brides aren't so much being raised by parents as they are being shifted into caring for an adult themselves.
This project is dedicated to spreading awareness about the practice of child brides as a means to empower cultures to enforce their own laws and stand in protection of the young girls who are victimized by this cruel, savage practice.
A Simple Action for a Profound Change
It's okay to still buy what you want to buy. In the face of so much adversity in the world, buying things above food and shelter can feel materialistic and selfish.
There's nothing to be gained by those feelings, no one to be helped by it.
But the purchases we all make every day anyway can be spent with organizations who have a commitment — and the corporate financial might — to give in volumes that have the ability to make a profound difference.
Shopping with stores like Olivela pools our purchasing power into one greater giving impact that has the power to change so many lives. Have you ever shopped Olivela?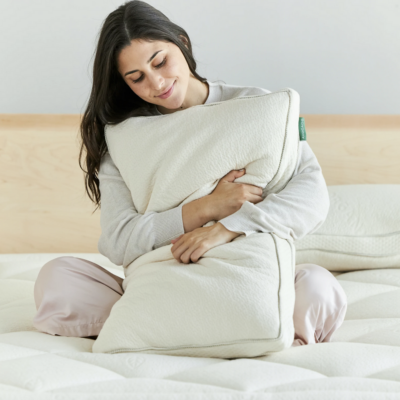 Shop Pillows
The Essential Organic Pillow Collection
Gentle, breathable, non-toxic support.
Buy Now