Of all the holidays, St. Patrick's Day may have the worst reputation. Instead of reminding us of the actual St. Patrick, patron saint of Ireland, images of green beers and bar specials come to mind, of inebriated college students and not-so-good for you green ice cream treats. We know we can't be alone in thinking there must be a better way to celebrate your heritage and/or celebrate a holiday! This St. Patrick's Day we're still going green, but in a much healthier way — with bright and energizing matcha tea. It's still green — greener-than-green, even — just… Way better for you than an artificially-dyed green beer.
Honored for centuries as a ceremonial drink and refreshing elixir, matcha took the wellness world by storm just a few years ago — and its popularity has only increased thanks to its gently energizing properties and purported benefits — including some major antioxidant potential, over 100 times that of regular brewed green tea. If you're a fan of matcha but looking for a new way to enjoy it, these energy bites are a great place to start. Packed with healthy, satiating fats and fibre and low in sugar, these little green bites are perfect to keep on hand to satisfy an afternoon craving on St. Patrick's Day — or any day!
No-Date Matcha Energy Bites
Ingredients:
1 ½ Tbsp matcha powder (we used Four Sigmatic Mushroom Matcha with Lion's Mane)
1 cup unsweetened shredded coconut
4 Tbsp almond meal
1 tsp vanilla extract
1 tsp chia seeds
½ tsp maca powder
3 tbsp coconut butter
Pinch of sea salt
Optional: organic stevia to taste
How to:
Combine all ingredients in a food processor and process until mix easily sticks together when pinched. Tip: taste before moving on to the next step and sweeten as desired.
With clean hands, roll mix into 1-inch rounds. Store in the fridge until ready to eat.
Enjoy!
How are you going GREEN for St. Patrick's Day? Share with us by tagging us on social @AvocadoMattress and #AvocadoGreenMagazine!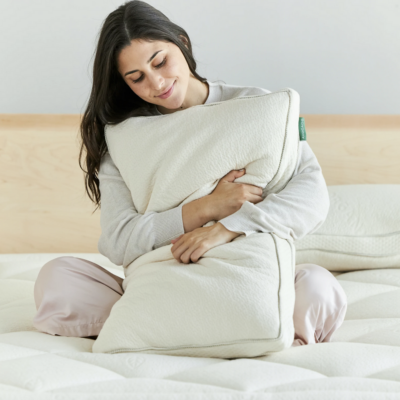 Shop Pillows
The Essential Organic Pillow Collection
Gentle, breathable, non-toxic support.
Buy Now