Waking up drenched in sweat can make it really hard to get a great night's sleep. One minute you're burning up and sweaty, and the next, you're freezing as the sweat evaporates from your skin. It's no way to sleep, and heavy, stuffy pajamas certainly don't help.
Whether you live in a warm climate or you're just really prone to sweating in your sleep, if you're not up for snoozing in the nude, there are pjs that you can wear without waking up soaked and uncomfortable every night.
The Worst Pajamas for Hot Sleepers
Okay, so here's the not-so-good news: the majority of pajamas you see in stores these days are made out of exactly the wrong materials. They're cheap, they're easy to mass produce, and you can make them in all sorts of patterns and colors, so it's what most of the big-box stores are carrying.
Unless you've gone to the trouble to buy pajamas that were made specifically out of natural fibers or for temperature control, chances are, what's in your dresser is going to be made out of one of these:
Polyester
Fleece
Satin
The problem with these fabrics is that they don't pull moisture away from the skin or allow your skin to breathe, and the result is that you're trapped under the fabric with a layer of your own sweat — yuck.
Aside from that, they also use enormous amount of petrochemicals to produce, and because of their flammable nature, are typically saturated in flame retardant chemicals to compensate. Not ideal.
How to Find Sweat-Free Pajamas
When it comes to breathable, moisture-wicking fabrics, I lean heavily on natural fibers. Not only do they help your body breathe at night and regulate temperature and moisture more naturally, but they're also biodegradable, and are often available without flame retardants, since they're not as necessary with these fabrics in the first place.
Cotton
While not moisture-wicking, cotton is an affordable, breathable, natural fabric that breathes enough to keep you cool at night, and dries fast when you do sweat. Just be sure to get 100% organic cotton pajamas if you can swing it — cotton is one of the top consumers of pesticides worldwide, and those chemicals can be absorbed through your skin.
Coyuchi makes organic cotton pajamas that are breathable, elegant and flattering.
Silk
Silk is incredibly lightweight and breathable, even if it is a little on the expensive side. It's fast-drying, moisture-wicking, and even warm in the winter months! Since silk doesn't trap air pockets under the fabric, it keeps you warm by creating a breathable cut consistent layer across your body. If you sweat, it dries quickly, if you're cold, you warm up fast, and if you're hot, you're in one of the lightest materials ever!
Lunya is a fabulous new company offering luxury women's pajamas sleepwear in materials like silk, Tencel, and Pima cotton.
Bamboo
Bamboo is an incredibly soft, versatile material really similar to rayon. It's a VERY sustainable fiber thanks to its rapid rate of growth, and it's 100% biodegradable. It feels amazing too! This unique fiber breathes like cotton but insulates like wool, helping your body regulate its own temperature no matter how warm or cool your room is.
Cariloha makes luxuriously soft bamboo sleepwear that are lightweight and breathable.
Hemp
Though hemp can be really similar to cotton in some ways because of how cool and breathable it is, it's also a whole heck of a lot tougher, is naturally resistant to bacteria, and like silk, provides those strangely breathable insulative qualities.
More than anything though, hemp is incredibly sustainable to grow. It produces 250% more textile per acre than cotton, grows VERY quickly, and is pest-resistant, so chemical pesticides are very seldom necessary.
Eileen Fisher for Garnet Hill makes organic cotton/hemp blend pajamas.
Do you "sleep hot?" Continue the conversation by tagging us with @AvocadoMattress or #AvocadoGreenMagazine on social media.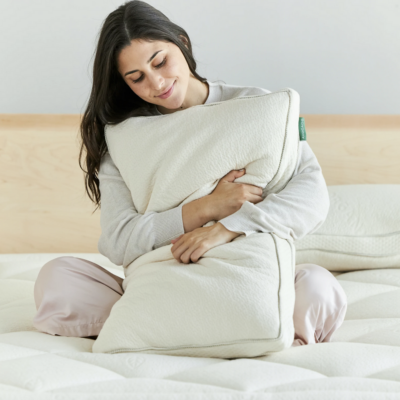 Shop Pillows
The Essential Organic Pillow Collection
Gentle, breathable, non-toxic support.
Buy Now