Halloween produces a lot of waste for one night of fun, but it doesn't have to (and you don't have to miss out, either). Check out these easy tricks for greening your Halloween.
Environmentalists get a bad wrap for being buzzkills. The truth is, we LOVE parties. We LOVE frivolity and indulgence and glitter and candy.
Okay, maybe only some of us like glitter.
But for the most part, an environmentalist is just a regular person who wants to do better — that's it. Not give up everything they love, not sit out every fun human experience, just to participate a little more consciously.
As the tidal wave of cheap polyester costumes and candy wrappers approaches, many of us are faced with some ethical dilemmas on celebrating Halloween. But the awesome reality is that there are more environmentally friendly solutions than EVER before, and we don't have to miss out to be conscious of our impact. Here are just a few really, really simple ways to make a big difference in your Halloween's impact this year.
#1 — Get a Candy Wrapper Recycling Box from Terracycle
Terracycle specializes in recycling the unrecyclable — and they rock at it. Their specialized recycling programs have found ways to break down and repurpose even the most stubborn of waste streams, all the way down to cigarette butts.
It's simple really:
You decide what you want to recycle — in this case, candy wrappers.
You order your recycling box from Terracycle.
You fill it up with wrappers and ship it back.
Terracycle breaks down the materials and reintroduces them back into the supply chain.
That's. It. All we have to do is order the box — Terracycle takes care of the complex process of breaking down a material and making something else with it.
Go in on a box with a neighbor, set one up in your office — whatever makes it realistic for you — but order one of these this Halloween. You could literally save thousands of candy wrappers from the landfill this year.
#2 — Use Biodegradable Glitter for Your Costume
Glitter haters gonna hate, but glitter lovers can finally rejoice — this microplastic has gotten a makeover.
Glitter got a bad rap from some recent news that these tiny pieces of plastic were entering waterways and the bodies of marine life — not cool. So Eco Stardust did something about it.
We Tried It
Eco Stardust's glitter is 100% biodegradable, and 1,000% made to be seen. Their Halloween kit contains finer glitters that can be used for makeup application, but my personal favorite is their super chunky glitter. Using their glitter balm and a makeup brush, you can apply it to your cheekbones, eyelids, forehead, hair, nails — wherever — and sparkle guilt-free.
I put on my usual makeup — concealer, foundation, and mascara, then put the Glitter Balm on my cheekbones with Eco Stardust's bamboo brush. I used my wet brush to grab some glitter to spackle onto my cheekbones, which transferred perfectly.
I was a little worried that the balm would dry hard and the glitter would fall away, but it actually lasted ALL NIGHT. The Bioglitter Beauty Balm is made of a light blend of natural oils, so there is no caking or crusting. Despite being totally sensitive to excess oils, my face NEVER broke out, and I rocked that look.
SHOP BIODEGRADABLE BODY GLITTER
#3 — Rent a Costume
Halloween costumes from the store are generally awful, like really bad. They're designed to last one night, and if you're lucky, you're hawking yours on the Facebook Marketplace next year instead of throwing it away the same night.
All of that polyester and plastic packaging has a major impact on the environment too, and it can totally be avoided.
Costume rental is a great way to get something that looks really good, without buying another thing you'll have to throw away.
BROWSE HALLOWEEN COSTUME RENTALS
#4 — Buy a Secondhand Costume
If you can't find what you want to wear for Halloween in a rental shop, secondhand costumes are literally EVERYWHERE. Check eBay, Poshmark, your local thrift stores, and when that fails, check out ThredUp for your kids.
#5 — Skip the Inflatables
Look, I know inflatables are super cute on a store shelf, but they are not designed to last forever, and in a few years, you will be throwing them away. Instead of buying inflatables or throw away Halloween decorations, buy or make decorations that can be recycled, like these Minimalist Bats (from A Clean Bee) and LED candles.
#6 — Compost Your Jack-o-Lanterns
Pumpkins might last a week once they've been carved into Jack-o-lanterns. If you can, compost them instead of just throwing them into your dumpster. If you don't have a compost pile, ask around in your local Facebook groups and communities — there might be someone close by who'd be happy to have yours!
#7 — Get Compostable Party Supplies
If you're throwing a party, make sure you get compostable party supplies (because nobody expects you to wash 23 plates). Eco Party Time sells a ton of biodegradable and compostable party supplies, from plates and cups, all the way down to forks and cutlery.
SHOP COMPOSTABLE PARTY SUPPLIES
What small steps have you taken to be more eco-friendly without sacrificing Halloween fun? Tell us on Facebook or Instagram, and tag us in the post! @AvocadoGreenMattress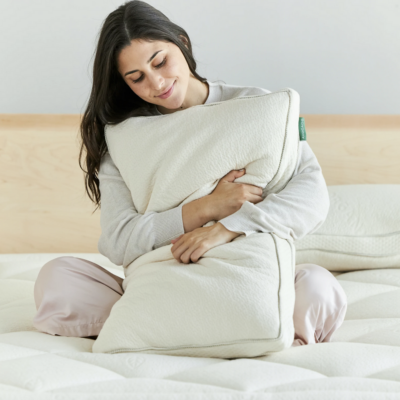 Shop Pillows
The Essential Organic Pillow Collection
Gentle, breathable, non-toxic support.
Buy Now